Pierre Nkurunziza's Death Marks The End Of An Era In Burundi. But Was It A Good Or Bad One?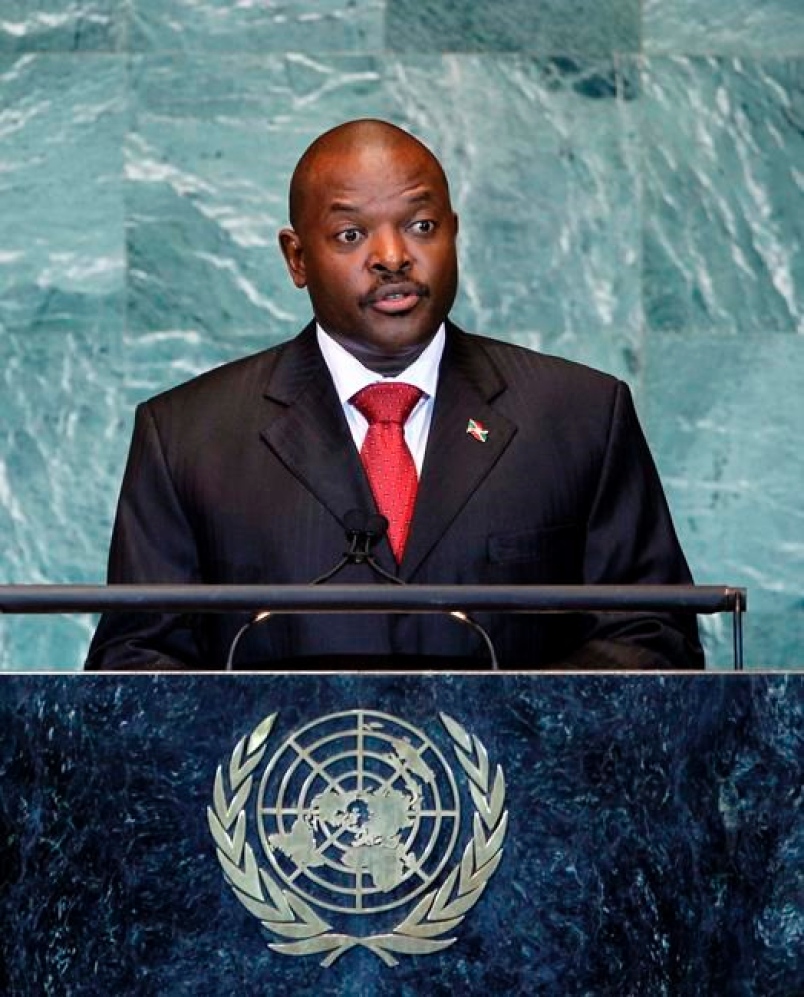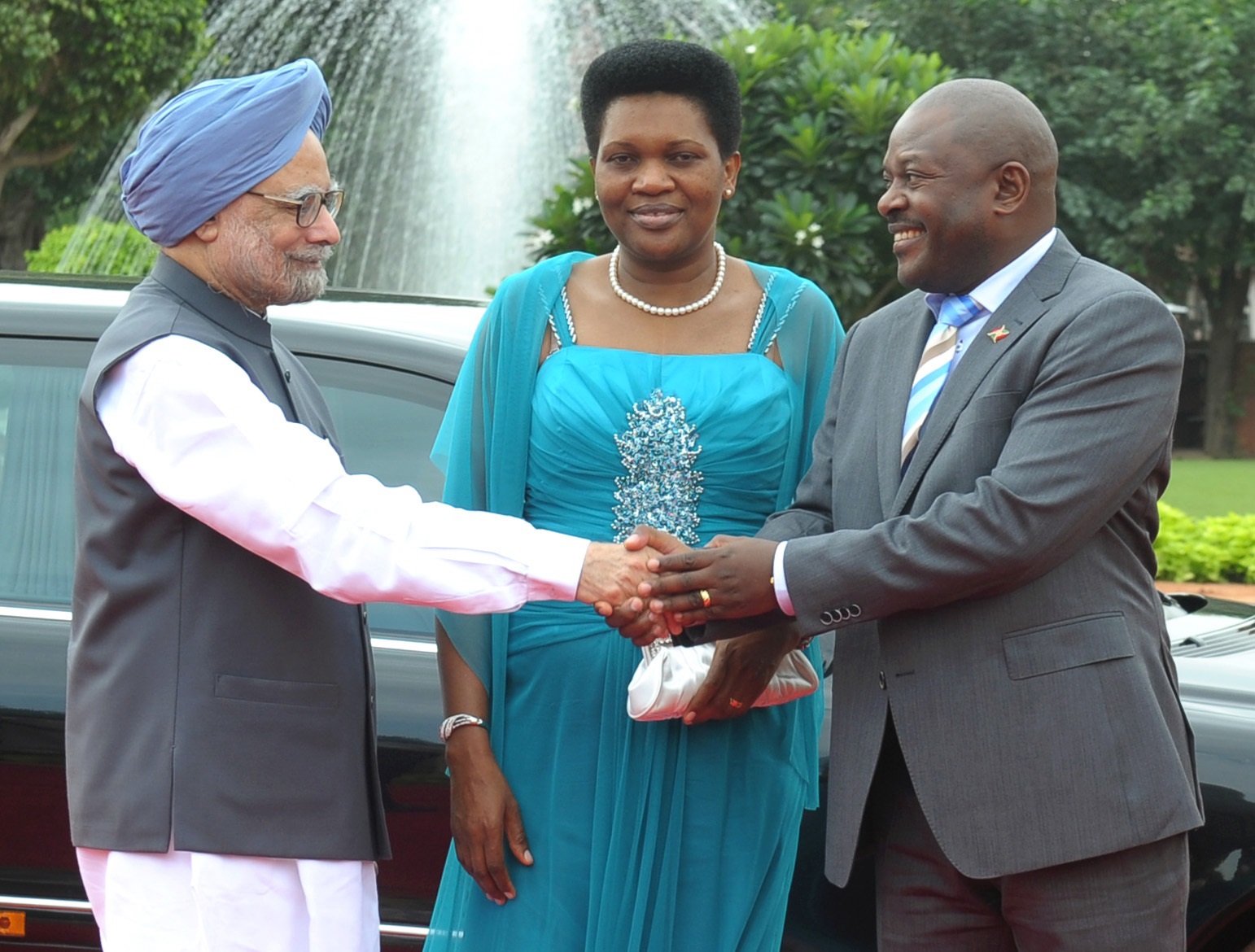 The death of outgoing president Pierre Nkurunziza of Burundi was received with mixed feelings. According to the official government statement announcing the death, the president was ill on Saturday. This was after playing a role in a volleyball match in Ngozi, northern Burundi. He was briefly hospitalized but showed signs of recovery on Sunday. However, his condition deteriorated rapidly on Monday with a cardiac arrest. All efforts to revive him failed.
Pierre Nkurunziza has been in power since 2005 (15 years). However, he was due to step down in August. Also, he was to receive a $540,000 (£440,000) retirement pay-out and a luxury villa, according to BBC. In 2015, the late president announced that he would run for a third term. This did not go well with many leading to a bloody protest.
Until his death, Pierre Nkurunziza was married to Denise. They had five children together with several adoptions. Although there was suspicion that he was planning a fourth term, he did not run in the May 20 elections. After leaving office in August, he was to take the title of "Supreme Guide to Patriotism".
Late Pierre Nkurunziza owes his successes and the low COVID-19 numbers in Burundi to God. The country will observe 7-day mourning starting from Tuesday. Also, the flag will be flown at half-mast.
Speculations on cause of Pierre Nkurunziza's death
There are speculations that the death of the outgoing president may be due to COVID-19 complications. Al Jazeera's Malcom Webb said Burundians are skeptical about the cause of the president's death. Last month, the government expelled the World Health Organization (WHO) from the country. Reports suggest it was because of their criticism of the government's handling of the pandemic. According to Webb,
"About 10 days ago, Denise Nkurunziza, the first lady of Burundi, flew to Nairobi seeking medical treatment for a reason that officially was undisclosed but a lot of the local press here reported that she was suffering from COVID-19. So now there's going to be of course a lot of speculation and guessing from Burundians, from the diaspora about this claim that the president had a heart attack."
The number of coronavirus tests in Burundi is sketchy. However, the government held large rallies in the lead-up to the presidential election. As of the time of this report, Burundi has 83 cases of COVID-19 with 1 fatality. Health officials believe this is a far cry to the real situation in the country.
Evariste Ndayishimiye, a longtime ally of late Pierre Nkurunziza, was declared the winner of the May election. From 1993 to 2005, Burundi was locked in a civil war that led to the death of about 300,000 people. Evariste Ndayishimiye fought side-by-side with Pierre Nkurunziza as rebels in that conflict. In a Twitter post, Ndayishimiye said,
"He leaves us a legacy that we will never forget and we will continue his high-quality work that he has done for our country, Burundi."
COVID-19 may be the cause of the president's death
Emerging details are further pointing to the fact that the president's death may be from COVID-19 complications. According to multiple sources, the late president's mother, wife, sister, and the incoming president have all tested positive to the virus.
Burundi's former President Pierre Nkurunziza's sister, mother and other family members are all receiving treatment in Ngozi, Burundi according to the Burundian media. His wife is receiving treatment for Coronavirus in Kenya.

— Africa Facts Zone (@AfricaFactsZone) June 10, 2020
The president-elect of Burundi Évariste Ndayishimiye,tests positive of Covid-19 few hours after the former president Pierre Nkurunziza passed on from reportedly Cardiac Arrest. pic.twitter.com/QzG0qNpopM

— Mwalim AJ Mugo🇰🇪™️ (@alvin_mugo) June 10, 2020
Burundian Republic has just lost his former president #PierreNkurunziza due to Covid-19. Our condoleances to the Burundian Republic. pic.twitter.com/lA4MHtvl8u

— Thierry Koko #StayHome🇸🇿 (@Thierko24) June 9, 2020
Pouring in of tribute
Pierre Nkurunziza's death leaves a vacuum in the country's top post. According to Reuters, the speaker of parliament, Pascal Nyabenda is to take over as interim president pending the swearing-in of the new president. Across the continent, presidents of various African countries are sending their condolence to the government and the people of Burundi. The United States also shared their condolence.
I would like to express my condolences on the sudden passing of President #PierreNkurunziza Deepest sympathies to his family and the people of #Burundi.

— Abiy Ahmed Ali 🇪🇹 (@AbiyAhmedAli) June 9, 2020
Je viens d'apprendre le décès du Président Pierre Nkurunziza de la République du Burundi.

Au nom du Gouvernement du Bénin et en mon nom personnel, je présente toutes mes condoléances au peuple burundais et à la famille de l'illustre disparu.

Patrice TALON pic.twitter.com/NqqOfdPn8L

— Présidence du Bénin (@PresidenceBenin) June 9, 2020
On behalf of Gov't and my own behalf I sent our condolences to the Gov't and People of Burundi for the passing of President Nkurunziza. This also goes to the family of the President.
God Bless!

— Paul Kagame (@PaulKagame) June 9, 2020
H.E @M_Farmaajo: I send my heartfelt condolences to the Government and the people of the Republic of #Burundi. On behalf of the citizens of the Federal Republic of Somalia and myself, we mourn the passing of H.E President @pnkurunziza for he was indeed a great friend of #Somalia. https://t.co/VwdIeyBrta

— Abdinur Mohamed (@AbdinurMAhmed) June 9, 2020
« La disparition de Mr Nkurunziza constitue une perte énorme pour le peuple burundais tant l'homme aura marqué la vie politique de Burundi » Message de condoléances du Chef de l'Etat, au 1ier Vice-président de Burundi suite au décès du Président Pierre Nkurunziza, le 8 juin 2020. pic.twitter.com/QA34A5DjlH

— Presidence Mali (@PresidenceMali) June 9, 2020
J'adresse mes condoléances émues et celles de la Nation au peuple burundais, suite au décès du Président Pierre Nkurunziza.

— Macky Sall (@Macky_Sall) June 9, 2020
Nimeshtushwa na taarifa za kifo cha Rais wa Burundi, Mhe. Pierre Nkurunziza. Nitamkumbuka kwa uongozi wake imara na juhudi zake za kupigania amani, maendeleo na kuruhusu demokrasia. Kwa niaba ya Serikali na Watanzania nawapa pole familia na Warundi wote. Mungu amweke mahali pema.

— Dr John Magufuli (@MagufuliJP) June 9, 2020
Le Peuple et le Gouvernement de Djibouti se joignent à moi pour manifester leur sympathie à la nation sœur burundaise dans l'épreuve terrible du décès du Président Pierre Nkurunziza. pic.twitter.com/RTGRH5LCBv

— Ismail Omar Guelleh (@IsmailOguelleh) June 9, 2020
The Ghanaian people and I extend our deepest condolences to the Government and people of the Republic of Burundi, on the sad news of the death of their President, His Excellency Pierre Nkurunziza. May his soul rest in perfect peace.

— Nana Akufo-Addo (@NAkufoAddo) June 10, 2020
It is with profound grief and sadness that we received the news of the death of President Pierre Nkurunziza. President Nkurunziza was a true patriot that steered the country through turbulent times with wisdom and foresight.

— Muhammadu Buhari (@MBuhari) June 9, 2020
Venturing into a life of a Rebel
Pierre Nkurunziza was born on December 18, 1963 (55 years) to a Hutu Father and Tutsi mother. He was raised in the province of Ngozi in northern Burundi. In 1990, he bagged a degree in physical education from the University of Burundi in Bujumbura. Subsequently, Pierre Nkurunziza was an assistant lecturer at the university.
In 1993, there was a war between the Tutsi-dominated army and the Hutu rebel groups. In 1995, there was an army attack on the university campus where Pierre Nkurunziza was a lecturer. About 200 people lost their lives in that attack. Nkurunziza narrowly escaped. Consequently, he became active in the conflict, joining the Forces for the Defense of Democracy (FDD). He was sentenced to death in absentia in 1998 by a Burundian court for his rebel activities.
Between the late 1990s and early 2000s, several factions of the rebel group had emerged. Nkurunziza was the chairman of one of the factions in 2001. In this capacity, he spearheaded negotiations leading to the signing of a peace accord with President Domitien Ndayizeye in 2003. Part of the peace pact was that he was immune from prosecutions for war crimes.
In 2004, he became part of Ndayizeye's government as the minister of good governance. When CNDD-FDD became an official political party in 2005, Pierre Nkurunziza received the party's nomination. Consequently, he won the ballot and was sworn into office on August 25, 2005.
The best memories of Pierre Nkurunziza
After becoming the president, Pierre Nkurunziza was faced with the task of uniting the country and stabilizing the economy. Following his swearing-in as the president, the Tutsis feared a Hutu-dominated rule. Nkurunziza named his cabinet in less than a week after his swearing-in. The cabinet consisted of 9 Tutsis and 11 Hutus. Also, he named 7 female ministers. Almost all the members of his cabinet were serving in a government position for the first time. These early actions were instrumental in dousing tensions.
Furthermore, Pierre Nkurunziza proposed a peace deal to the National Liberation Forces (FLN). This was the last Hutu rebel group outside the peace talks. The FLN rejected the peace pact. However, in December 2008, Nkurunziza met with Agathon Rwasa, the then FLN leader, and signed a definitive peace agreement.
Pierre Nkurunziza raised $2 billion in foreign capital after his election to invest in Agriculture. In 2007, he led Burundi into the East African Community economic bloc. Also, he was part of the reformation of the trading organization, the Economic Community of the Great Lakes Countries.
With the help of the World Bank, Nkurunziza started infrastructural projects to improve electricity and water supply. Following his peacebuilding efforts, he received 7 international peace awards.
The end of a good legacy
Absolute power corrupts—and this was the fall of Pierre Nkurunziza. Two terms spanning a decade was not enough. Nkurunziza held a referendum to give him the pass for a third term. This plunged the country into a deadly protest leading to many people fleeing the country. It is important to mention that the Arusha Accords that paved the way for peace in the country stipulated that a president's term can only be renewed once. Seeking a third term was a breach of this contract.
From his second term, he was already receiving criticisms for ill-treatment of the media. Human rights deteriorated under Pierre Nkurunziza's rule. Over 300 extrajudicial killings were reported by the United Nations human rights office. It was so bad that the UN rights chief, Zeid Ra'ad al-Hussein described Burundi as the "most prolific slaughterhouses of humans in recent times". Consequently, Burundi's government closed the United Nations Human Rights office in 2019.
Also, Burundi was the first African country to quit the International Criminal Court in 2017. The latest in the list of his ills was expelling the WHO representative and three experts from the country. There are about 200,000 Burundian refugees in neighboring Tanzania. In reaction to Nkurunziza's death, the Central Africa director at Human Rights Watch, Lewis Mudge said,
"Nkurunziza leaves behind a legacy of ruthless repression. He ruled through fear to erect a system synonymous with the worst human rights abuses: extrajudicial killings, torture, disappearances, and the systematic crushing of dissent. As long as these abuses go unpunished, this dark legacy will hang over Burundi for many years to come."
On social media, the death of the president received mixed reactions.
Pierre Nkurunziza handing over power at 55 and you dare call him a dictator.
African dictators are either toppled or die on the presidential bed.😅 pic.twitter.com/53PWqZLbZC

— Anyamah Douglas (@danyamah) June 9, 2020
Pierre Nkurunziza was a dictator. A murderer and an evil African Leader. He impoverished his people and held them hostage. Killed hostages and exiled some of them like Kidum. He amputated others. His death is a relief to thousands. This is a moment of celebration. NOT GRIEF.

— Lord Abraham Mutai (@ItsMutai) June 9, 2020
Dear African Presidents, I hope you acknowledge what bigotry has in store for you. I would defy ethics by celebrating the death of Pierre Nkurunziza, but I hope the people of Burubdi will get a better leader. God's timing is indeed the best! #BreakingNews pic.twitter.com/VS1Mpcr5DL

— Sam Nyang'u (@SamNyangu) June 9, 2020
After all those atrocities, I didn't know Pierre Nkurunziza had a heart.

— John Kamau (@johnKamau1) June 9, 2020
Today is an extremely sad day for Burundi,we lost a wonderful person, Pierre Nkurunziza was not just the leader of Burundi he was also a husband , a father, a son and a brother. as we grieve his demise let us remember all the amazing works he's done in the country. #rip #Burundi pic.twitter.com/qZ5HL2yIqy

— Joy Akimana (@JoyAkimana) June 9, 2020
We ain't sure if the president of Burundi is dead because of heart attack or Covid19. The fact is the country can now breathe. Many citizens flew the country since 2016 because of his regime! #Burundi2020 #PierreNkurunziza #rippierrenkurunziza

— 𝐒𝐊𝐘𝐋𝐀𝐑 (@SkylarPetrah) June 9, 2020