Nominees for 6th Africa Movie Academy Awards Announced in Accra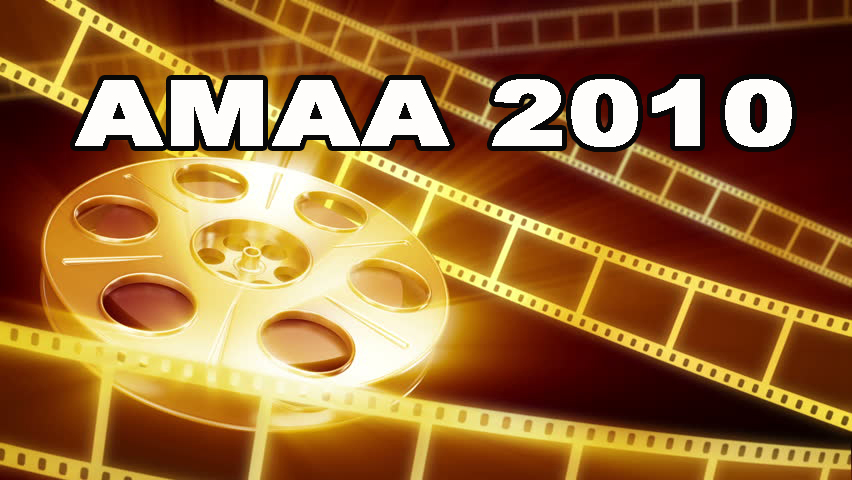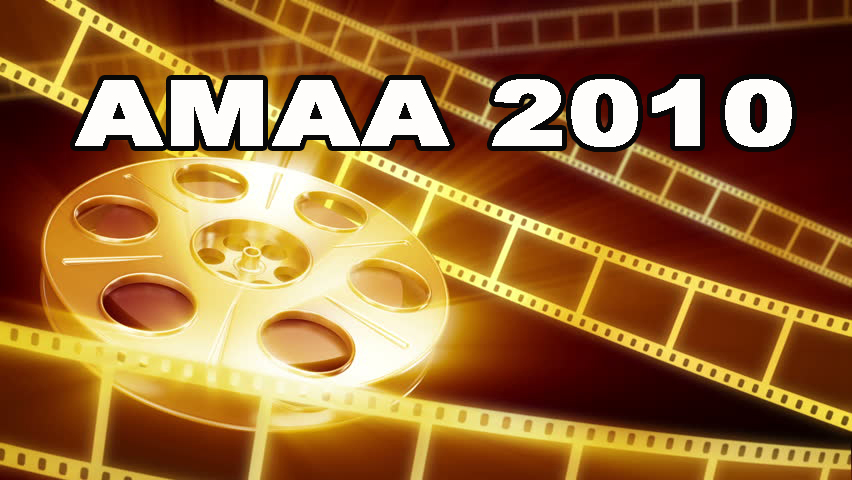 The 6th African Movie Academy Awards (#AMAA) nominees were announced at the Mensvic Grand Hotel in East Legon, Accra Ghana. The actual event shall be held in Yenagoa, the capital of the oil-rich Bayelsa State, Nigeria, on April 10, 2010.
In 2009 Kenya took the lead but this year, they have been surpassed by Ghana and Nigeria who will be going neck to neck in many different categories. It did not help that Wanuri Kahiu opted not to enter her futuristic Scifi short, Pumzi for the AMAA 2010.
AMAA Nominees as reported on Art Matters are:
Best Documentary
Mwamba Ngoma, Tanzania
Peace Wanted Alive, Kenya
Bariga Boys, Nigeria
En quette d'identite, Burkina Faso
Innovating for Africa, Nigeria
Best Short Film
Mahala, Mozambique
The Abbys Boys, South Africa
The Painter, Uganda
Suara La, Nigeria
The Camera, Nigeria
Best Animation
Honyan's Shoe, Egypt
Adventure of Alayo, Nigeria
Zoodo, Burkina Faso
Lyrics, Algeria
One Step of Love, Algeria
Best Film by An African in the Diaspora
Soul Diaspora
Okra Principle
China Wahala
Crunch
Best Film in an African Language
Omo Iya Kan, Nigeria
Aldewolem, Ethiopia
Togetherness Supreme, Kenya
Imani, Uganda
Game of my Life, South Africa
Heart of Africa Award for Best Film from Nigeria
The Child
High Blood Pressure
Nnenda
Lillies of the Ghetto
The Figurine
AMAA Achievement in Sound
The Tenant, Nigeria
Season of a Life, Malawi
The Perfect Picture, Ghana
I sing of a well, Ghana
Soul Diaspora, Diaspora
AMAA Achievement in Editing
Season of a Life, Malawi
The Child, Nigeria
The Perfect Picture, Ghana
Heart of Men, Ghana
Lilies of the Ghetto, Nigeria
AMAA Achievement in Art Direction
I sing of a well, Ghana
Fulani, Nigeria
The Child, Nigeria
The Figurine, Nigeria
Imani, Uganda
AMAA Achievement in Make-Up
Heart of Men, Ghana
The Child, Nigeria
The King is Mine, Ghana
I sing of a well, Ghana
Fulani, Nigeria
AMAA Achievement in Costume
The Perfect Picture, Ghana
Prince's Bride, Ghana
The Child, Nigeria
I sing of a Well, Ghana
Lilies of the Ghetto, Nigeria
AMAA Achievement in Visual Effect
The Child, Nigeria
The Figurine, Nigeria
A sting in a Tale, Ghana
Fulani, Nigeria
Heart of Men, Ghana
Best Original Soundtrack
Seasons of a Life, Malawi
Imani, Uganda
A sting in a Tale, Ghana
The Child, Nigeria
The Figurine, Nigeria
Best Performance by a Child Actor
Teddy Onyango and Bill Oloo—Togetherness Supreme, Kenya
Tobi Oboli—The Figurine, Nigeria
Feyisola Ewulomi—Champions of our Time, Nigeria
Treasure Obasi—Champions of our Time, Nigeria
Mfanafuthi Magudulela—Game of my Life
Most Promising Actress
Martha Kisaka—Togetherness Supreme, Kenya
Chelsea Eze—Silent Scandal,
Martha Ankomah—Sins of the Soul, Ghana
Ashionye Michelle Ugboh—Jungle Ride, Nigeria
Rahema Nanfuka—Imani, Uganda
Most Promising Actor
Wilson Maina—Togetherness Supreme, Kenya
Wale Ojo—The Child, Nigeria
John Dumelo—Heart of Men, Ghana
Pethro Tumba Mbole—Game of My Life
Sunny Chikezie—Lilies of the Ghetto, Nigeria
Best Performance by an Actor in a Supporting Role
Godwin Kotey—I sing of a well, Ghana
Francis Duru—Nnenda, Nigeria
Yemi Blaq—High Blood Pressure, Nigeria
Adjatey Anang—The Perfect Picture, Ghana
Best Performance by an Actress in a Supporting Role
Doris Sakitey—A sting in a Tale, Ghana
Funlola Aoifeyebi-Raimi—The Figurine, Nigeria
Tapiwa Gwaza—Seasons of a Life, Malawi
Yvonne Nelson—Heart of Men, Ghana
Best Performance by an Actress in a Leading Role
Bimbo Akintola—Freedom in Chains, Nigeria
Jackie Appiah, Lydia Farson, Naa Ashoku Mensa-Doku—The Perfect Picture, Ghana
Stephanie Okereke—Nnenda, Nigeria
Flora Suya—Season of a Life, Malawi
Akofa Edjeani Asiedu—I sing of a Well, Ghana
Best Performance by an Actor in a Leading Role
Lucky Ejim—The Tenant, Nigeria
Majid Michel—Sin of a Soul, Ghana
Ramsey Nouah—The Figurine, Nigeria
Sadiq Abu—Soul Diaspora, Diaspora
John Osie Tutu Agyeman—I Sing of a well, Ghana
Best Screenplay
Seasons of a Life, Malawi
The Tenant, Nigeria
Freedom In chains,
Guilty Pleasure, Ghana
I sing of a well, Ghana
AMAA Achievement in Cinematography
The Perfect Picture, Ghana
The Figurine, Nigeria
I sing of a Well, Ghana
The Child, Nigeria
The Tenant, Nigeria
Best Picture(AMAA)
Seasons of a Life, Malawi
The Tenant, Canada/Nigeria
The Perfect Picture, Ghana
The Figurine, Nigeria
I sing of a well, Ghana
Best Director
Charles Shemu Joyah—Seasons of a Life, Malawi
Shirley Frimpong-Manso—The Perfect Picture, Ghana
Kunle Afolayan—The Figurine, Nigeria
Leila Jewel Djansi—I sing of a well, Ghana
Jude Idada and Lucky Ejim—The Tenant, Nigeria