DISCUSSION: Africa/China relationship – Mutual benefit or Is one exploiting the other?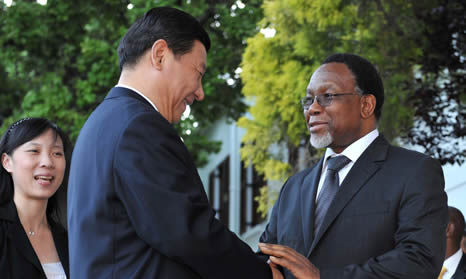 Has China's push for raw materials become a "new form of neo-colonialist adventure" with African raw materials exchanged for low quality manufactured imports and little attention paid with truly developing an impoverished continent?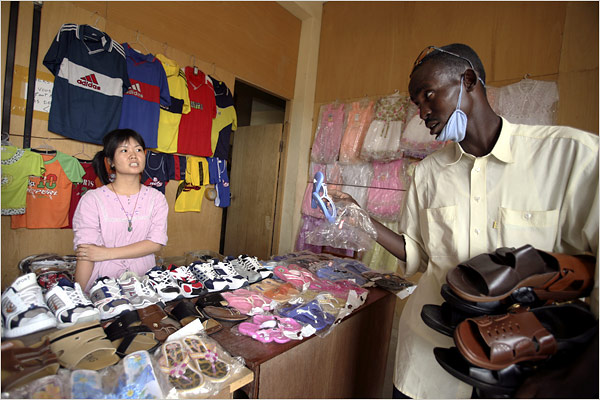 Quote from Africa/China Relations Article on The Independent
China deals with just about any rogue and unsavory regime in Africa. It supplies jet fighters, military vehicles and guns to Zimbabwe, Sudan, Ethiopia and other repressive governments. At the UN, China has used its veto power to block sanctions against tyrannical regimes in Sudan and Zimbabwe.
The nature of China's contracts is most objectionable. They are secured through outright bribery by building presidential palaces (Namibia, Sudan and Zimbabwe) and sports stadiums (Democratic Republic of Congo and Guinea). Namibian prosecutors are investigating allegations of bribery and kickbacks on government contracts with China to supply Namibia with scanners at security checkpoints. Nuctech, the Beijing-based manufacturer and headed until 2008 by the son of Hu Jintao, China's president, is accused of paying $4.2 million in kickbacks to a Namibian front company (New York Times, July 31st 2009, p. A4). Another investigation involves a Chinese contract to build a key railroad link.
Most alarming, the deals are opaque and on barter terms dictated by China. For example, in exchange for oil exploration slots, China will rebuild Nigeria's dilapidated railway system. But China will supply nearly all the equipment and technical personnel at prices determined by itself. There is no protection against overcharging or cost overruns. As with other projects in Africa, China will supply most of the workers. The potential for exploitation and plunder of Africa's resources is enormous in such contracts, leading irate African commentators to denounce what they see as "chopsticks mercantilism". With chopsticks dexterity, China can pick off mineral dumplings with relish in Africa, all to its advantage.
Further, China's engagement has devastated local industries in Lesotho, Nigeria and Zambia. In Nigeria, the influx of Chinese products has destroyed Kano's manufacturing sector. In 1982, 500 factories churned out textile products in Kano, but fewer than 100 remain operational today, most at far less than full capacity. In South Africa, the textile union says some 100,000 jobs have been lost as Chinese synthetic fabrics replace cotton prints in street markets across Africa.
Angry Africans are sounding off. In 2007, South Africa's unions threatened to boycott anyone selling Chinese products. In April 2007, nine Chinese workers were killed in an attack by armed men on an oil field in eastern Ethiopia. In Nigeria, the Movement for the Emancipation of the Niger Delta (MEND) has vowed to expel all Chinese workers in the area.