Did British Vogue Get It Wrong Or Right With The February 2022 Cover Celebrating African Beauty?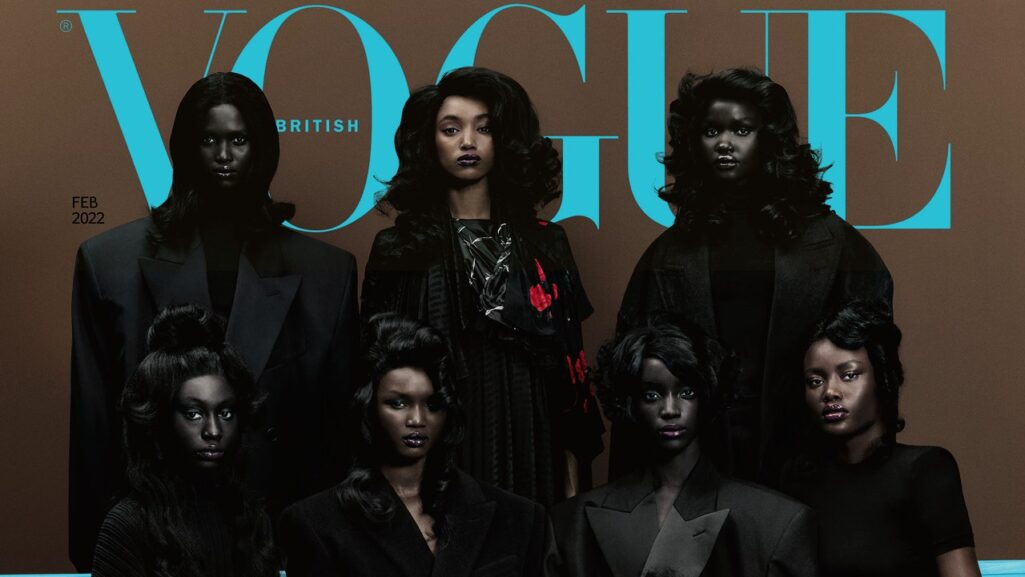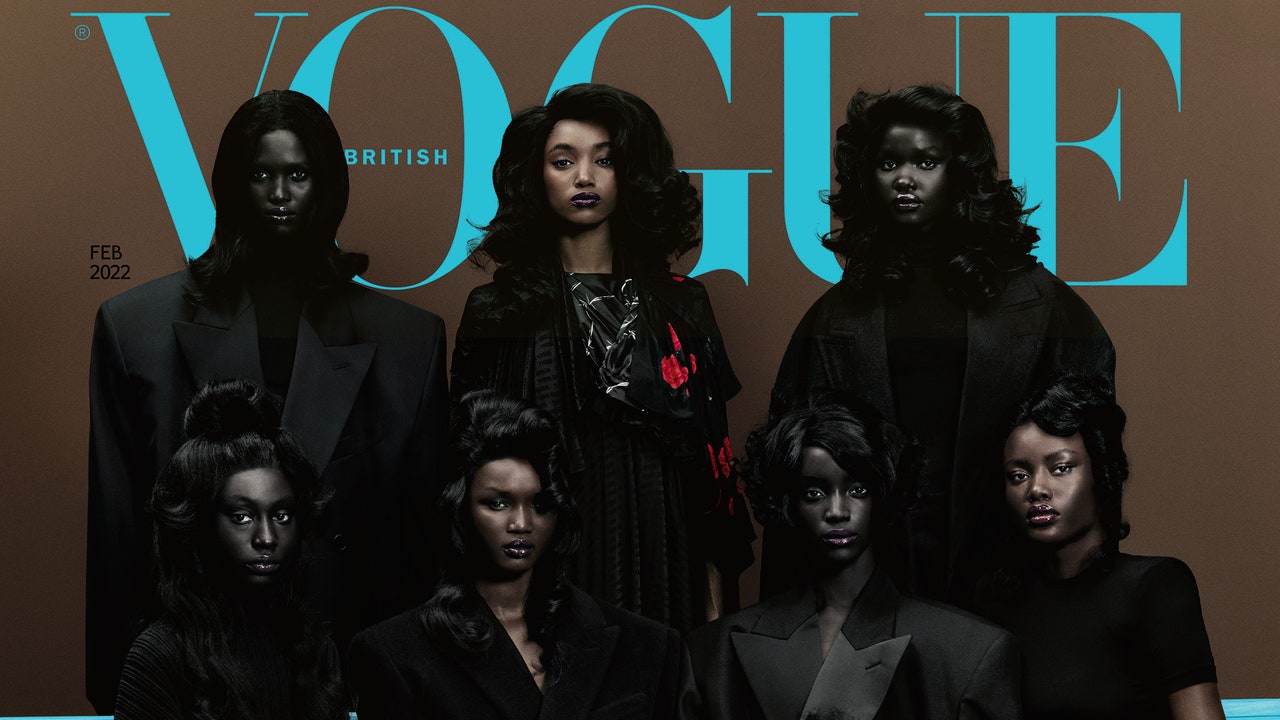 British Vogue gained lots of attention on its latest cover celebrating African beauty. Many raised their concerns noting how awful the models were styled. The February 2022 cover of the British Vogue, which features nine Black models, came under fire by critics on social media who say poor lighting, makeup, and styling make the models look unnatural.
Adut Akech, Anok Yai, Majesty Amare, Amar Akway, Janet Jumbo, Maty Fall, Nyagua Ruea, Abény Nhial, and Akon Changkou are the cover features models.
A video showing behind-the-scenes of the photoshoot posted by Vogue shows the models having their hair and makeup done, and some of their skin tones are lighter in the video. Brazilian photographer Rafael Pavarotti shot the cover. However, Ammy Drammeh and Edward Enninful (British Vogue Editor-In-Chief) handled the makeup and styling.
Vogue is a British fashion magazine based in London.  It is the British edition of the American magazine Vogue and is owned and distributed by Condé Nast. Also, the magazine is one of the world's most prominent fashion magazines, and it has heavily influenced the development of the fashion magazine industry and continues to shape modern fashion trends.
The Lack of Diversity in the Fashion Industry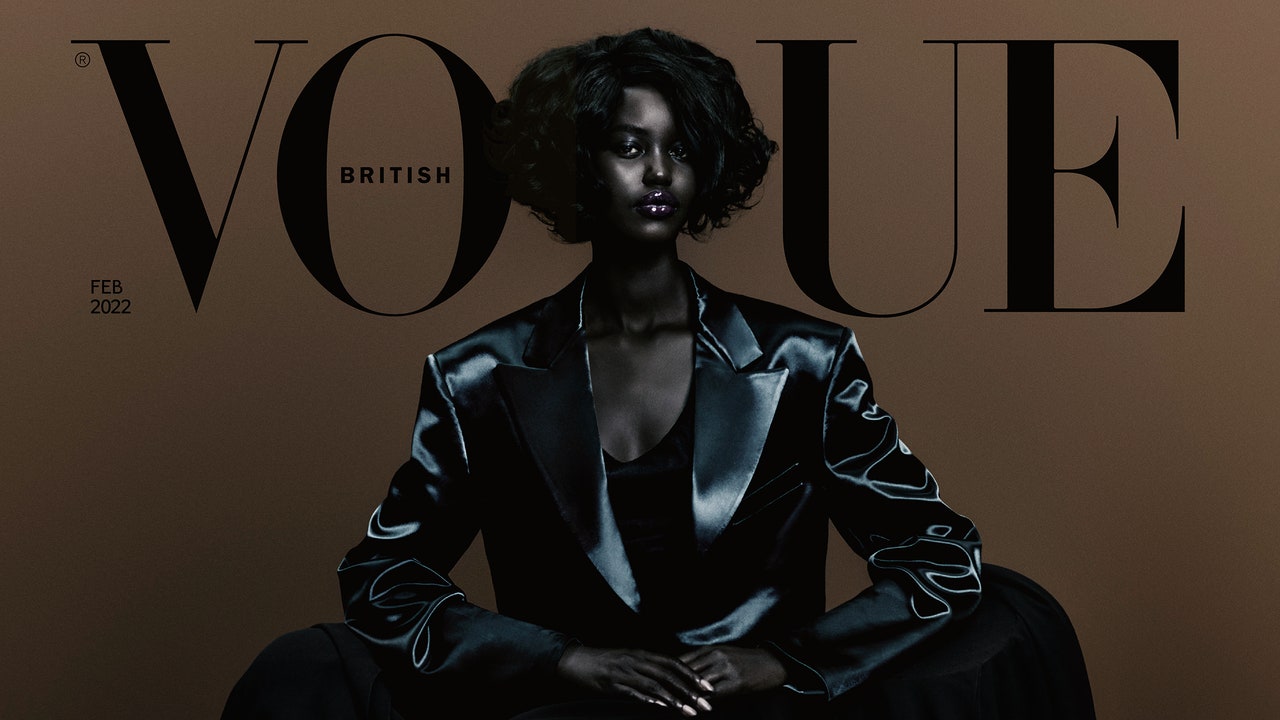 There has been discrimination in fashion publications. According to the Fashion Spot's annual diversity report, only 43% of the models who walked during the autumn/winter shows of 2021 were women of color. Nyagua Ruea, one of the models who appeared on the cover, said,
"I know there are so many little black girls who will look at this cover and feel something. I hope it makes you feel seen, heard, and happy as it did me."
Enninful said the photograph was an important statement of anti-tokenism. "No longer just one or two dark-skinned girls mingled backstage, but a host of top models took a meaningful, substantial, and equal place among the most successful women working in fashion today. It means so much to me to see it," he added.
Pavorotti called it a "celebration of women, of matriarchy and the beauty of black women". Furthermore, the cover challenges the historical Eurocentric fashion gaze, which has long seen Africa as a continent in need of charity and lacking in creativity.
Positive views on British Vogue cover
When the cover was released, a lot of people took to social media platforms to express their admiration for the creativity and message. Those in this category believe it is a breakthrough for the Black race in the fashion industry. Some of these positive views are captured in the tweets below.
Equality is liberty and makes the world a much more beautiful and livable place.

— vaneza (@vaneza20434752) January 24, 2022
Standing Left to Floor Seated Right.
Amar Akway🇪🇹, Majesty Amare 🇺🇸, Akon Changkou🇸🇸, Nyagua Ruea🇸🇸, Abény Nhial🇸🇸, Maty Fall🇸🇳, Janet Jumbo🇳🇬, Adut Akech🇸🇸, and Anok Yai🇸🇸.

— Damilola! (@obiokeke_) January 13, 2022
The concept is beautiful, the Black suit choice is interesting.

— cocoagirlmag (@cocoagirlmag) January 13, 2022
What you guys did with this cover will forever stay in my heart.iconic, stunning, amazing, brilliant, fantastic 😘

— Sebastiaan Cloete (@SebbCloete) January 14, 2022
There confidence give a crown to there beauty

— Virtual Guy (@Jekova_NFT) January 14, 2022
Not everyone agrees with the message
Even though the British Vogue wanted to celebrate Black women's beauty, some critics were hardly impressed with the cover photo. The displeasure was mostly from the awkwardness of the models' styling.
Here's the proper lighting for people with rich melanted skin tones 🤎 pic.twitter.com/XvEnnF4qw8

— Lizza (@Mrs_LeeJ) January 14, 2022
The images are very disappointing to me. The models are not well lit and they are styled in such a way that their features begin to merge with their clothing and get lost in the shadows. They are therefore unrecognisable. What a wasted opportunity.

— ChromeAngel 💙 (@chrometweets1) January 13, 2022
It's a hard no for me! We can NEVER win! This cover is tasteless! All the way down to the bad lightning, dark clothing & background. What is it you really want to say?!?

— #Truth (@choklit12) January 15, 2022
Hey vogue ! I appreciated the fact you are celebrated African, but its looks like is not light..( its not furneral pls )we do have colorful clothes! Our own prints and happy people .my sistas are beautifuls and should be celebrate as the way they are.. its not a art to be dark.

— FreeWorld (@Free_Laser) January 15, 2022
This is a condescending photo. Where is the lighting to show the different hues of blackness. You can't see the beauty of blackness. Do better next time.

— vcc-get vaccinated (@wheetz) January 16, 2022
What's your take on the cover? Did the publication get it right or fail to hit the intended goal? Share your thoughts in the comment box below.