Designer Spotlight: Checkout Algeria Rising Fashion Star, Ilyes Ouali
Fashion has over time branched into other pieces such as jewelry, bags, and footwear. Nevertheless, most modern-day designers are still focused on apparel. One of these modern-day designers is Ilyes Ouali. He is an Algerian fashion designer who rose to fame after winning a reality TV competition dubbed Fashion Star Arabia in 2019.
Several African designers like Ilyes Ouali go unnoticed or don't receive much-deserved credit for various reasons. Most of them have incredible stories of how they started, how far they have come, the challenges they have encountered, and Ouali's story is no different. Here is his story.
Ilyes Ouali's Journey into Fashion
In an interview with Forbes, Ouali cited that his love for fashion dates way back to his childhood. Then, he used fashion as a way of expression and had aspirations to use it to tell stories. Apart from his desire to get into fashion, Ouali also worked hard for his achievements. For instance, he is an alumnus of Regent's University BA Fashion Design. According to one of his tutors, Mark Eley, Ouali was a hardworking student at the university. Mark said,
'Ilyes was the most hardworking student, and at every moment of the year, he was always present in the studio." 
Having supportive tutors and an internal drive fueled Ouali's desire even more. One of the top highlights of Ouali's work is the creative and eye-catching apparel designs.
What Inspires Ouali's Fashion Style?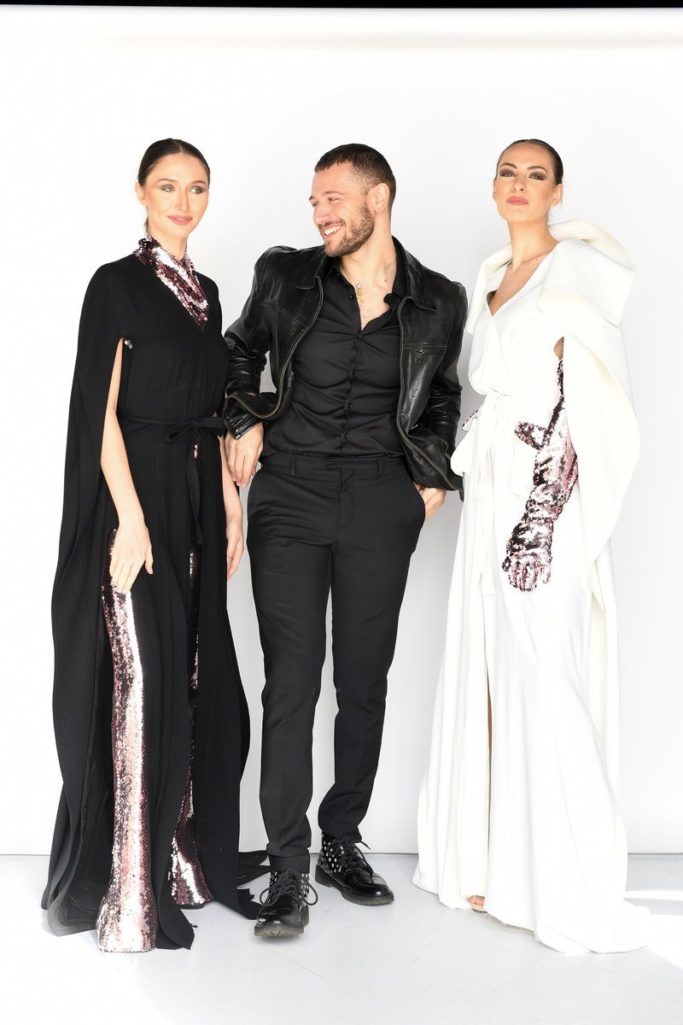 Primarily, Ouali apparel designs fall under the Haute couture category and some elements of streetwear. This category particularly includes exclusive and custom-fit dresses constructed by hand from high-quality and unusual fabrics. Since these designs are custom and hand-sewn, they are created upon request and require huge attention to detail. In fact, couture is a French word that translates to dressmaking.
Haute couture is a classic style that was common in France in the 1970s, and today it has been refined to include glamor and a taste of modernity. Ouali has noted that he always admired this dressing style and wanted to position himself as a bridge between traditional and modern fashion taste. Furthermore, his mother influenced his love for this style.
This fashion style is ideal for an independent and accomplished woman rooted in strong family values and who is not afraid to stand out. Ouali accomplishes this by creating designs that are diverse, inclusive, and sustainable.
The Making of Ilyes Ouali's Fashion Brand
Even though he was obsessed with fashion at an early age, it wasn't until Ouali joined campus that he started his brand. Subsequently, he released his debut designs, a collection of six looks. Sadly, he failed to promote them adequately to capture global attention.
Nevertheless, his first collection caught the eyes of fashion enthusiasts and lifestyle magazines like Vogue. This was after one of his close friends wore them in Paris Fashion Week. Subsequently, Ouali started gaining attention from the media and used the opportunity to put more effort into his craft.
Ouali established a business around fashion design and gets help from his mother and sister in running it. His mother is in charge of the embroidery studio in Algeria, while his sister is tasked with sourcing fabrics and decorations for the designs. On top of that, Ouali's sister oversees unit production and quality control.
Ilyes Ouali Wins Fashion Star Arabia Season 4
اللحظة التي أعلنت فيها #ريم_عكرا فوز المصمم الجزائري #الياس_والي في الموسم الرابع من #FashionStarAr!! مبروك الياس!! 🤩🤩🤩https://t.co/B2p9R5p4gA pic.twitter.com/gaYcgRo1zE

— Fashion Star Arabia (@fashionstarar) April 28, 2019
Fashion Star Arabia is a huge competition for fashion designers across Arab countries to exhibit designs for a chance to win the much-coveted title. The judging panel of season four was led by Reem Acra, together with Rym Saidi and Nadim Chammas. Out of the 12 contestants, Ilyes Ouali emerged as the winner of Fashion Star Arabia season four.
Based on the rigorous and competitive nature of the fashion show, the win positioned Ouali as an exemplary fashion designer. In return, his fame rose and spread around the world. Today, he rubs shoulders with top designers around the globe. Similarly, his designs continue to wow fashion enthusiasts across the globe.
Some Iconic Apparel Designs by Ilyes Ouali
Eye-catching fall-winter collections
It's challenging to design a winter and fall outfit that is both functional and fashionable. For Ouali, he was ready for the challenge. His latest collection of fall-winter outfits exhibits the elegance of a modern woman. Here are some looks in this category.
Picks from Fall-winter 2021 Collection
Design #1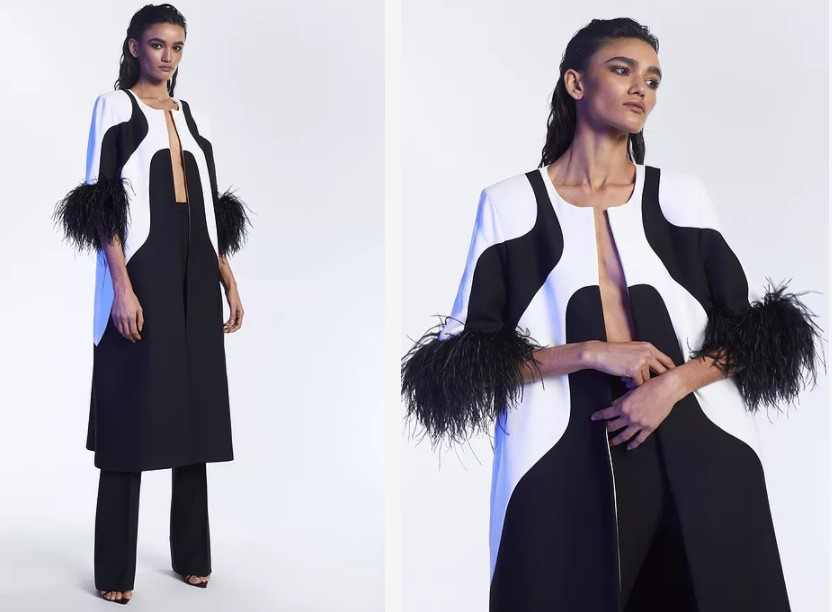 The boldness of this look draws the public eye in an envious way. The colors and the knitwork are just stupendous, to say the least. This outfit is definitely for the books.
Design #2
Talk of dressing to show up and at the same time maintaining functionality. This is a women's trouser suit made for the contemporary woman. Pair it with a sophisticated necklace and give fashion a whole new meaning.
Design #3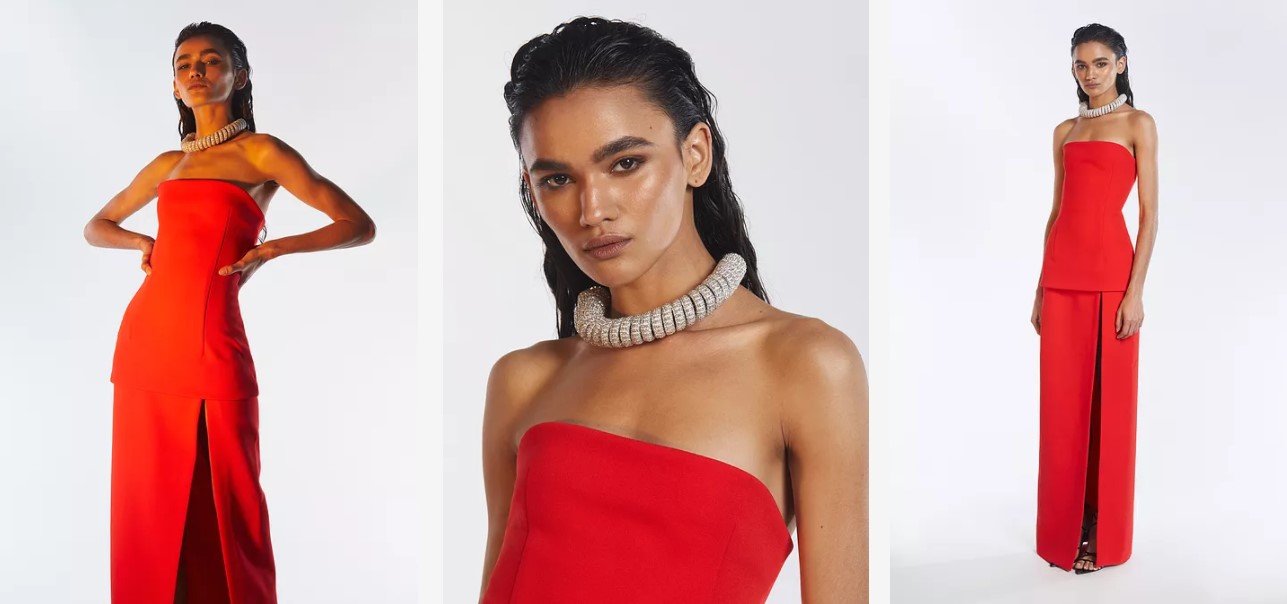 Oualis' designs are all about expression and being different as in the above red piece of art. Clearly, fashion is all about expressing oneself.
Picks from Fall-winter 2020 Collection
Design #1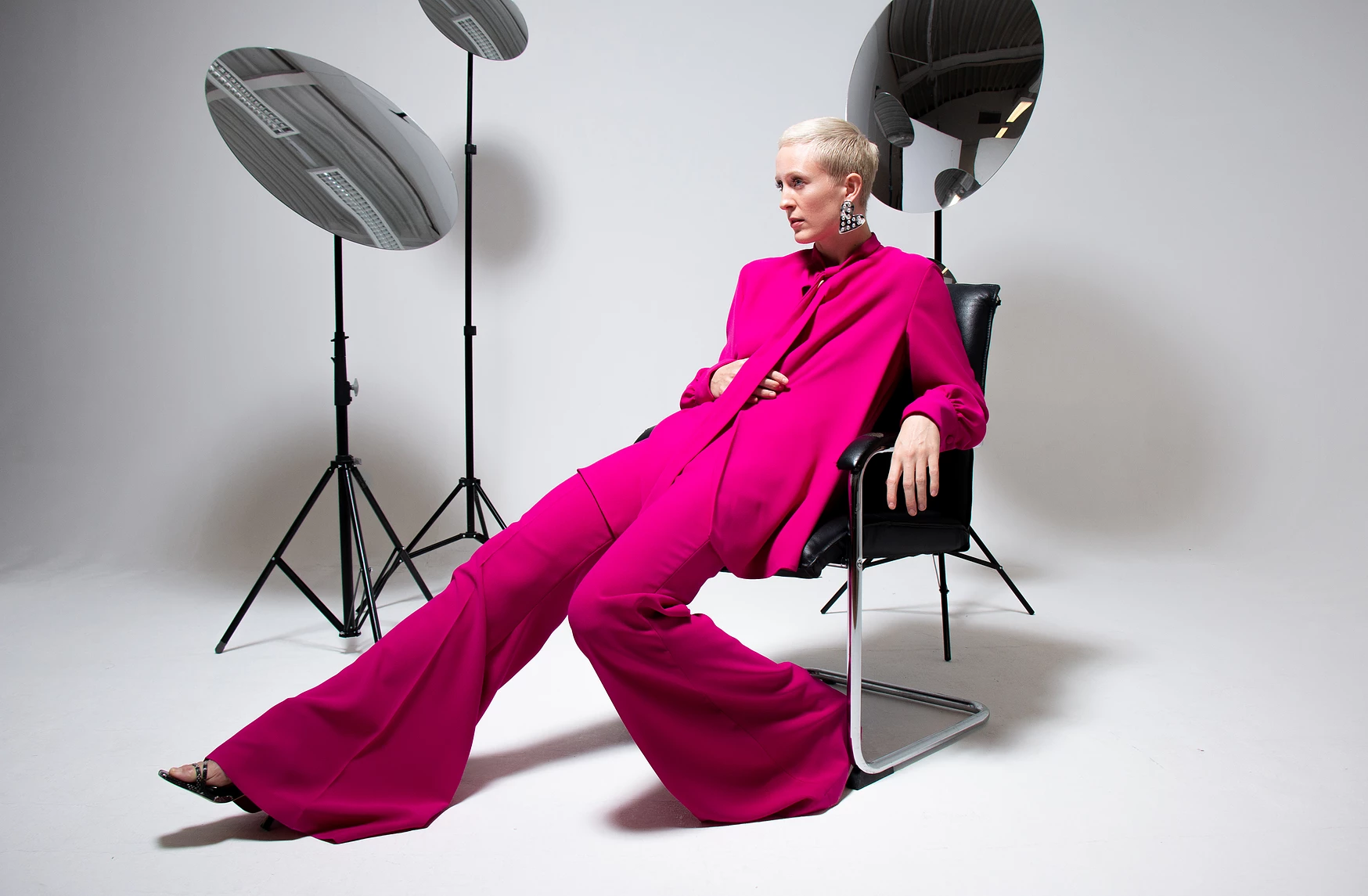 Do you know what they say about women with short hair? That's right—they're confident. So, a short-haired woman rocking a silky and fashionable dress like the one above shows more than just confidence. It's a show of power and authority.
Design #2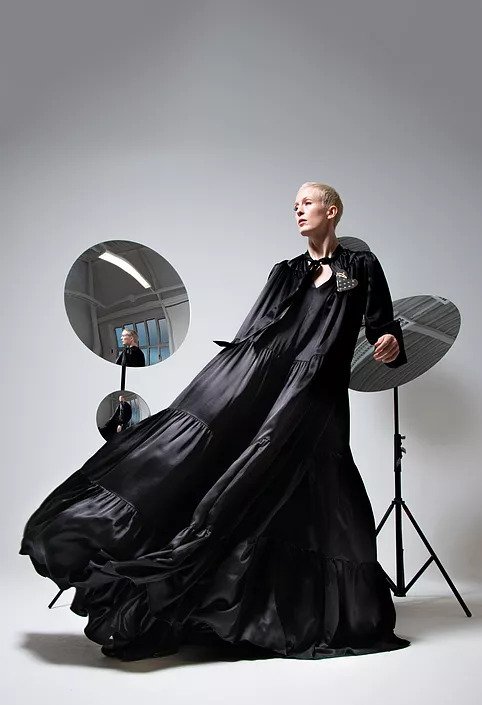 The sheer creativity of this dress is out of this world. Fashion magazines like Vogue could not have let this pass. Given that Ouali creates bespoke outfits, this particular one would downright raise several eyebrows at a gala event.
Design #3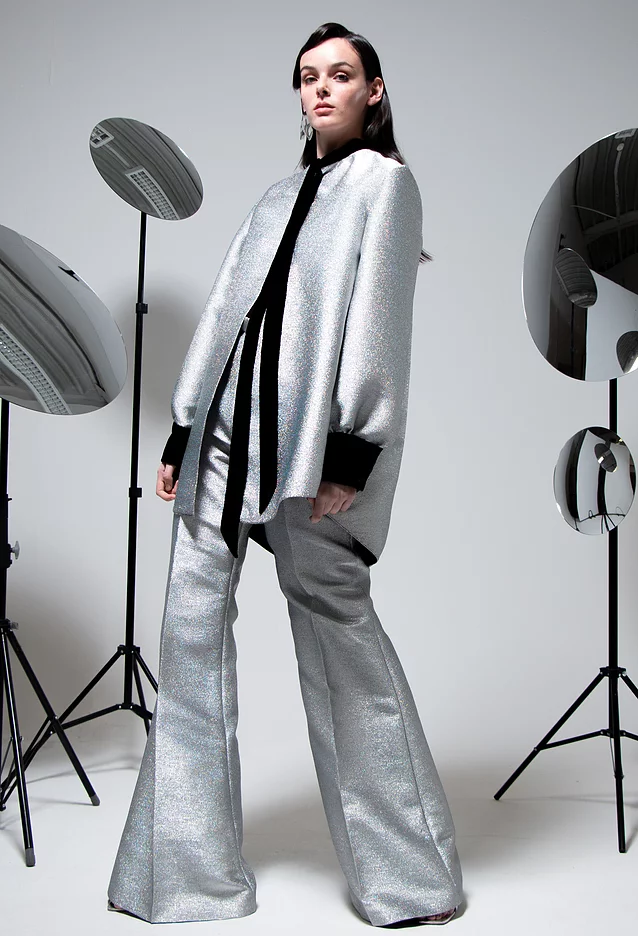 Glamour meets functionality and a lady who isn't afraid of being unique. The high waist trousers and the top button-down blazer of this outfit bring life to vintage wear in a fresher look.
Picks from Fall-winter 2018 Collection
Design #1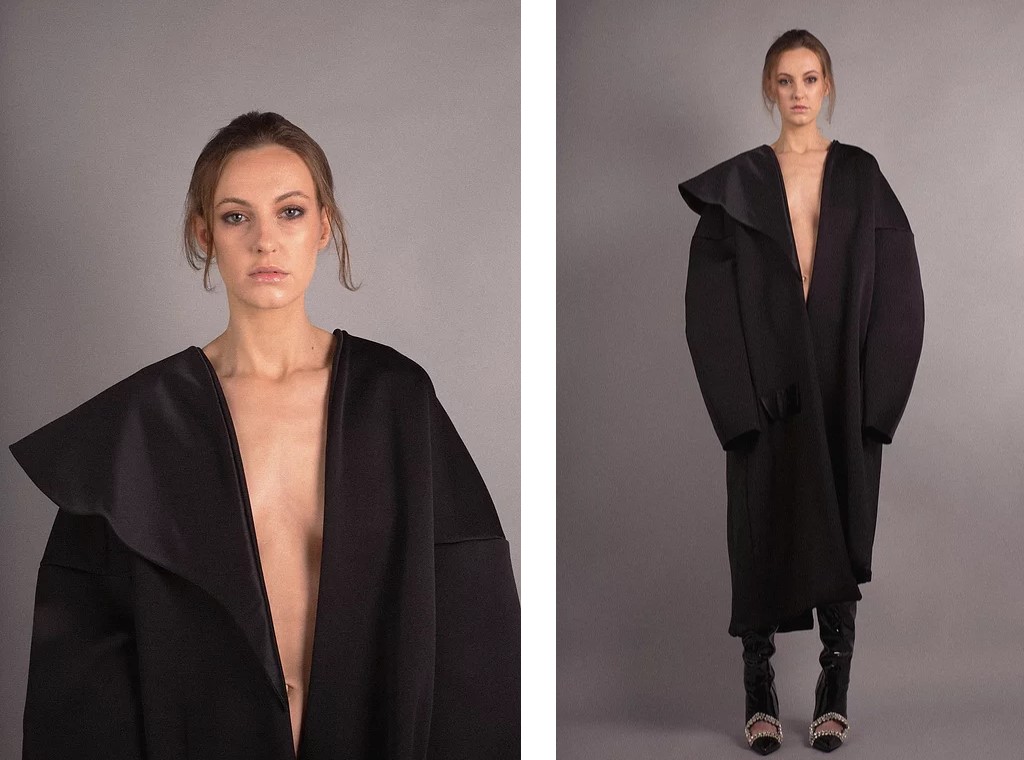 Ouali believes that winter doesn't mean dressing like someone in the South pole in order to keep warm. Notice the striking feature of this outfit, an unusual overcoat made to latch over the shoulders.
Exquisite Capsule Wardrobe Collections
Capsules are collections of essential pieces that are supposed to be timeless. These include skirts, coats, trousers and so on. Ouali's line of capsule collections dubbed Capsule 19 includes breathtaking pieces that are timeless. Take a look.
Design #1
The thing with capsules is that they can be anything. Designers have the creative freedom to stretch their imagination beyond the realms of what is considered normal. Just take a look at this unpredictable millennial lady.
Design #2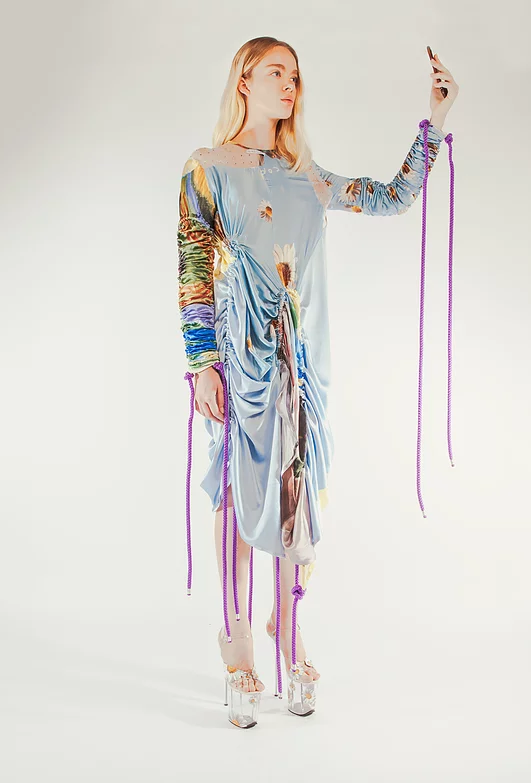 This classic silhouette combines elements never seen before to create a breathtaking look that never goes out of style. A wardrobe just needs something unconventional and Ouali is aware of this.
Design #3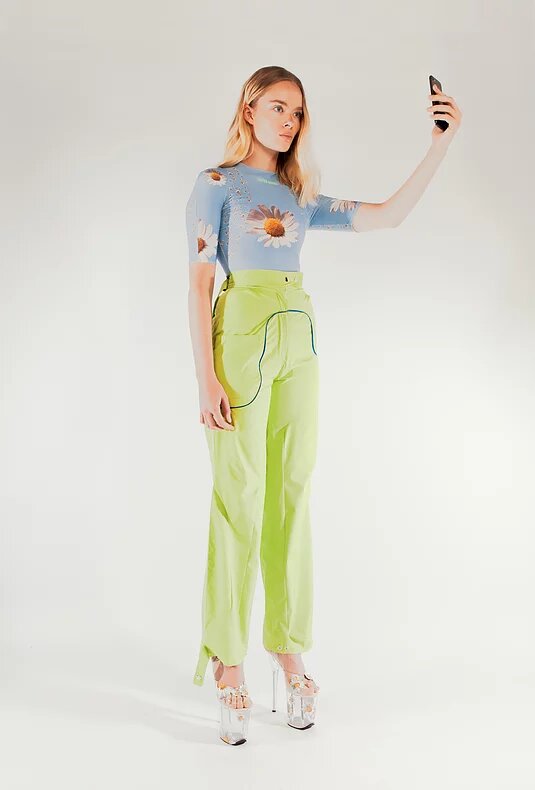 According to Ouali, taste cannot be defined, especially when it comes to capsules. The bright green color and transparent heels made this look even more compelling. These are just but a handful of the many elegant designs he has composed over time.
Conclusion
Undoubtedly, Ouali is on a fast track to becoming one of Africa's biggest names in the fashion industry. His talents and dedication to his work are some of the key attributes that are contributing to his success. Also, given that the main clientele is women, he has a huge potential of success to thrive now that his mother and sister are top decision-makers in the business. Again, other than being women, they are excellent at what they do and act as a close support system to his vision.