Burna Boy Makes Case For African Musicians At Trevor Noah's The Daily Show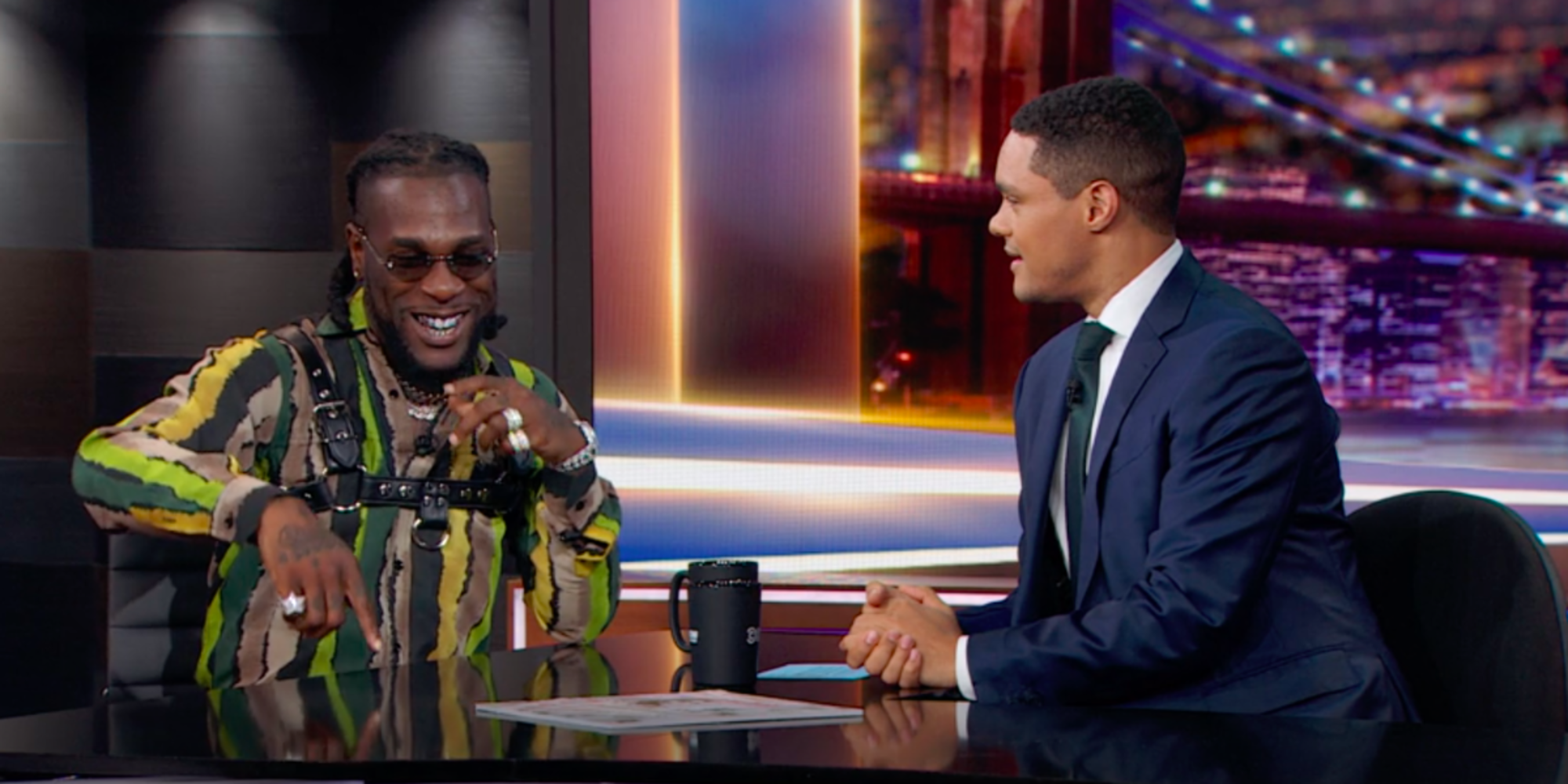 Burna Boy, born Damini Ogulu popularized the Afro-fusion genre. Consequently, musicians around the world including Drake has been sampling his tunes. However, Burna Boy was on 'The Daily Show' on Tuesday 13th August 2019 to talk about his career and how African musicians are not getting the respect they deserve. This was part of the promotional tour for his recently released album, 'African Giant'.
The Daily Show is a popular American late-night talk show that lace culturally relevant issues with humor. The host of the show is South African born comedian, Trevor Noah. Consequently, the comedian has won 24 Primetime Emmy Awards. Burna Boy caps his story with a medley of his hit tracks 'Anybody' and 'Ye'. Speaking about the event that inspired the title of his album, Burna Boy said,
"I was on a toilet seat and my mom called me to say you're doing Coachella and I was like, yeah, that's nice. So, I get off and go on the gram and then I see the thing and then I've seen all the names and then I'm looking for my name but I can't find my name… I literally can't find my name. So I'm like am I really performing … what's going on, but (my mom) was like it's there… They had to circle it for me… so basically that has never happened to me before, I'm used to being The African Giant."
Burna Boy's African Giant album
The release date of Burna Boy's African Giant album was 26th July 2019. This was barely a month after winning the BET awards for Best International Act. The album has solo hit tracks like 'Anybody', 'Dangote', 'Gbona', and 'On The Low'. However, the album also features international acts like Jorja Smith, Damian Marley, Future, and Jeremih. Consequently, Burna Boy is among 2019's Forbes Africa 30 under 30 list. In behind-the-scene footage, making reference to how Nigerians are proud about their talent, Trevor Noah said,
"That's the one thing I've always loved about Nigeria. It's the love of Nigeria from Nigeria. If every African could have that, 'we love our thing'."
Watch my brother @Trevornoah and I on the daily show tonight @ 11pm EDT pic.twitter.com/n1GFX5CeUJ

— Burna Boy (@burnaboy) August 14, 2019
Following the success of his African Giant album, Burna Boy has partnered with Spotify to create the Burna Bank. The launch of the Burna Bank was on Wednesday 14 August 2019. "The installation features a unique ATM which will be dispensing custom, collectible bills designed by Sajjad Musa. Each bill is inspired by Burna's Nigerian roots, and his quest to call out corruption and the disproportionate distribution of wealth."
Peak #AfricanGiant levels: having your own currency 🔥. Check out @BurnaBoy's ATM this week in NYC and RSVP to the launch right here: https://t.co/zkOJNWfIRr#BurnaBank pic.twitter.com/uaJCJgotjI

— Spotify (@Spotify) August 12, 2019
Burna Boy is one of the artistes on Beyonce's Lion King: The Gift album. His first studio album, L.I.F.E solve over 40,000 copies. He is also one of the performers at the 2019 Coachella Valley Music and Arts Festival. Burna Boy is definitely a force to reckon with in Africa.