Zozibini Tunzi Becomes 6th African To Win The Miss Universe Title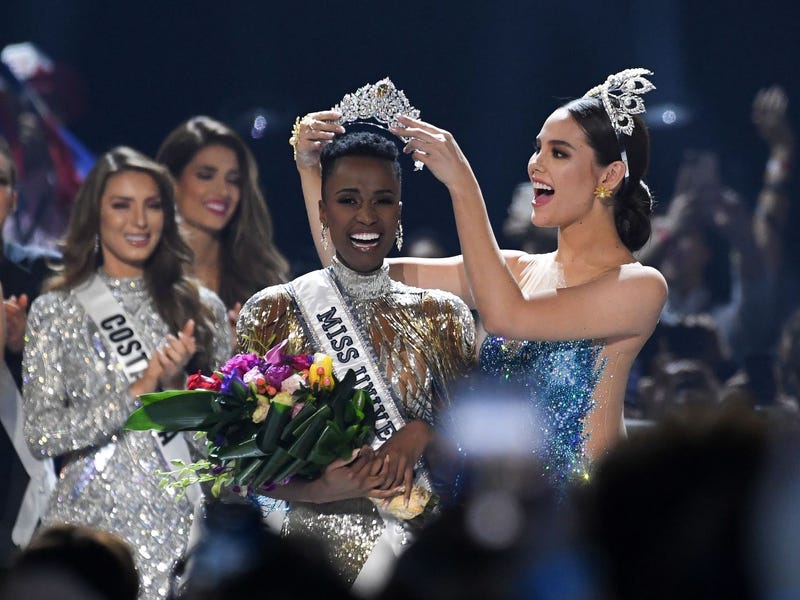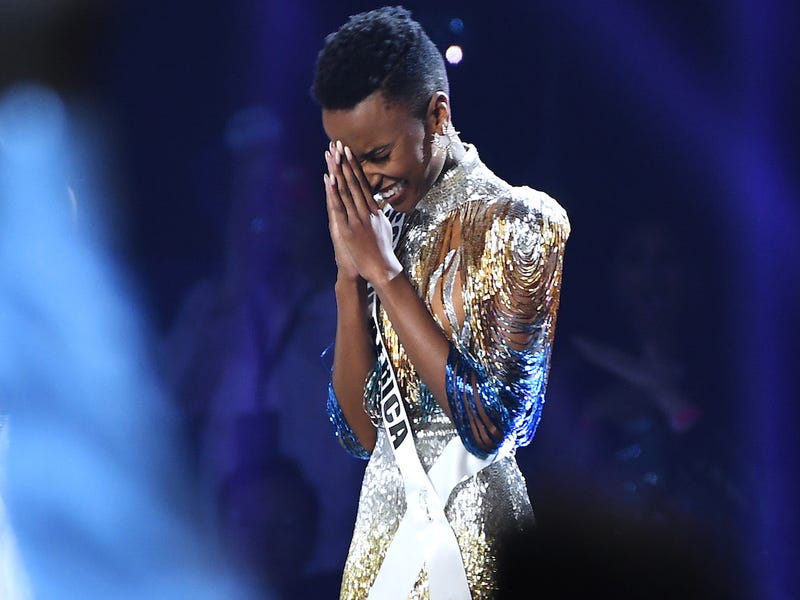 The last time that a black woman won Miss Universe was in 2011. Then, it was Angola's Leila Lopes that was the center of attraction. However, eight years on, Zozibini Tunzi has done it again. The 26-year-old Miss South Africa was crowned the winner of the 2019 Miss Universe at Tyler Perry Studios in Atlanta. Zozibini Tunzi graced the stage wearing her short, styled natural hair which she says symbolizes fair representation.
Before now, Miss Universe winners are usually girls with long—often synthetic—hairs. This is definitely the year of black women. The trio of Miss USA, Miss Teen USA, and Miss America are all black women. Tunzi hopes to use her elevated position to fight gender-based violence and promote natural beauty. In her closing remarks, Zozibini Tunzi said,
"I grew up in a world where a woman who looks like me — with my kind of skin and my kind of hair — was never considered to be beautiful. That stops today. I want children to look at me and see my face, and I want them to see their faces reflected in mine."
In 2019, Miss America, Miss Teen USA, Miss USA, and Miss Universe are all Black women. Excuse us, we're getting emotional. 😍😥(📷: Getty/ Miss USA) pic.twitter.com/4CzQfHBtRU

— ESSENCE (@Essence) December 9, 2019
Titbits Of Miss Universe 2019
Zozibini Tunzi was one of the over 90 female contestants for the Miss Universe 2019. She reached the final three after beating Madison Anderson of Puerto Rico and Sofia Aragon of Mexico. In the final stage, the remaining three contestants were asked questions on different topics including social media, protest, and climate change. Consequently, when asked the most important lesson to teach young girls, Zozibini Tunzi's answer was simple; leadership.
"It's something that has been lacking in young girls and women for a very long time – not because we don't want to, but because of what society has labeled women to be. I think we are the most powerful beings on the world, and that we should be given every opportunity. And that is what we should be teaching these young girls – to take up space."
Tonight a door was opened and I could not be more grateful to have been the one to have walked through it.
May every little girl who witnessed this moment forever believe in the power of her dreams and may they see their faces reflected in mine.
I am #MissUniverse2019. pic.twitter.com/gMkjmVCabo

— Zozibini Tunzi (@zozitunzi) December 9, 2019
Zozibini Tunzi's witty answers during the Top 5 question and answer segment earned her accolades. On climate change, Tunzi said it was time for adults to listen to children. Also, she highlighted how children and teens are taking part in climate protests and strikes.
"Since sixth grade, I've been learning that the climate is deteriorating and the planet is dying, and it is up to us to keep our planet safe."
This is the Top 5 Q&A with… South Africa!#MissUniverse2019 LIVE on @FOXtv. Airing in Spanish on @Telemundo. pic.twitter.com/FyZxRcCwhh

— Miss Universe (@MissUniverse) December 9, 2019
Social Media Accolades For Zozibini Tunzi
The Miss Universe 2019 competition got a lot of media attention. However, Zozibini Tunzi was at the center of it all. One of the people to congratulate Miss Tunzi was the former Angolan winner. A post on her Instagram page read, "Congrats girl you did us very proud".
The media mogul, Oprah Winfrey also agreed with Tunzi's proposition that leadership was the most important lesson for young girls. Oprah Winfrey retweeted a video of Zozibini Tunzi answering her questions with a comment inviting her for the Oprah Winfrey Leadership Academy for Girls #OWLAG.
https://twitter.com/Oprah/status/1203888524107436032
Zozibini Tunzi Talks About Her Daily Struggles
Barely a week as Miss Universe, Zozibini Tunzi was on The Daily Show hosted by Trevor Noah. It was a sort of a reunion for the Soweto boy and Tsolo girl. Consequently, they shared a couple of jokes. Speaking about her journey to Miss Universe, Tunzi recalled how many people said she was a 'downgrade' to the previous winner. Furthermore, she shared a heartbreaking story of her experience with a fan on social media.
"It was late in the evening and I took a photo of my apartment and I was like, it's such a beautiful night and a comment came in saying, 'this photo is so black, it's as black as you are, Miss ugly SA'." However, Tunzi did not hold it against the fan. She said, "I'm not mad because it's just how society has labeled beauty to be. It's just how we've been programmed to look at beauty in that way. The further you are from being fair, the uglier you are."
The exact prize for the Miss Universe is not made public. However, Tunzi will likely get a rent-free stay in an apartment in New York. She will also earn a salary of around $100,000. Furthermore, she will also fly around the world for modeling and media opportunities.
The Region of Africa with the Most Beautiful Girls
Zozibini Tunzi is not the first African to win the Miss Universe title. However, her win makes it the third time that the award will be going to South Africa. The first African to win the award was Margaret Gardiner of South Africa in 1978. It was a long wait for Africa afterward. However, Namibia's Michelle McLean won the coveted award in 1992 to shift the attention to Africa once more. Botswana's Mpule Kwelagobe took the crown in 1999 while Leila Lopes of Angola took the award in 2011. After a brief break, Demi-Leigh Nel-Peters won the award for South Africa again.
Zozibini Tunzi's win makes South Africa the African country with the most win. Thus, Africa has won the award 6 times out of the total 68. From a geographical perspective, all past African winners of the miss universe are all from Southern Africa. Consequently, it is safe to say that Southern Africa has the most beautiful ladies in Africa. Did this surprise you? Tell us your view in the comment box below.