This Kenyan Entrepreneur Is Turning Agricultural Waste Into Wealth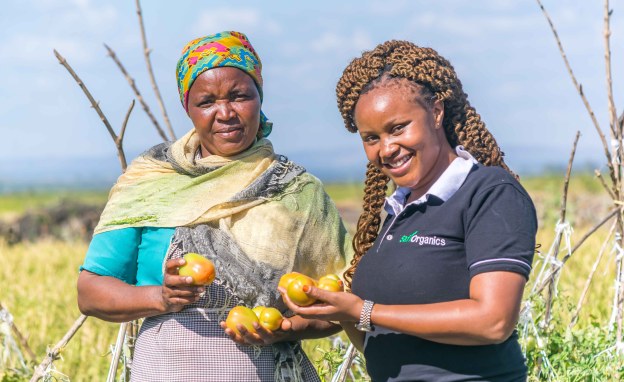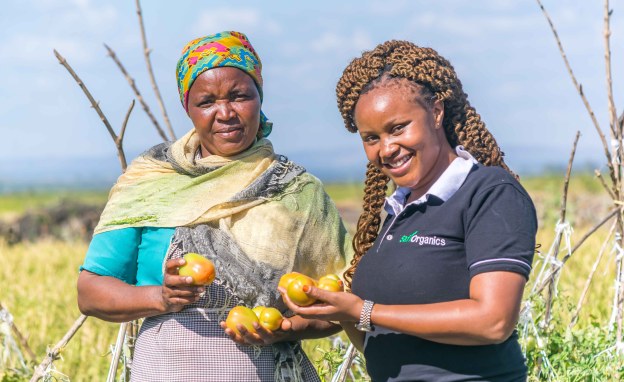 Agriculture is a business—a profitable one. However, in Africa, it is often seen as a way of life. Consequently, people tend to look down on farmers, and farming is left for the uneducated. Thus, illiteracy has become one of the major limitations of farming in Africa. Many farmers keep tilling and planting their lands without making efforts to replenish the nutrients. Also, fertilizers are often not easily accessible or too expensive for some of the farmers. Over time, this leads to a reduction of yield. Safi Organics is turning rice husk to fertilizers—and it is very effective.
Safi Organics was founded by Joyce Kamande and Samuel Rigu in 2015 when they were in their final year in the University. Growing up in rural Kenya, both of them had a keen interest in empowering their community. The combination of erratic rainfall and land degradation led to lower yields in their rural communities. Consequently, they saw their families and neighbors struggle to meet their basic needs. Ms. Kamande said she wants to change that narrative. She said,
"The vision of Safi Organics is to be the leading converters of farm waste to high-quality carbon-negative fertilizer that increases farmer's yields. We first did research and trials in 2015 and 2016. After several tests to convert the agricultural biomass, we came up with an organic fertilizer named Safi Sarvi, which now retails at 1500 KSH ($15)."
Safi Organics is Receiving Positive Feedback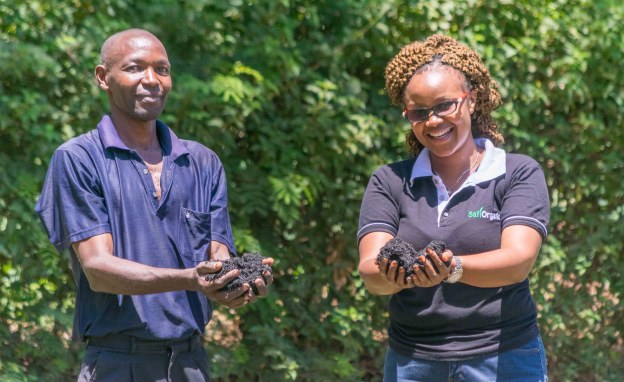 Coming up with an innovative product is one half of a story. The other half is to prove that the product actually works. In 2018, Safi Organics selected Mary Rigo, a small scale farmer, to test their new fertilizer, Safi Sarvi. Ms. Rigo is a tomato and spinach farmer. Her two-acre farm is in Kirinyaga County, 60 miles northwest of Nairobi, Kenya.
Prior to the experiment, Rigo relied only on the natural nutrients in the land. Due to her meager resources, she couldn't afford to use fertilizers to maximize her output. Eventually, her harvest began to decline due to the depletion of nutrients. After using Safi Sarvi, she witnessed a 30% boost in her output. For the first time in a long while, she was able to make a good profit from selling her onions.
The second application was with Safi Sarvi 'topper'. The result was the doubling of her earnings. Consequently, she was able to pay college fees for two of her sons. She is also planning to buy a fairly-used van to regularly transport her farm produce to the market. Reacting to the outcome of the experiment, Kamande said,
"This is the kind of impact we would like to deliver to smallholder farmers across the African continent."
The Journey so far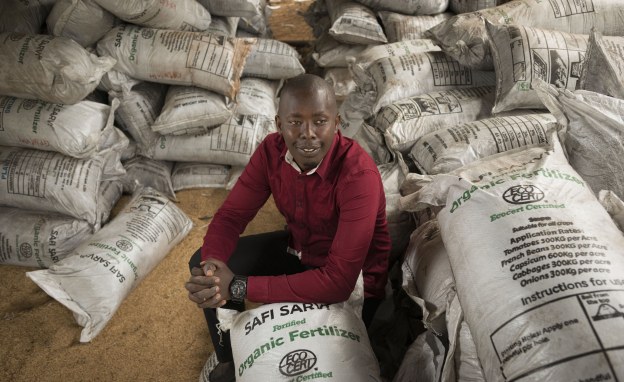 Last year, Joyce Kamande was one of the 25 African entrepreneurs who spent six weeks at Oklahoma State University. She was part of the Mandela Washington Fellowship, a flagship program of the Young African Leaders Initiative (YALI). Also, Safi Organics was a beneficiary of a scale-up grant by the United States African Development Foundation (USADF).
Lack of access to capital is one of the major limitations holding most young entrepreneurs behind. In addition to funding from various sources including the Tony Elumelu Foundation, Safi Organics has its factory in Mwea, Kirinyaga County, close to a pishori rice husk dumpsite. Pishori rice is special fragrant rice in the Basmati family. Consequently, the young enterprise had free access to raw material. Besides turning waste to wealth, they are cleaning the road of the waste which was piling up.
Safi Organics is looking beyond the production of fertilizers. The enterprise is already looking at possible ways they can diversify their products making use of the available agricultural biomass waste. In an interview, Kamande highlighted some of the products they can make.
"We can produce briquettes, which is an environmentally friendly biofuel, and will help stop the use of charcoal and save our trees. We can also produce biodiesel that can be used by factories and the transport industries. Other products are mosquito coils, and furniture, as the rice biomass can make solid block boards. In homes, you can also use agricultural waste to filter water and as an air purifier specifically for the pit latrines. Lastly, you can use it to make animal feeds."
How Safi Organics is coping with COVID-19 Pandemic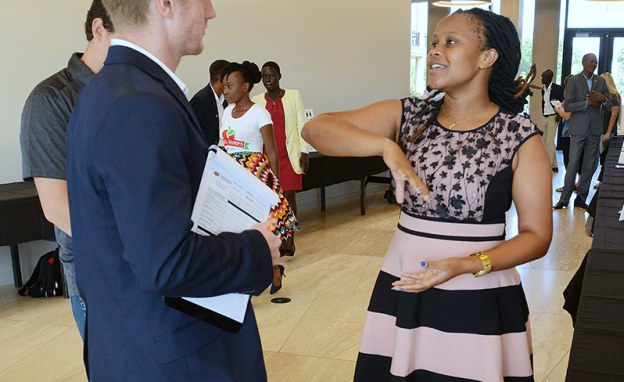 Big establishments are struggling to stay afloat following the COVID-19 pandemic. The situation is even more daring for startups. Since the implementation of lockdowns and social distancing to curb the spread of the virus, farmers in Kenya are finding it difficult to get farm inputs. That has meant a drop in sales for Safi Organics.
Since coming into the limelight, the enterprise has seen its income rise from 3.6 million KSH ($36,000) in 2017 to 10 million KSH ($100,000) in 2019. The farmers have been the main ambassadors of the product. They have been talking about the efficacy of organic fertilizer. This has led to an increase in sales. However, if the COVID-19 pandemic persists, Safi Organics may be forced to close down. Kamande said,
"For the small-scale farmers, we are still selling, but the volumes have dropped. The current lockdown has exacerbated the drop in sales volumes, and we are hopeful that a cure and vaccine will be found soon. If this situation persists, it will force us to close down our business. It will also affect other start-ups. This is because we will have no supply of farm inputs. We will be unable to pay our employees, as we rely on the sales of our fertilizers."
What it takes to ensure Sustainable Agriculture in Africa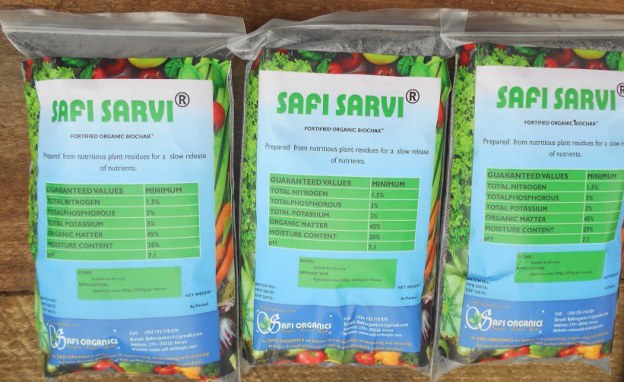 Efforts by startups like Safi Organics to create affordable fertilizers is key to ensuring sustainable agriculture in Africa. The fertilizer application rate in Africa is the lowest compared to other regions of the world. Kamande points out that,
"Many smallholder farmers use animal manure, which only gives micro-dosing and an unbalanced nutrient ratio to the degraded soil, or opt for cheap synthetic fertilizers that degrade and acidify the earth. Our product is superior, as it restores degraded lands, due to our ability to tailor-make fertilizers according to various soil deficiencies."
Apparently, the only way Africa can improve their yield is to improve soil quality. Agriculture accounts for about 20% of Africa's GDP and engages 60% labor force. According to Boosting Africa Soils Report, the only way to achieve the United Nations Sustainable Development Goals of hunger and poverty eradication is to improve Africa's soils. FAO Director-General, José Graziano da Silva captures it aptly,
"We speak a lot of the importance of sustainable food systems for healthy lives. Well, it starts with soils, healthy soils."
Do you think fertilizer is the major setback to agriculture in Africa? What other factors do you think needs to be addressed for food sustainability in Africa? Please share your thoughts in the comment box below. On our path, we believe Africa should be processing more of its products rather than shipping it out and importing processed goods at a higher amount. Certainly, locally made fertilizer is a good start.