The I Wear African Campaign launches with great enthusiasm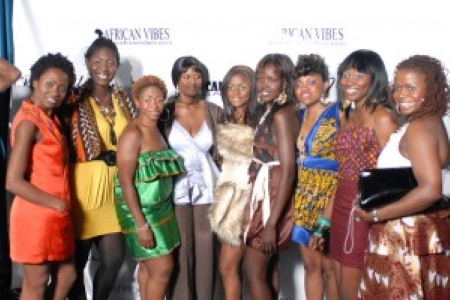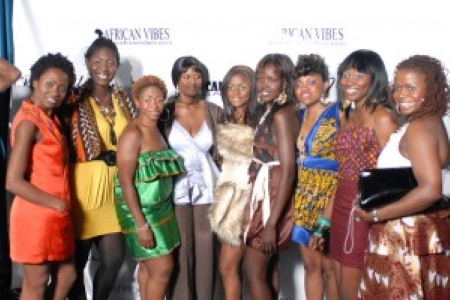 All the theatre and drama of couture fashion was present at the African Vibes Magazine 3rd Anniversary I WEAR AFRICAN Campaign launch which took place over the weekend. The campaign, an initiative of
#Amabel Niba
, the magazine's Founder and Editorial Director generated lots of excitement as guests were encouraged to dress in Africa-inspired fashions.
The event was a parade of glamorous evening wear as well as innovative couture and luxury wear from 8 Designers. The mood of the show ran the gamut from dramatic to sensual, whimsical to classic, traditional to eclectic. The wall to wall enthusiastic audience of socialites, fashion lovers, and editors from different parts of the country and abroad flocked to the perennially elegant event on April 18, 2009, to enjoy couture and a luxury fashion showcase by designers from Ghana, Cameroon, Sudan, and DR Congo.
ALSO READ: Nigerian Fashionista to bring the ReverExperience to the 'I Wear African' Runway
Fashion brands on display at I Wear African launch
Showcased labels were #Bothdoll Fashions, #Cote Minou, #KiRette Couture, #Knaf Couture, Modahnik, and Studio D Maxsi. Guests received goodie bags with beauty items from Supporting Sponsor #Milani Cosmetics and were served exotic hors d'oeuvres from Africa along with samples of juices from Silver Sponsor, Barrel Juice. Performances by emerging entertainers #Les Belles D'Afrique and #Stephane Afeni (S.A) also enchanted attendees.
"It is always a great feeling when we celebrate our growth and that feeling only gets better with the launching of this campaign. I was quite touched by the turnout and guests who came out showing off their beautiful African outfits. The launching was a great success," said Niba, who dressed for the occasion in a beautifully crafted cream-colored 2 piece outfit straight off the Runway by Afua Sam of Studio D Maxsi; later on changing into a pink strapless frock dress with special markings native to Cameroon by Kirette Couture.
The campaign is just one of the many initiatives the publication is engaged in to stay true to its goal of connecting the world to Africa.
JOIN THE I WEAR AFRICAN FAN PAGE ON FACEBOOK >>
<<Checkout our I wear African Site>>
---
Event Highlights from VOA