Nigerian Teen Bags 19 Undergraduate Scholarships In US And Canada Worth Over $5 Million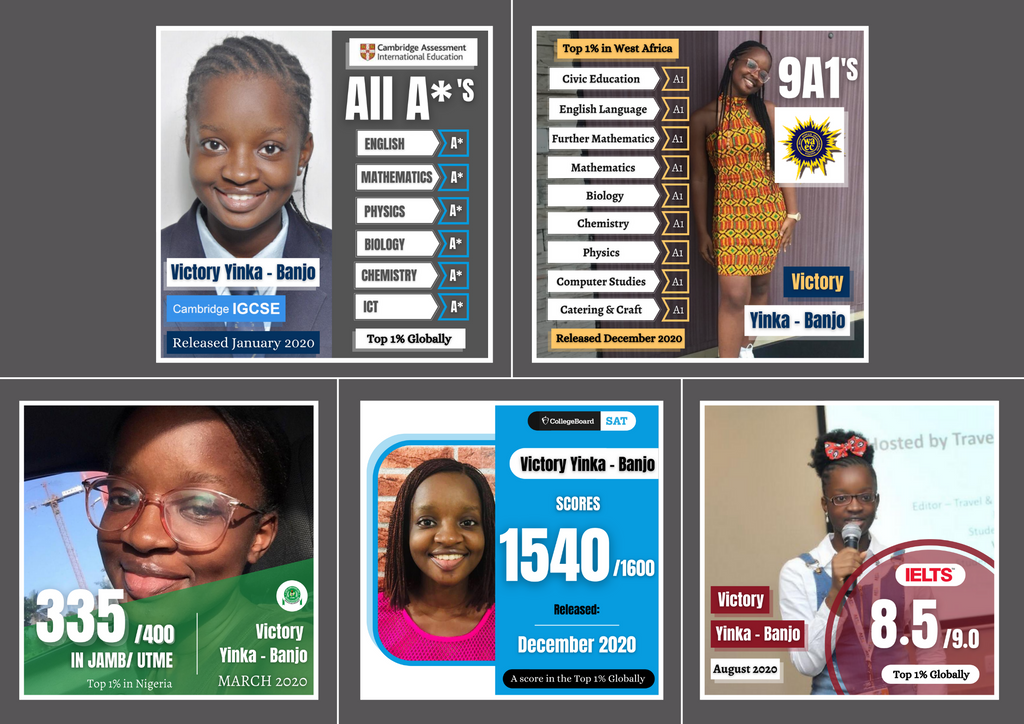 The standard of education in Nigeria is on a steady decline. This popular opinion is fueling the exodus of brilliant students outside the country to seek quality education. However, the story of 17-year-old Victory Yinka-Banjo, is a testament that brilliance has nothing to do with location. The high school graduate is making headlines for bagging 19 scholarships from the United States and Canada worth over $5 million.
Victory Yinka-Banjo is not an American nor has she lived in the US or Canada. The high school graduate is a genius born to African parents, Chika Yinka-Banjo and Adeyinka Banjo. She is a big fan of Priscilla Shirer and Steven Furtick's sermons. When she is not listening to them, she takes on gospel music or does some cooking, bike riding, or swimming. The 17-year-old, an exclusive interview by Fab Woman, says her motivation is the stories of self-made people who are tougher than their circumstances particularly her friend Chika Dueke-Eze and her parents.
Victory Yinka-Banjo's Compelling Academic Performances
In Africa, particularly Nigeria, scoring high grades is tough due to the lack of a conducive learning environment. Consistently doing so is even more magical. Therefore, Victory's academic performance is befitting of her name. Her excellence began while she was still a student of Princeton College, Surulere, Lagos. There, she held the positions of Senior Prefect, Founder of the Coding Club, President of the Students' Representative Council, Lead Violinist among others.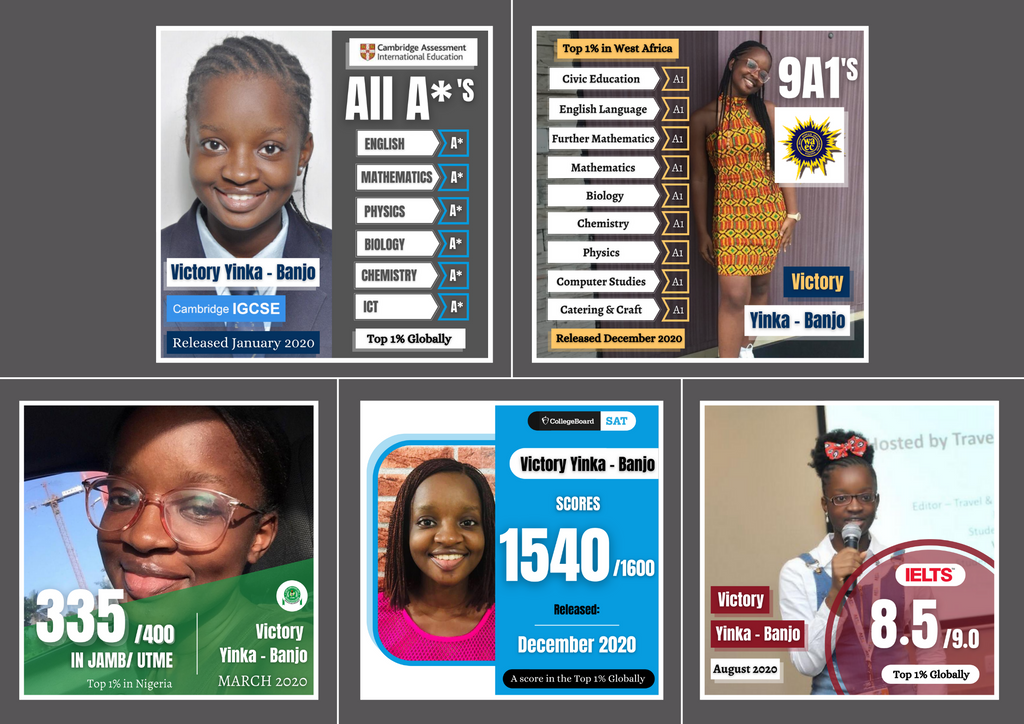 The Nigerian teen also consistently proved her extraordinary abilities during examinations. Based on results released by the West African Examination Council (WAEC) in December 2020, she aced all her 9 papers. She attributed this stellar performance first to God and then to her commitment to all school activities. She made an immense effort to study her weak courses. Consequently, she was among the top 1% of candidates in West Africa.
Victory was also among the top 1% candidates in Nigeria. This came as she scored 335/400 marks in the Joint Admission and Matriculation Board (JAMB/UTME) exam. As if on a mission to conquer the world, the brilliant African girl went ahead to clear the Cambridge IGCSE exam scoring A* in all subjects. Even the rumoredly difficult IELTS was no match for the teenage whiz kid. Her score sheet unmistakably reads 8.5/9.0.
Although this string of success seems like much, It is really just a few compared to what Victory has achieved. Her performance in local and international competitions is enviable. It includes a gold award in the Queens' Commonwealth Essay Competition in 2019, and 2nd Place in the Association of International School Educators of Nigeria (AISEN) Public Speaking Competition in 2018.
Victory Yinka-Banjo's US and Canada Scholarships
Her name is Victory Yinka-Banjo born & bred in Nigeria.
She's been offered full scorlarships frm:
YALE, PRINCETON, HAVARD, BROWN;
UNI OF TORONTO,
UNI OF BRITISH COLUMBIA (KMILOT) & more!
👇
Africans when they utilise their intelligence 4 good. Incredible!https://t.co/hx1R4L1R6j

— Daisy Hart (@DaisyHa58713895) May 1, 2021
After raking in so many awards for her unusual academic accomplishments, Victory Yinka-Banjo topped it all with a whopping number of foreign scholarships. The record-breaker scored not one or two but nineteen full scholarships from top-rated universities in the US and Canada. CNN reports that her total undergraduate scholarship's worth exceeds $5 million dollars.
The Nigerian high-school graduate received full offers from Ivy League Schools, Brown University, Harvard College, Princeton University, and Yale College. The University of Virginia, Standford University, Johns Hopkins University, and Massachusetts Institute of Technology (MIT) also offered her scholarship.
In addition, Victory received a number of Canadian scholarship offers. One of these was the Karen Mckellin International Leader of Tomorrow (KMILOT) scholarship from the University of British Columbia. She was also offered the Lester B. Pearson scholarship from the University of Toronto. Having so many scholarship offers, Victory said,
"They have made me truly feel proud about the hard work I have put into several areas of my life over the years. I am slowly beginning to realize that I deserve them".
She further said her preferred course of study is Computational Biology. However, she is trying to decide on which school to choose. She also tutors other university admission seekers on subjects such as math, biology, and English Language, through a radio program.
Conclusion
Securing so many undergraduate scholarships must be really delightful. Also, Victory Yinka-Banjo is now an inspiration to so many young Nigerians and Africans. For us, this is even more important. In a continent that is mostly talked down, a glimmer of hope like Victory can spark a cascade of mental change.