Nigerian American Unveils President Obama's Official Portrait. Tell Us What You Think Of His Historical Work Of Art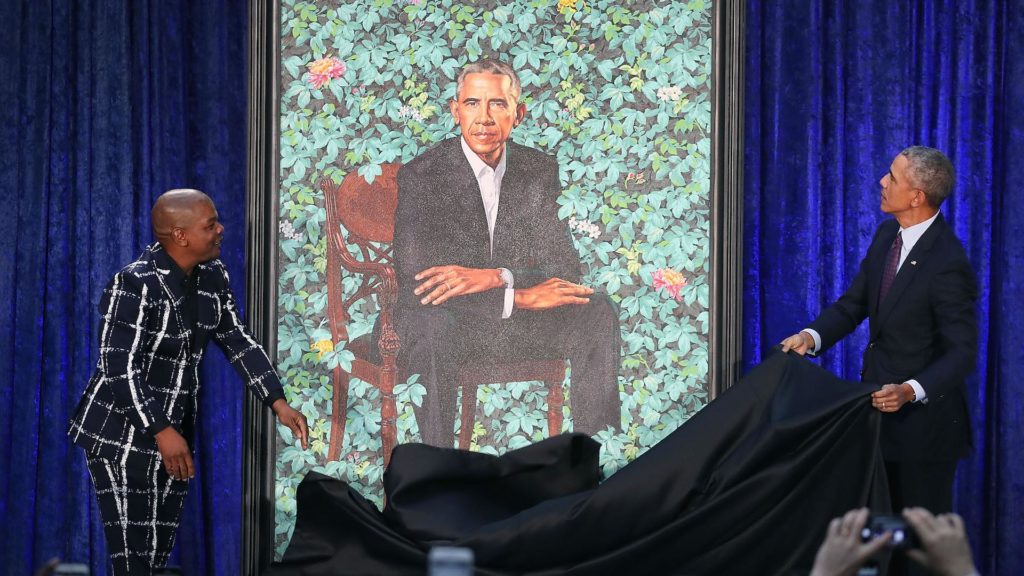 Not only are the Obamas the first African-American presidential couple to be enshrined in the collection. The painters they picked to portray them are  Nigerian-American Kehinde Wiley for Obama's portrait and African American Amy Sherald, for Mrs. Obama's portrait.
Both artists have addressed the politics of race consistently in their past work, and both have done so in subtly savvy ways in these new commissions. Mr. Wiley depicts Mr. Obama not as a self-assured, standard-issue bureaucrat, but as an alert and troubled thinker. Ms. Sherald's image of Mrs. Obama overemphasizes an element of couturial spectacle, but also projects a rock-solid cool.
It doesn't take #BlackLivesMatter consciousness to see the significance of this racial lineup within the national story as told by the Portrait Gallery. Some of the earliest presidents represented — George Washington, Thomas Jefferson — were slaveholders; Mrs. Obama's great-great-grandparents were slaves. And today we're seeing more and more evidence that the social gains of the civil rights, and Black Power, and Obama eras are, with a vengeance, being rolled back.
Kehinde Wiley Point Of View
In an imposingly scaled painting — just over seven feet tall — Wiley presents Mr. Obama dressed in the regulation black suit and an open-necked white shirt, and seated on a vaguely thronelike chair not so different from the one seen in Stuart's Washington portrait. But art historical references stop there. So do tonal echoes of past portraits. Whereas Mr. Obama's predecessors are, to the man, shown expressionless and composed, Mr. Obama sits tensely forward, frowning, elbows on his knees, arms crossed, as if listening hard. No smiles, no Mr. Nice Guy. He's still troubleshooting, still in the game.
TAKE OUR POLL