Kannywood's Adam Zango Gives A Hefty Sum To Sponsor The Education Of 101 Underprivileged Children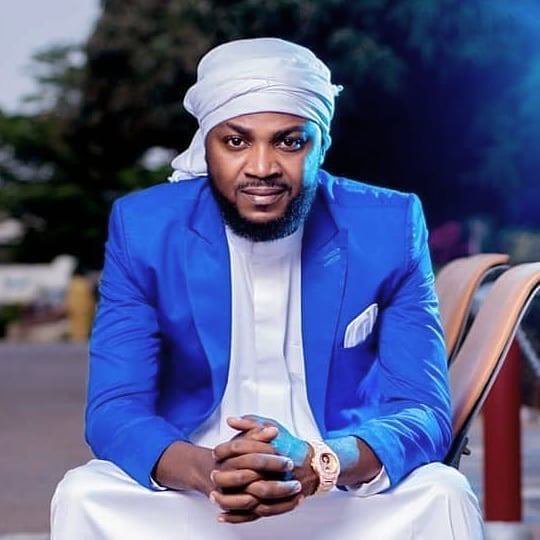 Nollywood is the biggest movie industry in Africa. Kannywood is a branch of Nollywood that makes movies in Hausa. Inasmuch as many Nollywood actors claim they are not paid enough, we know they live fairly comfortable lives. Not many turns around to give back to society. In fact, many celebrities around the world don't. Nevertheless, Kannywood actor, Adam Zango begs to differ.
The Kannywood actor and musician paid 47.7 million naira (approx. $130,000) to Prof. Abdullahi International School, Zaria, Kaduna State. The money was to sponsor the education of 101 orphans and less-privileged children in the school. The money will cover tuition and other costs for the beneficiaries who are in senior secondary (SS1 to SS3). The Kannywood actor posted the receipt on social media with the message,
"I think it's excellent to have the opportunity to help others and to support those who are worse off. Helping others, especially kids fulfills my heart and it's something I enjoy doing. As from now on, together with my team, we won't hide our good deeds any longer. We'll work to improve the lives of women & less-privileged children, adolescents and families across Nigeria."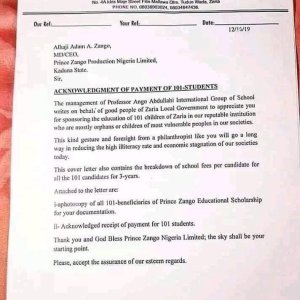 The world nearly would not have known what the Kannywood actor did
It is becoming increasingly difficult for people to be charitable without telling the world about it. However, it would interest you to know that this was not the first time that the Kannywood actor was making such a gesture to support the less-privileged. Speaking to BBC Hausa, the proprietor of the school, Shamsuddeen Maiyasin said,
"It is my school and it is a group of schools. It is true that he paid that amount for some students who could not pay for their education. And this is not the first time. He has been doing that for a very long time. In fact, not only in Nigeria. He sponsored some orphans to study in Sudan, and I was the one who facilitates their going at that time. He never wanted us to speak out and tell the world what he has been doing in helping children of the less-privilege to get educated, but we told him that we will tell the world so others can learn from him."
A peek into the life of Adam Zango
The Kannywood actor was born in Zangon Kataf in Kaduna State. However, he was forced to migrate to Plateau State due to tribal clashes in 1992. He was unable to complete his primary education because of the lack of money. He was nicknamed Usher for his dancing skills. Consequently, he moved to Kano State where he began working for a music and dance company. In the past decade and a half, he has appeared in over 100 films. His first film was Sirfani.
The management of the school sent a letter of appreciation to the Kannywood actor on behalf of the parents of the school. According to the letter which Premium Times saw, the school management thanked Mr. Zango for the gesture. Part of the letter read,
"The Management of Professor Ango Abdullahi group of schools writes on behalf of the good people of Zaria Local Government to appreciate you for sponsoring the education of 101 children of Zaria in our reputable institution who are mostly orphans and children of the most vulnerable in our society."