Flourish Africa Rain Cash On Female Entrepreneurs At 5th Anniversary
Flourish Africa, the women-led organization founded by Apostle Folorunso Alakija celebrated its fifth anniversary on Sunday 17 July 2022. The event was graced by successful businesswomen cut across various fields. It also served as the graduation ceremony for Flourish Africa's Business and Life Skills Training program's first 500 female entrepreneurs.
The program seeks to empower female-owned micro, small, and medium enterprises (MSMEs). As they say, charity begins at home. Apostle Folorunsho Alakija wants to breed the continent's next generation of economically-empowered women in the next five years, starting from Nigeria. In an audio message played at the event, Apostle Folorunso Alakija said,
ALSO READ: These Women Are Helping The Fight To Break Africa's Gender Equality
"It is a general belief that women are their own worst enemies. However, our mission in Flourish Africa is to break this perception and create a new narrative that empowered women empower other women."
What is Flourish Africa?
The former Africa's richest woman designed Flourish Africa for women between 18 and 50 years. The Business and Life Skills Training program organized by Flourish Africa seeks to equip these women with the tools they need to reach their full potential.
The 500 lucky beneficiaries were taken through 12 weeks of intensive training, business mentoring, and world-class coaching by industry experts. Apostle Folorunso Alakija was also one of the mentors. During one of the live sessions, she emphasized the need to "put God first in any business".
The first batch of graduands took part in a business pitch competition. One hundred of the best pitches were selected and awarded N2 million (approx. $4,815) grant to fund their business. The graduands were also inducted into the admired Flourish Africa Alumnae association.
Bridging the gap between women and access to funds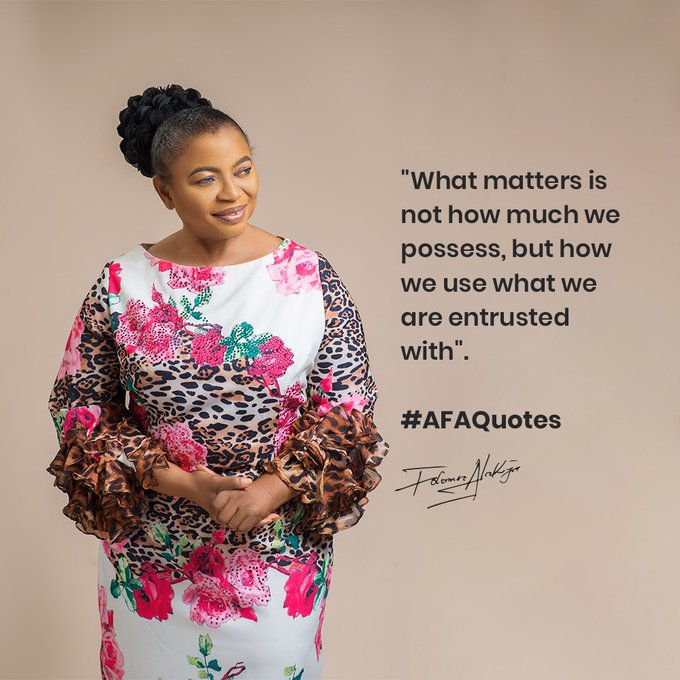 Access to funds is difficult in most African countries. The situation is even direr for female entrepreneurs. A few months earlier, Apostle Folorunsho Alakija decided to bridge the gap separating women from access to funds.
To achieve this lofty vision, she committed 1 billion naira (approx. $2.4 million) to boost female entrepreneurship. That was the birth of Flourish Africa.
During the launch of the program in March 2022, Alakija announced PricewaterhouseCoopers (PwC), Google, and Eloh Consulting Limited as training partners. Subsequently, Flourish Africa will train 500 female micro-entrepreneurs annually for the next 5 years.
Eloh Consulting Limited will mentor the female entrepreneurs in management development. Also, Google will create a Business Profile for the female entrepreneurs and equip them with the necessary digital skills relevant to their business. On their part, PwC will mentor the female entrepreneurs on the requirements for doing business in Nigeria including tax regulations.
Also, N200 million (approx. $481,464) will be set aside at the end of every training year as a grant for 100 lucky female entrepreneurs with exceptional pitches. Addressing the graduands at the fifth-anniversary celebration, Apostle Folorunsho Alakija reminded them that they are now the ambassadors of Flourish African. Therefore, they should not do anything that will ruin the image of the brand.
Equal opportunity to fund by female entrepreneurs is key to achieving gender equality
There is still a huge gender gap across the globe. While some African countries have made significant progress in this regard, others are struggling through it.
The disparity in the funding gap is evident in the number of female entrepreneurs that are unable to scale up their businesses. However, the lack of adequate skill also accounts for the large poverty rate among women in most African countries.
While funding is essential, without the right skills, these female entrepreneurs will quickly return to where they started—even when the funds are available. Eloh Consulting Limited hopes the partnership with Flourish Africa will help in bridging that gap. According to Lilian Uwaeme, a partner with Eloh Consulting,
"We will provide female entrepreneurs that enroll in the program with one-year business plan advisory support. The aim is to ensure they can run profitable and sustainable business at the end of the program."