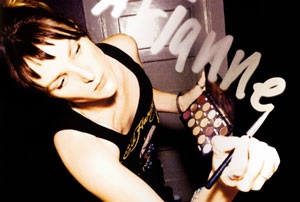 Arianne Meade is a Master Makeup Artist and licensed skincare expert that has spent 10 plus years in the industry working out of both Los Angeles and Denver.  She's a very high-energy, intelligent woman currently based in LA, working on film, television, commercials, editorial, and runway shows.
Known for movies such as The Metrosexual, No Mans Land: Rise of the Reeker and The Red Canvas, and also television shows such as The Janice Dickinson Modeling Agency, Sunset Tan, Celebrity Rehab, and many more, Arianne has established herself as one of Hollywood's premiere makeup artists. 
ALSO READ: Sundai Love
Her celebrity clientele includes Maria Conchita Alonso, Desmond Askew, Christian Audigier, Crystal Audigier, Amanda Baird, Seth Binzer, Linda Blair, Big Boi, Brooke Burke, Mary Carey, Miley Cyrus, Janice Dickinson, Snoop Dogg, CC Fontana, Sarah Michelle Gellar, Macy Gray, Adrian Grenier, Kia Jam, Kim Kardashian, Martin Kove, Carson Kressley, Sarah Larson, Carl Lewis, Lil Mama, Marilyn Manson, Penny Marshall, Steven Martines, Grey Maynard, Debi Mazar, Matthew McConaughey, Colm Meany, Richard Moll, Mya, Nick Paonessa, Audrina Patridge, Lou Diamond Phillips, Robert Pine, Dennis Quaid, Ernie Reyes Jr., Jessica Rizo, Dennis Rodman, Fernanda Romero, John Savage, Frank Shamrock, Too Short, Matt Sorum, Raven Symone, George Takei, Uma Thurman, David Weintraub, Bruce Weitz, Stevie Wonder, Evan Rachel Wood, and David Zucker.