The Akoin Ecosystem Will Impact the African Economy – Here's How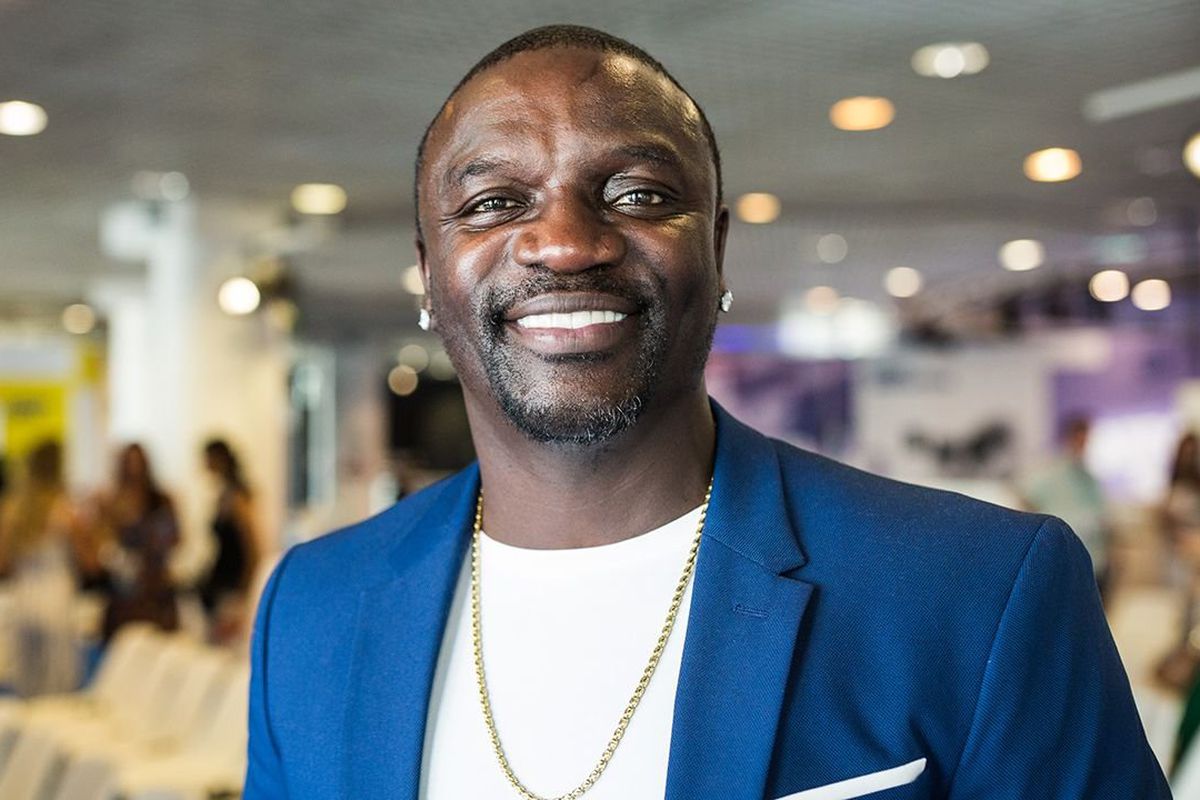 Ever since his debut album 'Trouble' in 2004, Akon, the Senegalese-American singer, has grown into an entrepreneur, humanitarian, and innovator. A clear cut display of his innovative prowess is his brainchild, the Akoin crypto. On January 13, 2020, Akon took to Twitter to announce that they had finalized agreements to build the futuristic city in Mbodième, Senegal.
Just finalized the agreement for AKON CITY in Senegal. Looking forward to hosting you there in the future pic.twitter.com/dsoYpmjnpf

— AKON (@Akon) January 13, 2020
Akon, together with his co-founders, Karas and Lynn Liss, see an African digital marketplace that is powered by cryptocurrency. They want Africans to connect and engage other global powers on a level playground.
Akoin Cryptocurrency Ideation 
Once, Akon was to visit a European country. Consequently, he tried changing his local currency to Euros with huge difficulty. That was the birth of Akoin cryptocurrency. Subsequently, he saw that the African economy stagnates because of the instability and unreliability of most African currencies. Thus buyers and sellers are often at a loss when transacting different currencies. Akoin platform has a tool, the Atomic swap, that will allow subscribers to exchange their credit or cellphone minutes for Akoins. 
The Mission of Akoin Crypto and Akon City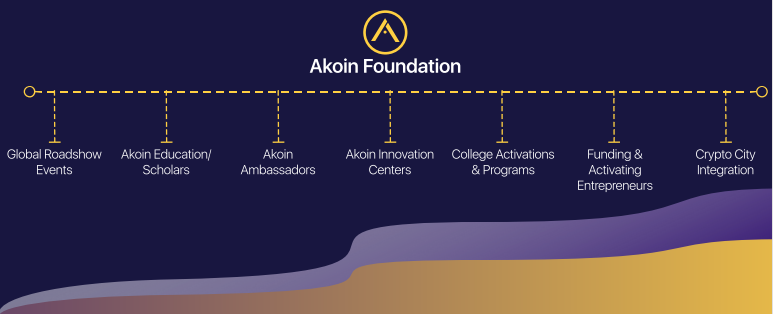 Akoin is in partnership with Stellar. They are both passionate about transforming underdeveloped countries, particularly in Africa. According to their whitepaper, Akoin crypto seeks to empower youth by allowing them to trade with their peers using a decentralized monetary system. A shared currency will be the hallmark of connectivity in Africa. With this connectivity, the investors foresee an Africa that is financially and economically inclusive in the broader global economic agenda.
Akon City is set to be built on a 2,000-acre land, close to the Blaise Diagne International Airport. Furthermore, Akoins will be the main currency in the city. This is in line with Akon's larger goal of giving every citizen autonomy. The objectives of the city are to go green and generate revenue on its own. A solar-powered city with state-of-the-art tech, undisturbed lush landscapes, and crystalline waters is what Akoin project envisions. 
Akon City Construction Phases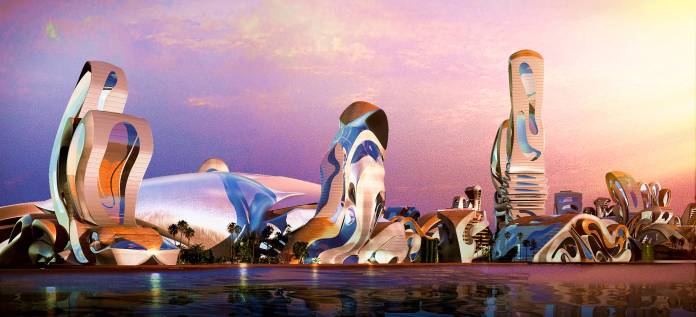 This $6 billion project will take place in two phases. Phase one should be complete by the end of 2023. The second phase will then carry on from 2024 to 2030. Phase one focuses on basic and social amenities for the 'Akoinians'. The designers look forward to having a full-fledged solar power plant, a waste facility, residences, hotels, schools, a university, and a modern complex for a police station. The next phase will focus on making the futuristic city a crypto Heaven. 
The US-based KE international was awarded the tender for this massive project. KE Intl. will be partnering with Bakri and Associates Development Consultants, who will work on the architectural plans. Currently, the first and second phase of Akon City has secured over $4 billion from investors and other visionaries.
The Akoin Crypto Business Strategy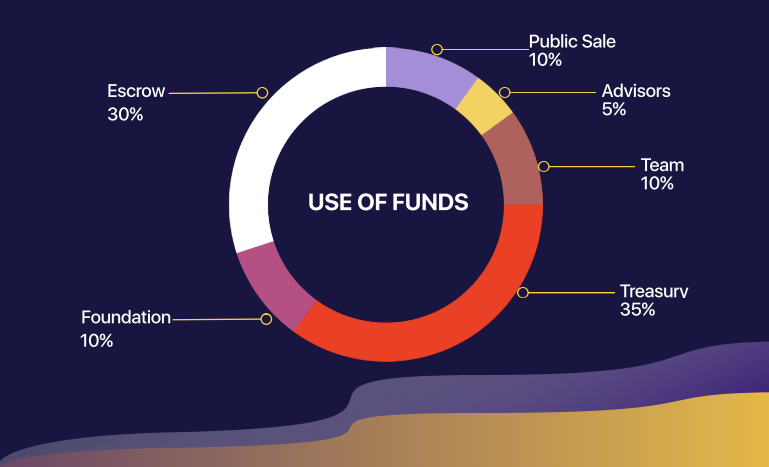 The Akoin platform is not just a digital currency. It covers several aspects that are meant to help every subscriber. It is also an ecosystem for accessing government services, establishing creditworthiness, getting loans, playing lotteries, advertising, crowdfunding, education, healthcare, and much more.
Decentralized Application (DApp) Economy
The DApp economy is a system where resources are not held within a single entity like the government or central bank. In other words, resources are decentralized to every person. The Akoin ecosystem provides an easy-to-use toolbox where every entrepreneur can join and develop their own DApp on the Akoin network. The DApp Builder Tool will enable investors to drag and drop all the tools they'll need to create a viable business structure.
Marketing and Brand Awareness
Entrepreneurs and investors have various platforms and marketing services set for them. The ecosystem aims to have thousands of App and DApp partners. It has several levels ranging from Basic, Premium, and Enterprise. However, the number of Akoins you have will depend on your level and the monthly fee you pay.
Also, brands and marketing campaigns are part of the Akoin business strategy. This means established brands will pay between 100k – 1M dollars. The cost of advertising is determined by the complexity and running time of their ads.
The exchange of goods and services through the platform will incur a 2.5% processing fee. This fee is meant to provide continuous revenue for investment, system maintenance, and humanitarian efforts.
Akoin's Base of Operation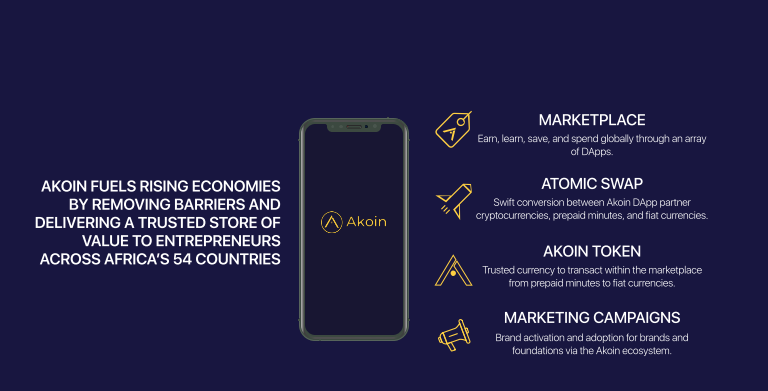 Akoin will be a digital platform that adopts a multi-currency approach to simplify Africa's business approach, both locally and internationally. Akon and his partners hope that Akoin will be used all over Africa. The project will launch its first operations in Kenya in mid-Q4, 2020. In the past few years, Kenya has grown exponentially as a technological hub. Consequently, innovation like M-PESA mobile money transfer has gained global recognition. Akoin Foundation also plans to have a physical operations center in Kenya. Likewise, Ghana will have physical centers. 
Benefits of Akoin to the African Economy
#1. Inclusivity
Akoin Ecosystem plans to include every African in its quest for growth. In the decentralized crypto approach, currency trickles down to every individual.
#2. Building Investors
Africa's youths make about 50% of the population. This means that the continent will have the largest workforce by 2045. Thus, building investment opportunities early enough will counter unemployment.
#3. Work Opportunities
The crypto market is set to reach a $3.1 trillion mark by 2030 and Akon wants a chunk of it to come to Africa. This creates an opening for small investors, marketers, brand awareness campaigners, crypto exchange gurus, among other employment opportunities. The platform also facilitates micro-lending with its numerous mobile banking apps. By 2025, there will be about 634 million mobile users in Africa, and the ecosystem will offer easier access to loans and credit.
#4. Technology
African countries are lagging in terms of technological advancement despite having erudite innovators. Undertakings such as Akon City can spur other countries to find investors and build hi-tech hubs across the continent. South Africa has been ranked 5th worldwide among crypto users. This shows great potential for Akoin when it becomes operational.
#5. Store Value
Almost 48% of the world's population uses digital currency from debit cards to cashless banking. Cryptocurrency, though defamed at first, has gained traction. With time, more people will be using crypto to store their wealth because it provides universal economic inclusion.
Africa Is Rising 
It is without a doubt that the African economy is on a trajectory to higher standards. As seen in most economies across the continent that is fast-rising, there is a huge potential for economic diversity. Since Africa has a large young population, a boost in sectors like education, business incubation hubs, and financial stability will fuel rapid growth. This is precisely what Akon has in mind. Therefore, Akoin architecture will be a crucial accelerator of the African economy.