25 Delicious African Food Recipes To Try This Month
Millions of Africans have migrated to Europe or America in search of education or better jobs. Nevertheless, they are still looking for ways to tap into the abundance of Africa particularly the foods. African recipes are diverse and unique in their own ways. With more than 3,000 ethnic groups and languages, Africa is a mix of rich cultural diversity.
Each country has different ethnic groups and each ethnic group has its traditional foods. This diversity gives Africa an unimaginable culinary experience. However, narrowing your choice to a few dishes can be tough because of the large number of dishes. We want to make it easier for you.
What Is The Most Popular Food in Africa?
In Africa, it is possible to determine the ethnic group someone belongs to simply by observing their staple. For example, in Nigeria, jollof rice and fufu are part of their staple. In Ethiopia, we have the injera which looks like a huge pancake served with different stews spread on top. Eastern Africa has ugali made from corn flour.
In West Africa, garri is made from pounded and fermented cassava. It is similar to ugali. Fufu, also from West Africa, is a popular dish made from yams, cornmeal, semolina, and cassava. Matoke is widespread in Uganda and Eastern Africa. It consists of unripe green bananas either steamed or cooked as a stew mixed with beef and potatoes.
Going up north, couscous and feijoada are popular. Couscous comprises steamed semolina balls with dried durum wheat sprinkled with some water and rolled up into pellets. Feijoada is a stew comprising beef pork and beans. Depending on which North African region, the recipe might change from pork to carrots, cabbage, tomatoes, and onions. These are just the tip of the iceberg when talking about African recipes.
Which African Recipes are Popular in Northern and Western Africa?
The Moroccan chicken recipe will have your taste buds bursting with flavor. The chicken is prepared with Moroccan spice, dried fruits, and olives. What brings out this chicken's flavor is the cinnamon, ginger, sweet paprika, and Ras El Hanout spice rub.
The Ras El Hanout or Raz El Hanout is the center spice in this rub. It is an aromatic and sweet-smelling North African spice that consists of a combination of warm flavors. The flavors include cinnamon, cloves, cardamom, turmeric, mace, ginger, nutmeg, and cayenne.
Forbidden rice
Alternatively, you could go for the Moroccan forbidden rice. This is black rice, which is antioxidant-free. It should not be confused with wild rice. This rice salad is delicious and lemony. It is a delicious mix of black rice, pistachios, dates, chickpeas, cilantro, cinnamon, and green onion. The salad is then dressed with olive oil and lemon juice for that tangy flavor.
Tagine recipe
Tagine is another North African dish from Morocco, slow-cooked in a tagine pot. Slow-cooked stews have a combination of meat, poultry, or vegetables. This recipe combines eggplants, tomatoes, onions, apricots, chickpeas, and spices for a delicious stew.
Shakshuka African recipe
Moroccan cuisine is an exotic blend of flavors. For instance, the vegetable Shakshuka or eggs in hell is a simple but flavorful egg recipe. This is a quick dish you can cook for breakfast or those nights you don't feel like cooking. Served with a side of bread and with a sprinkle of feta cheese, this keeps you fuller longer.
B'stilla recipe
Unlike other dishes that have origins elsewhere, the B'stilla is authentically Moroccan. The most common B'stilla type is chicken but the traditional version was cooked with pigeons. A long time ago, the average Moroccan could not afford it, and only the wealthy and royalty could eat it.
Last but not least, The Kaber Ellouz is almond balls from Tunisia. They are made from three braided almond dough. The dough is colored red, green, and the other is plain. A little further south, the Ethiopian Ye'abasha Gomen is a delicious step away from bland greens. The dish is simply seasoned braised kale and collards.
What food is popular in Eastern and Southern Africa?
First, we have bobotie, which is considered the national food of South Africa. It is a delicious meaty bake full of a combination of spices, curry, and fruit. The finishing is a custard-like topping, just what you need for a trip down memory lane to remind you of home on a cold winter night.
Lamb sosaties
Lamb Sosaties are a popular dish in South African braais (BBQ). The word Sosaties is derived from "Sate" or skewered and "saus," which is Afrikaans for spicy sauce. This dish originated from Cape Malay and is now a well-loved dish in the whole country. The Sosaties marinade comes in different variations. Most include curry powder, garlic, and apricot jam. However, some recipes have vinegar and tamarind.
Peri peri recipe
The South African peri peri chicken is a delicious burst of flavors. It is a simple recipe in which you simmer chicken breasts in spicy onion sauce and lemon. Matoke, or the East African highland banana, is common in Eastern Africa but enjoyed throughout the sub-Sahara.
Matokes recipe
This delicious meal of matoke with beans is perfect for a cold day. The matokes are preboiled and mixed with bean stew. You then mash to your desired consistency. Matokes are high in starch, and the beans add a balance with their protein.
Malva African recipes
South African Malva dish is another rich and delicious pudding, often eaten together with Cape Dutch roots. When served with frozen custard, it makes an excellent dessert for a warm summer evening. It's just the dessert to have when you are feeling nostalgic and missing home.
25 Delicious African Food Recipes to Try This Month
#1. Sosaties (South African lamb and apricot kebabs) By Caroline's Cooking
Sosaties are a Cape Malay dish and the name comes from the words "sate" meaning skewered meat and "saus", a spicy sauce in Afrikaans. While this is a dish that originated in the Cape Malay area, they have spread in popularity around the country.
Lamb sosaties are a common feature of a classic South African braai (BBQ). The apricot and curry marinade might sound unusual but it adds a wonderful flavor to these tasty kebabs. So easy and delicious!
#2. BEST Moroccan Chicken Recipe By The Mediterranean Dish
BEST Moroccan Chicken recipe you will find! Super succulent, fall-off-the-bone tender chicken stew w/ warm Moroccan spices, lemons, olives & dried fruit. 
Moroccan chicken is essentially stewed or braised chicken with deep, lovely flavors from a special Moroccan spice rub (which I tell you all about in a second), along with aromatics, fresh lemons (or preserved lemons, if you have some), and green olives. And as Moroccans are known to do, we add in some dried fruits to balance things out. I chose a mixture of raisins and dried apricots.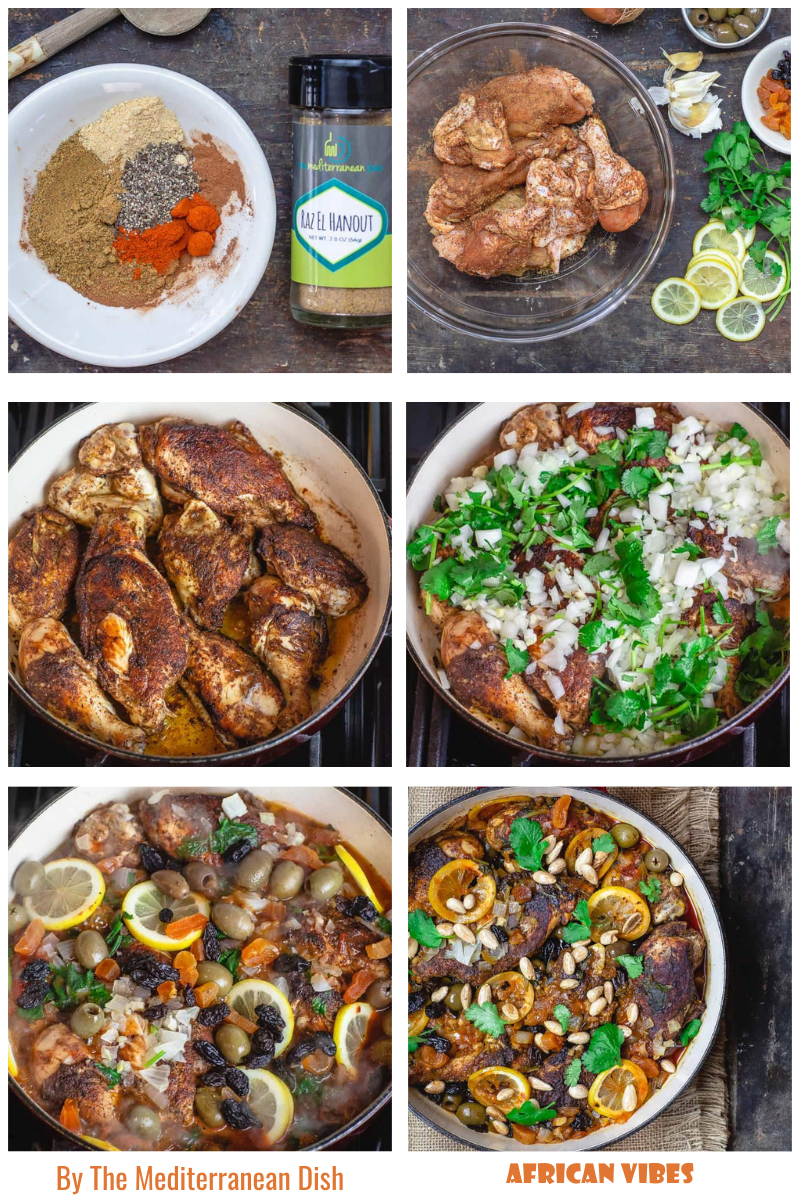 #3. Moroccan Forbidden Rice Salad By Liz Healthy Table
Antioxidant-rich black rice, also known as forbidden rice, forms the foundation for this vegan Moroccan Forbidden Rice Salad. If you're craving something lemony and delicious, this forbidden rice salad has you covered.
Besides the black rice — which, has a nice chewy texture — it's made with chickpeas, dates, pistachios, green onion, and cilantro, and cinnamon, and it's dressed with lemon juice and olive oil.
Forbidden rice stars in this easy whole grain salad, a satisfying Moroccan-spiced dish spiced with lemon and cardamom.
Forbidden rice has a mild, nutty flavor. It's a whole grain (hooray!), and the grains are purple-black in color.
Like blueberries and blackberries, black or forbidden rice contains a family of antioxidants known as, anthocyanins,  shown to reduce the risk of heart disease and cancer while boosting brain health. Black rice also contains lutein and zeaxanthin, antioxidants important for eye health.
You can hear more about anthocyanins on the podcast.
#4. Matoke With Beans By Eat Well Abi
Matoke, known in English as East African Highland banana is a staple around East Africa, particularly Uganda and Tanzania. The meal prepared from unripe, green matoke is also called "matoke". I'm sharing a delicious recipe of matoke with beans, which is filling and comforting. Just perfect for this cold time of the year.
What makes matoke good for cooking is its high starchy content; which you would not find in a lot of bananas. Matokes is usually available in African shops in the UK. If you can't find it around you, then green plantain or Thai green bananas (sold in Asian shops) are good substitutes.
#5. South African Piri-Piri chicken By The Wanderlust Kitchen
So, what is Piri Piri Chicken?
A delicious recipe for South African Piri-Piri chicken, featuring tender chicken breasts simmered in a spiced lemon and onion sauce. Easy and different!
You'll want to use a pan that is safe to put in the oven. I highly recommend using a cast iron skillet for this piri piri chicken recipe.
The spices are all totally normal things, too – nothing you would have a hard time finding in your own spice cabinet (or at the local grocery store).
This recipe calls for salt, black pepper, cayenne pepper, chili powder, paprika, oregano, and ground ginger. Compared to a lot of the recipes I post, this is a VERY normal ingredient list.
#6. South African Malva Pudding W/Easy Frozen Custard By Simply Delicious Food
Malva pudding is a warm, baked dessert of Cape Dutch origin and is all kinds of luscious. It's not unlike sticky toffee pudding in theory but the flavour is different due to the addition of apricot jam and vinegar which gives the finished dish its characteristic taste and appearance.
A glossy butter-enriched syrup is poured over when the baked pudding comes out of the oven and is then allowed to soak into it, adding even more deliciousness.
#7. Eggplant Tagine: A Moroccan-inspired Recipe By Uno Casa
Mmmmm! Moroccan eggplant tagine! We love a slow-cooked, simmered stew, and with the right spices and ingredients, you can cook up this sumptuous delicacy, totally meat-free.
Eggplants, chickpeas, onions, tomatoes, and apricots (and a few Moroccan-style spices) are all you need for our hearty and filling, vegetarian tagine. Serve with couscous and yogurt for added authenticity!
With a tagine pot, you can recreate the delightful flavors and aromas of North Africa, without ever having to leave your own kitchen. Here's our sumptuous, slow-cooked, Morrocan-inspired eggplant tagine recipe!
Once you've prepared all of those tasty ingredients, all it takes is time to simmer sumptuously in its own juices, for the perfect North African tagine.
#8. Flavorful Bobotie By Caroline's Cooking
Often considered the national dish of South Africa, bobotie is a fantastic mix of flavors, with fruit, curry and spice in a comforting meaty bake, finished off with a custard-like topping. It's one delicious meal.
The traditional way of serving bobotie is with some yellow rice, then often with slices of banana and some pickle or chutney on the side. We also added some green beans - other green veggies would also work well for contrast but complementary flavors.
#9. B'stilla (Moroccan chicken pie) by Delicious
This Moroccan chicken pie - B'stilla is as delicious as it is gorgeous. A delicious dish that fills your day with a beautiful smile
#10. Vegetable Shakshuka (Eggs in Hell) by A Cookie Named Desire
A chunky vegetable shakshuka unlike any traditional eggs in hell dish. This version is full of hearty flavorful vegetables mix in the spicy tomato base for a breakfast that will keep you fuller for longer. Feta is studded throughout the dish for an added salty twist.
An easy and filling breakfast vegetable shakshuka. Let's try it out.
#11. One Pan Moroccan Chicken and Couscous by Cooking Classy
The one-pan dinner fad maybe came and went but it's still totally my thing! This One Pan Moroccan Chicken and Couscous is one of my favorite one-pan dinners to date! It has a delicious blend of flavors and textures, it's a healthy dinner, and it's brimming with those irresistible deliciously spiced Moroccan flavors. 
I've actually already made this dinner probably 4 or 5 times over the last few months so it's due time that I shared it. It's a combination of two summer favorites, but I blend them together into something that can be made together on the stovetop.
#12. Ethiopian Collard Greens by African Bites
Ethiopian Collard Green aka Ye'abasha Gomen- Braised collard greens and kale seasoned with aromatics. Quick, easy, and tasty.
This Ethiopian Braised Greens is a fairly easy dish to make both in terms of preparation and the time it takes to make it. Especially when you have all your pantry ingredients ready to go. What sets these greens apart from the rest are the spice mix and Ethiopian Spiced butter. It makes it more enticing and flavorful.
If you are looking for an easy, flavorful, and downright addictive way of trying out collard greens or kale then you are in luck. I have tried both greens using this method and they both work great.
Ethiopian Collard Green nutritional content?
If you are more focused on the nutritional content then be aware that collard greens are right up there with kale. They both provide an excellent source of vitamins A, C, K calcium and are equally tasty! Some side-by-side comparisons even give collard greens a slight edge-something to think about when you are in the supermarket.
Related Recipes: Ethiopian Sweet Potato Burger By One Green Planet
#13. Egusi Soup (Vegan and Oil-free) By The Veganri
Featuring the wildly enjoyed West African egusi seeds, this high-energy, high-protein soup has crumbly tender texture intertwined with a luscious rich taste. It ideally complements whole grains and earthy root veggies. This version is vegan and oil-free.
Egusi Soup (melon soup) is the most popular soup in Nigeria. If you have never tried it, then you are truly missing out!  Coarsely ground up egusi seeds thickens the soup and at the same time creates a crumbly tender texture with highly pleasant rich taste.  Rich in protein and healthy fats, egusi soup complements hearty whole grains and earthy vegetables. 
#14. Popular Kenyan Githeri By Eat Well Abi
Githeri is a corn and bean one-pot meal that originated from the Kikuyu tribe of Kenya. It is also known as muthere or mutheri. It is traditionally prepared with dry beans and corn, however, to prepare this amazingly delicious recipe, I used canned beans and frozen corn for ease and convenience; so, it is perfect for those times when you need to whip something healthy up quickly.
Githeri is quite adaptable, you can use any type of beans to prepare the meal. You can also add any vegetable or spices that you like, to make it yours. I particularly like the combination of curry powder and paprika because they work well together to give a pleasurable taste and aroma which is not too overwhelming.
#15. South African Lamb & Apricot Skewers a.k.a. Sosaties By Sweet Paul Magazine
Sosaties are skewered meat, usually made with lamb. They are beyond delicious with apricot and basil.
#16. Moroccan Chicken By Dinner At The Zoo
This Moroccan chicken is a one pot meal with chicken thighs, green olives, raisins and spices, all simmered together until tender. A unique and unexpected dinner option that's full of bold flavors.
#17. West African Peanut Chickpeas By Healthy Happy Life
These West African Peanut Chickpeas over sticky white rice make for a soothing and satisfying plant-based meal.
The chickpeas are coated in smoky peanut sauce with hints of tomato, ginger, garlic and lime with an echo of a traditional West African Peanut Stew. Only in a hearty bowl format. This fast and flavorful meal can be yours in under a half hour..
#18. Ethiopian Chicken Stew By Babaganosh
This super flavorful Ethiopian Chicken Stew with bell pepper and baby spinach will fill your house with an amazing aroma as the delicious sauce simmers on the stove top. One bite of the tender flavorful berbere-spiced chicken and you will be in love with this dish!
This recipe is pretty amazing because it is a super healthy dinner dish that is the ultimate comfort food, but also super delicious!
#19. Jollof Rice with Chicken a Nigerian Recipe By Munaty Cooking
Jollof Rice is a one-pot delicious Nigerian dish. You can skip the chicken and still enjoy flavorful, perfectly cooked rice, which you can serve alongside any grilled meat. There are different versions of this dish, because it got popular in various countries like Ghana and Cameroon, and they have added their own touch to it.
#20. Ghana Chichinga (Suya Chicken Kabob) By International Cuisine
Ghana chichinga is what they call their street food kabobs made with suya, (pronounced Soya). This hot, spicy peanut marinade is amazing on just about any meat, we thoroughly enjoyed it on beef however this recipe is made with chicken and first marinated in a garlic and ginger combination.  The result is delicious.  
#21. North African Meatballs with California Prunes and Pine Nuts By Healthy Delicious
These meatballs, served with a rich prune and pine nut gravy, very inspired by the flavors of North Africa. Serve them over orzo, Rice, or Couscous for an extra special weeknight dinner - North African Meatballs with California Prunes and Pine Nuts .
#22. Nigerian Beef Suya By Food Fidelity
If you are interested in developing Nigerian recipes, start with Beef suya. It is Nigerian street food featuring grilled beef skewers seasoned with ground peanuts and spices.
Suya actually refers to the seasoning mix which typically includes the aforementioned ground peanuts, brown sugar, salt, pepper, paprika, and chili pepper.
The flavor is complex and the aroma is strong but pleasant. Heat levels vary depending on the cook, but the depth of flavor is consistent and is the draw that will make you overeat if you're not careful.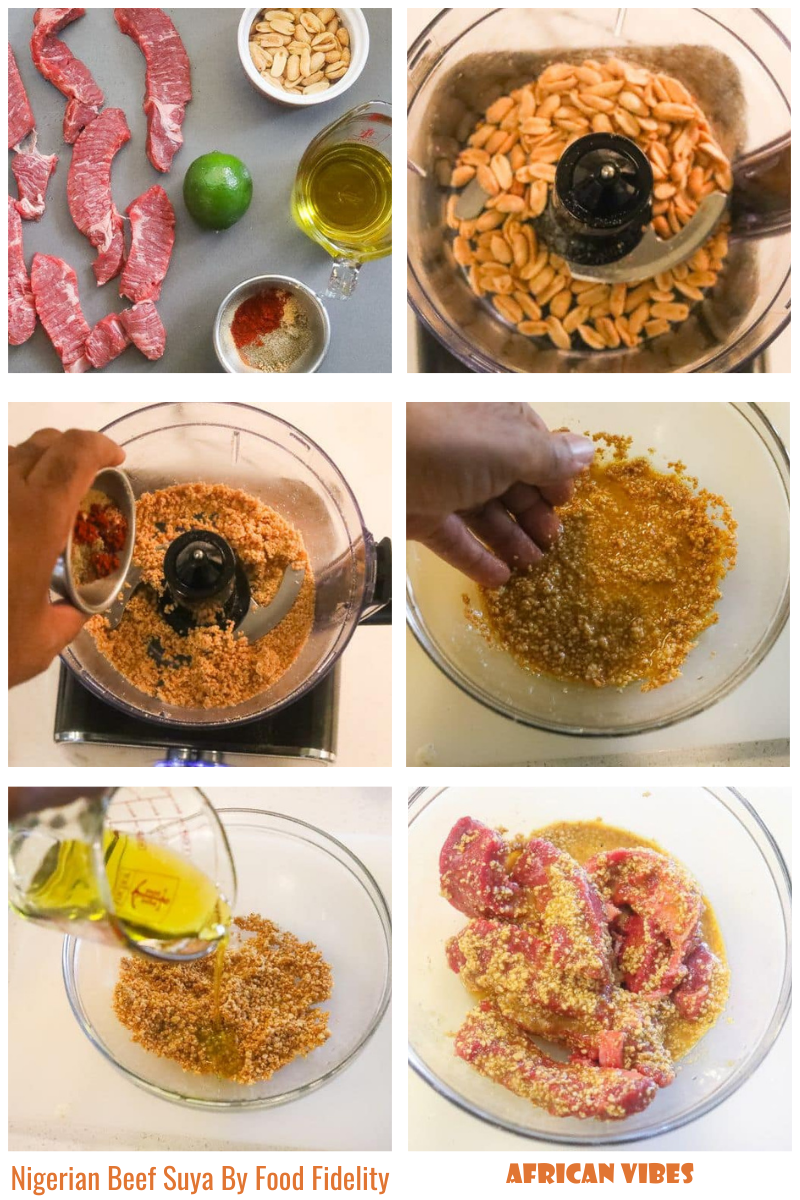 #23. Kaber Ellouz (Tunisian Almond Balls) By Taras Multi-Cultural Table
Kaber Ellouz are almond balls from Tunisia. They are made by braiding together 3 pieces of almond dough- one plain, one dyed red, and one dyed green.
You can make vanilla sugar at home and it is also available in many supermarkets. If you are unable to find it, substitute by adding 2 teaspoons superfine sugar and 1 teaspoon vanilla extract when making the syrup.
The original recipe called for ground almonds. I used pre-made almond meal. You can use almonds and grind them yourself, but they need to be fine and not too oily to make a smooth dough.
#24. Kachumbari By African Bites
Kachumbari is an East African, spicy, simple and flavorful, delightful onion and tomato Salad enjoyed especially in Kenya and Tanzania. 
Kachumbari is the Swahili name for fresh Tomato and Onion Salad, the basic ingredients here are tomatoes and onions, and the rest is up to the cook. 
You can slice it, diced it, chop it, blend it … what ever rocks your boat. I have tried it several ways and they all work.
Enjoy!
#25. Akara – Black Eyed Peas Fritters By Chef Lola's Kitchen
Akara (Black Eyed Peas Fritters) is a very delicious, vegetarian-friendly meal. It is crispy, golden, tasty, downright irresistible, and quite filling.
Though it's origin is said to be from the Yoruba tribe of Nigeria but somehow it has found its way to the hearts of other west African countries and even beyond. These are quick, easy, and tasty and involves only a handful of simple ingredients – black-eyed peas, peppers, onions, salt, and seasoning cube. It is a vegetarian-friendly meal eaten in most parts of West Africa and Brazil.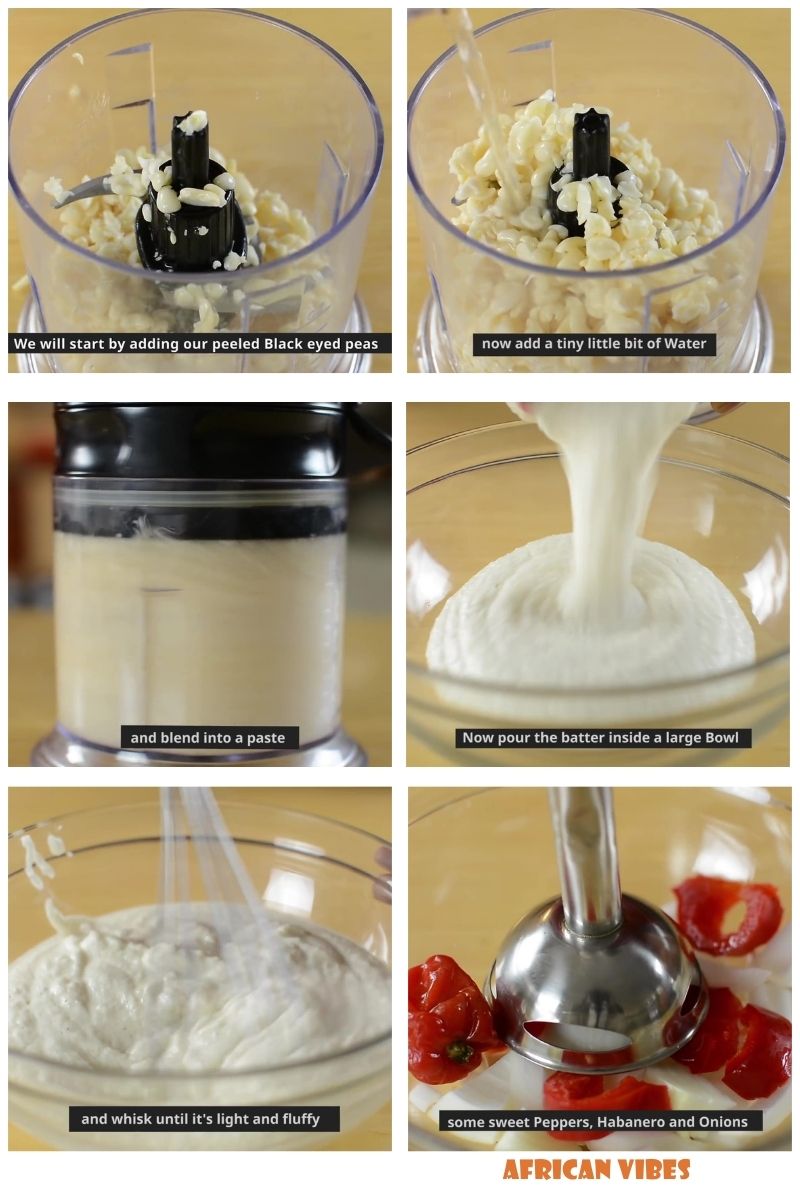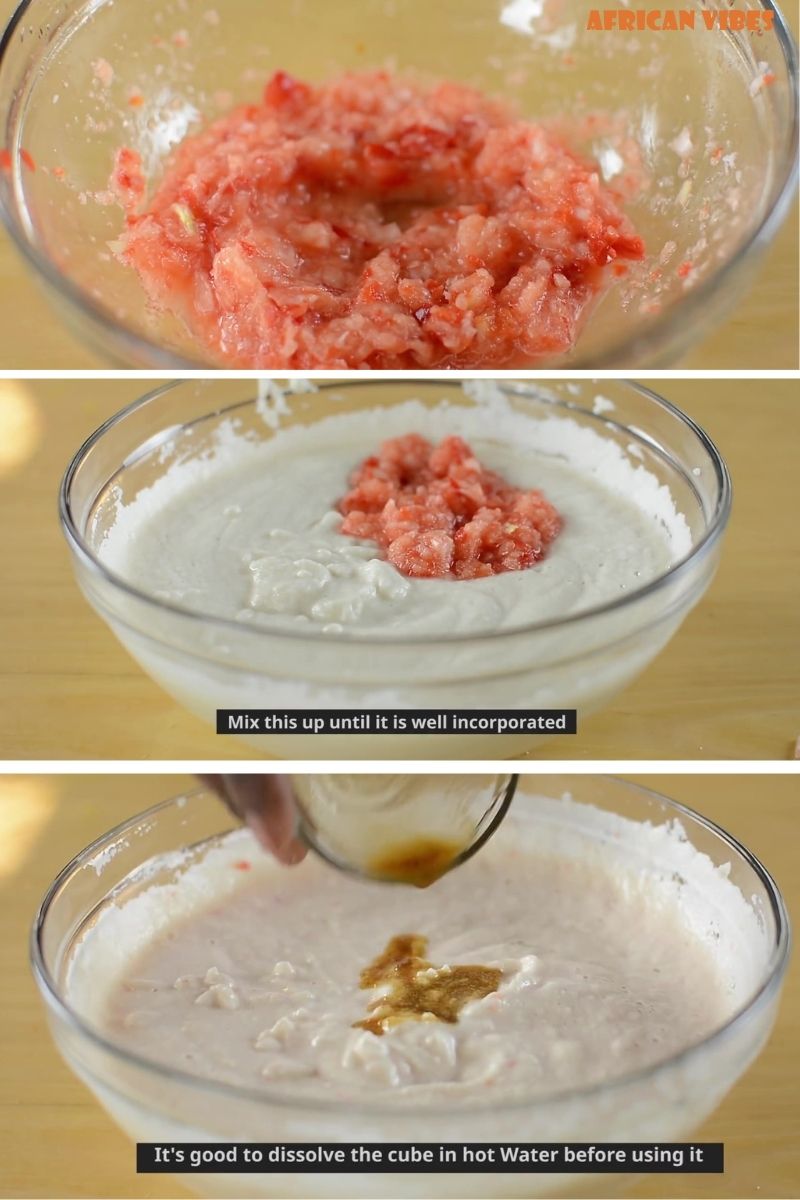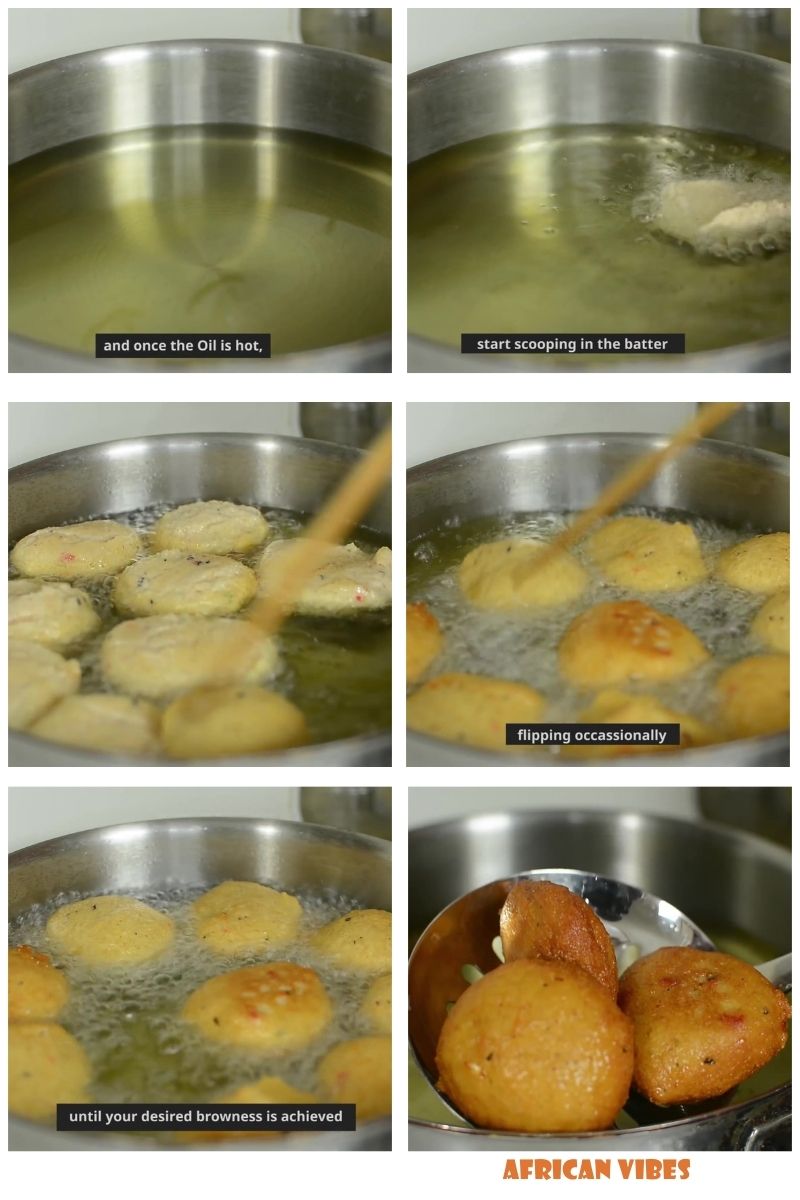 You can serve Akara in different ways such as serving it with a bowl of salad, Dip it in spicy sauce. you can also serve it with pap, oatmeal or custard. or just eat as it is. 
Conclusion
As you can see, Africa has a rich cuisine that you can enjoy any day of the year. Interestingly, if you stick with African recipes, you can go a whole month without repeating a dish. The colorful nature of African dishes is the first thing that will draw your attention. However, the spicy taste will keep you hooked for life. When you are abroad and miss your home in Africa, try some of these recipes. Indeed, Africa is a people, not just a place.