RECIPE OF THE DAY: Ogbono Soup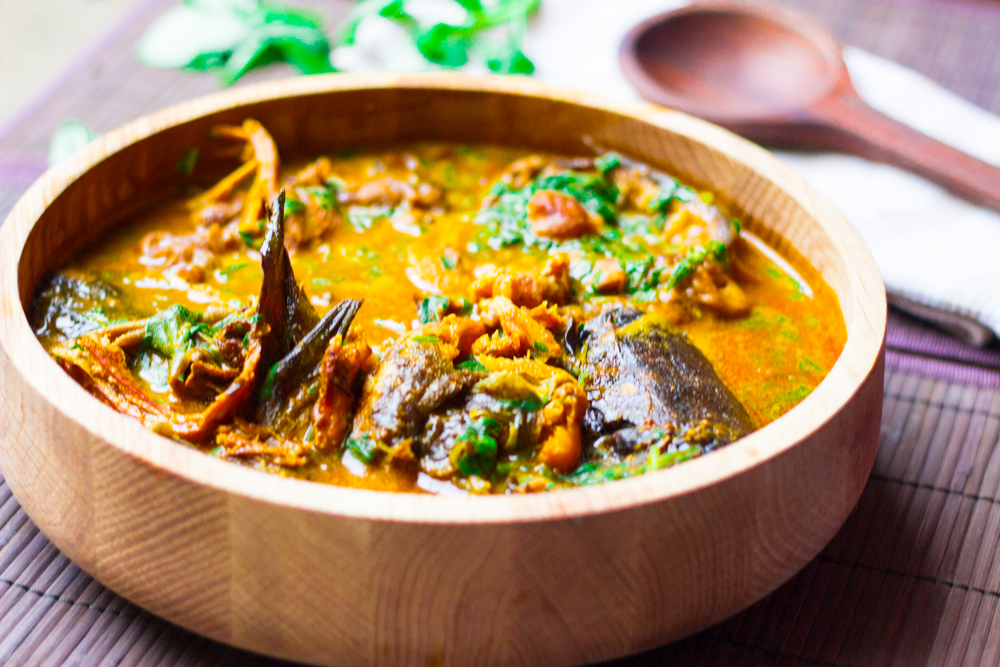 I tend to use a lot of dry fish in my cooking primarily because Mum makes it and its always readily available but any meat or fish will do….
We also had fresh water leaves which mum brought from her farm (bless her!) so I used water leaves in these but you can use any green vegetables from Ugu (fluted pumpkin leaves) to spinach, kale, bitter leaves, Scent leaves or Uziza.
ALSO READ: 5 Delicious West African Peanut Stew Variations You'll Love
[AdSense-A]
Prep Time20 mins
Cook Time1 hr 10 mins
Total Time1 hr 30 mins
The inspiration for this soup was drawn from my mum's eldest sister. Ogbono soup with bitter leaf happens to be my mum's sister's favourite soup. Growing up, each time I visited her, there would always be an ogbono soup with bitter leaves in a pot relaxing off in the kitchen. 
Ingredients for cooking a typical ogbono soup include palm oil, local seasoning (ogiri okpei), meat, fish, pepper, stockfish, salt to taste and leafy vegetables such as ugu leaves, spinach or bitter leaf. Ogbono soup can also be cooked with okra too.
This ogbono soup with bitter leaves is pretty easy to cook, tasty, aromatic, flavourful, and above all filled with assorted meats and fish to appease your taste bud. The soup can be served with either pounded yam, eba, poundo, fufu etc.
Simply plate up, dive into the plate and dig in. I encourage you to grab the necessary ingredients, follow the detailed recipe steps and cook for yourself, family or friends a delicious pot of ogbono soup. In the end, I doubt if you will be disappointed with the soup.
5 ½
cups
stockfish fillets
1
cup
ogbono seeds (ground)
A handful of washed bitter leaves