17 Gorgeous Fulani Braids Variations That Will Inspire Your Next Look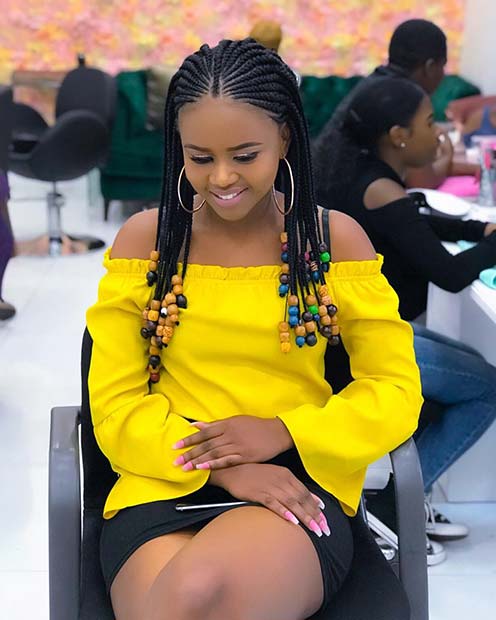 Africans in the diaspora like to connect with their roots and one way to do that is to wear braided updo hairstyles. Fulani braids have been there for quite some time. The hairstyle became popular in the early 2000 and has continued to act as one of the best protective styles you can wear. Celebrities like Alicia Keys have rocked different variations of this epic hairstyle. In our hair posts, we always want to introduce our readers to trending hairstyles. That's why we have lined up for you a list of the best 17 Fulani braids variations you can rock.
What do Fulani Braids Symbolize?
The Fulani braid is one of the core identities of the Fulani people of West Africa. The Fulani women decorate their hair with beads and cowrie shells as a symbol of marital status, origin, and religion. In other words, by simply staring at your hair, someone from that ethnic group can read a lot from your looks.
Where do Fulani Braids Come From?
The Fulani braids come from the Fulani people in Sahel, West Africa. The predominantly Muslim tribe creates their hairstyle by knitting cornrows at the front and box braids at the back. However, the hairstyle has evolved over the years with celebrities adding contemporary twists to them.
How much are Fulani braids?
Like with many protective styles, the price of Fulani braids will depend on the location, length, size of braids, and accessories. The price of the braids could vary between $150-$220. There is also the option of purchasing a fulani braided wig. A braided wig gives some flexibility with your look without the time needed to get the style done. Wigs can range from $99-$250.


If you are adventurous and want to save some money, you could still brave the style on your own by watching some diy (do it yourself) Youtube videos like the ones below.
How many packs of hair do you need for Fulani braids?
You will need about 4-6 packs of Fulani braids. However, this will depend on the style, size, and length of hair you want. If you want to have longer braids you will need to add extra braid packs.
17 Gorgeous Fulani Braid Variations That Will Inspire Your Next Look
#1. Traditional Fulani braids
If you want to have that traditional look, then this is your to-go style. The style is most suitable for people with a diamond face shape. You can wear this style for 4-6 weeks. Nonetheless, if you have short hair, you will need to add in extensions to bring life to the style. After you are through with braiding, ensure you add some beads or jewelry.
#2. Cascading braids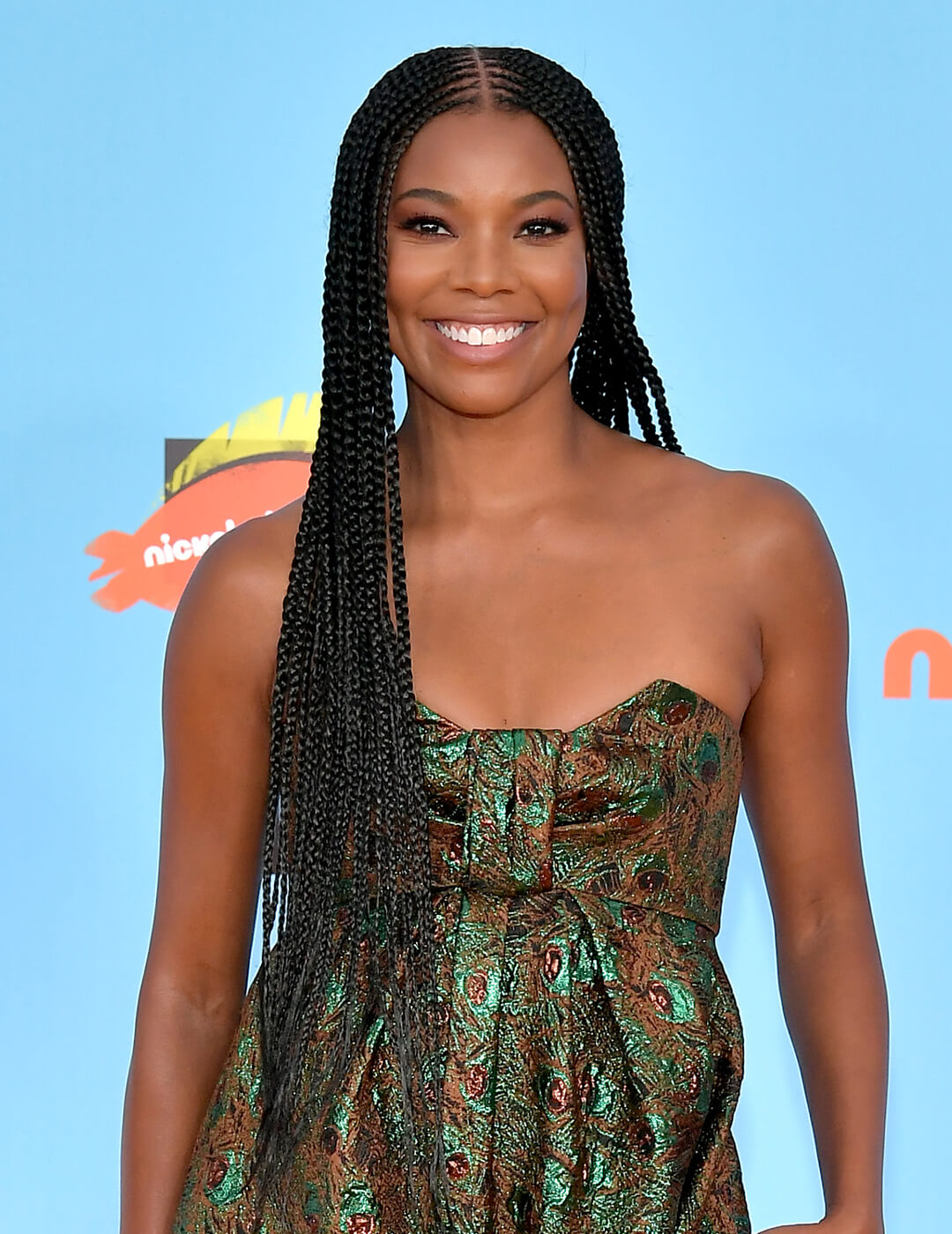 Cascading braids are a protective styling and is Gabrielle Union's favorite. The braids are easy to install, and you can have them on for a month before thinking of changing them. If you are working on cutting down your expenditure, this will make a perfect fit. This style is best for people with an oval-shaped face. Add in some beads to give the style a tribal look.
#3. Long Fulani box braids
As the name suggests, the braids are achieved by sectioning hair into boxes and then installing the braids. The style can match all face shapes, and it can last up to 8 weeks if well maintained. You can add ribbons or other hair accessories to make the style more attractive. Notice how this variation curls a white thread on one of the strands? Let your imagination run wild on this one.
#4. Short box braids
Box braids are ideal for those who desire good looks but detest spending hours in the salon. You can achieve this look by braiding your hair with short Fulani braids. This type of hairstyle is suitable for people with all face shapes. Additionally, if you don't want to accessorize with beads, you can make do with braid cuffs.
#5. Fulani braids with curly ends
This is one of the instances where contemporary hairstyles are merging with traditional hairstyles. Have a change from the plain braids and try out the Fulani braids with curly ends. These braids will not only make you look gorgeous, but they will also give your braids more volume. Ensure you apply lightweight oil on the ends of the curls to keep them shiny and moisturized.
#6. Bob braids
You can keep your Fulani braids short and fun by trying out this short bob style. The style is ideal for people with an oval, round, chisel, or diamond-shaped face. Also, it is easy to maintain and can last 4-6 weeks. Add in spritz hairspray to keep the braids looking glossy. If you embellish it with the right accessories, people will hardly notice your clothes because all their attention will be on your hair.
#7. Ombre Fulani braids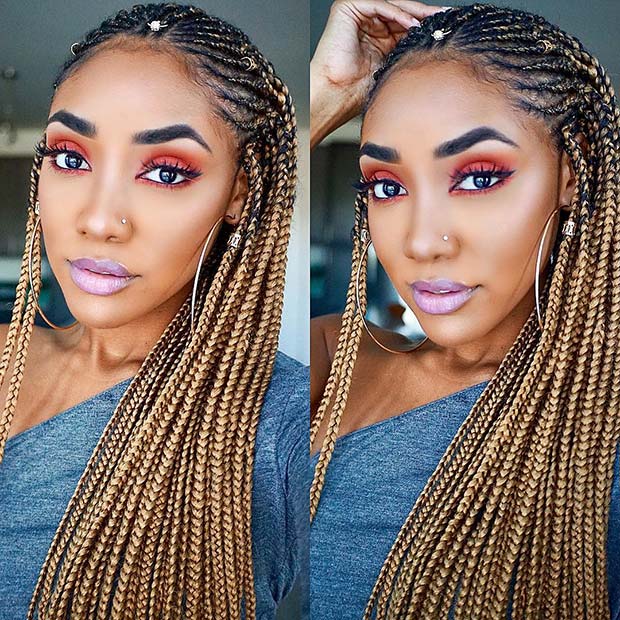 If you have never tried ombre braids, well, now might be the best time. The braids start dark and fade into a brown ombre at the ends. This trendy Fulani braids hairstyle is suitable for people with an oval face shape. The unique nature of this hairstyle also allows you to try something different like a bright lip liner or large loop earrings.
#8. High braided ponytail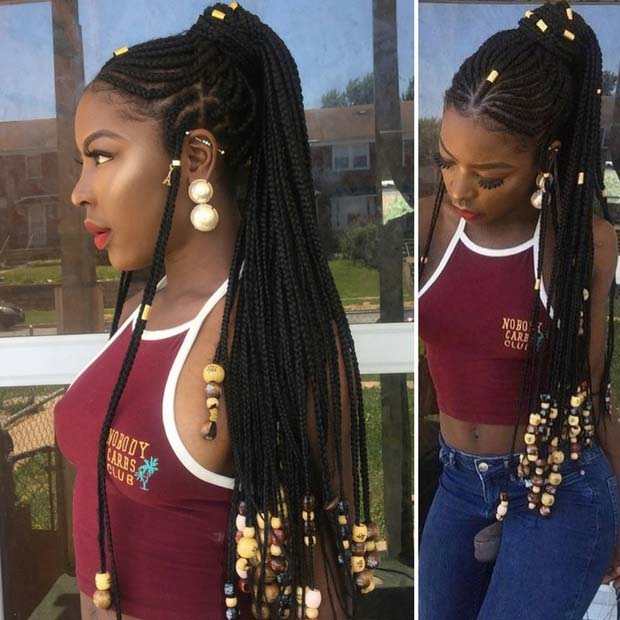 This style is perfect for all seasons. The style is achieved by braiding lines at the front into a ponytail and box braids at the back. You can accessorize this style with wooden beads or gold rings. This look is also stylish and can suit all face shapes. Moreover, you can throw in stud earrings, a pair of jeans, tank top,and sneakers for that casual weekend look.
#9. Double buns braids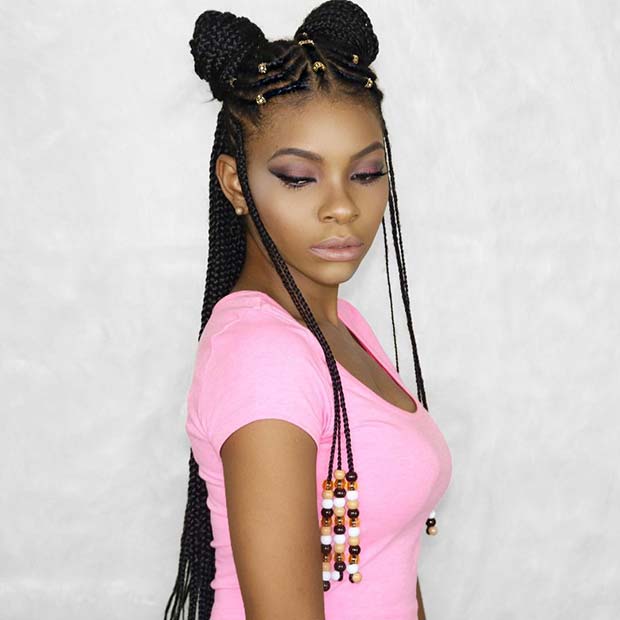 This cute double-sided bun is a must-try. You can have this style between 4-8 weeks and it'll still look appealing if well-maintained. However, you need to maintain the style by moisturizing the hair and sleeping with a satin bonnet. To achieve this style, you need to plait double buns on the sides with two lines cascading frontwards. Afterward, you plait box braids at the back. Throw in different types of hair beads to give it a tribal look. However, heavy accessories are more suitable for casual looks. For official looks, you need to tone it down.
#10. Glam beaded braids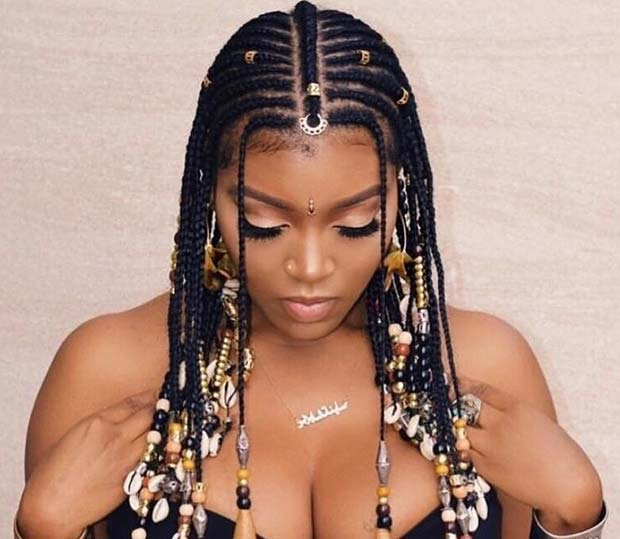 You can glam up your style by trying out these beaded braids. To achieve this style, you need to braid hair on the sides and braid one line at the center that runs from front to the back. Then the rest of the hair is accessorized with different types of beads. The style is perfect for people with an oval, round, or diamond face shape. Preparing for an upcoming wedding and want to steal the show? Give this a try.
#11. Fluffy Fulani braids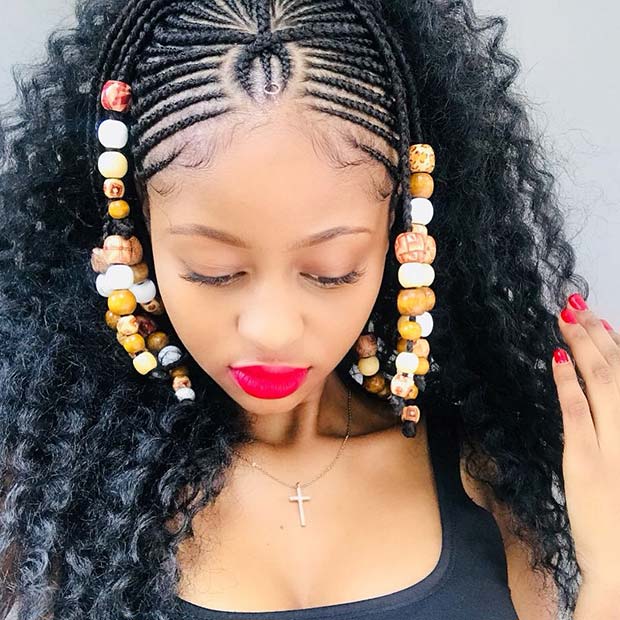 You can keep your hair looking natural by rocking these fluffy Fulani braids. The style is a stunning choice for any event or occasion. The hairs on the front part of the head is braided while the rest is set free. This is another modern twist to Fulani braids that is gaining massive attention. You can accessorize it with clear and wooden beads. If you feel more confident in full hair, this would be your best bet.
#12. Trendy double braids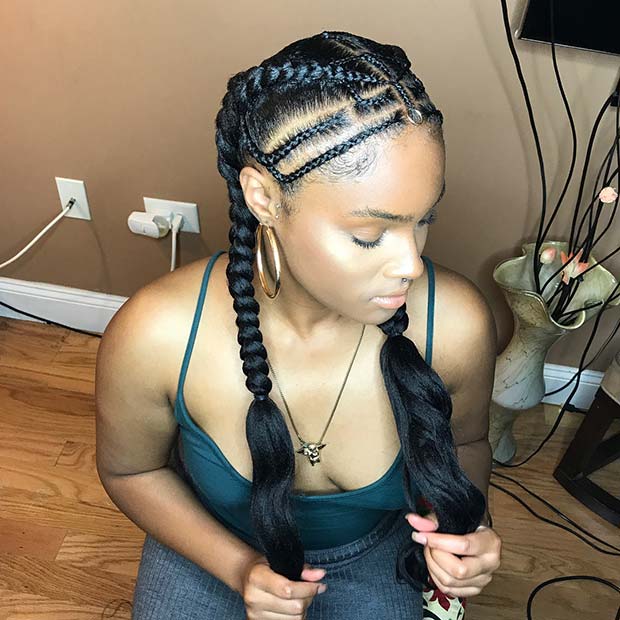 The trendy double braids are the perfect style during the hot summer months. To achieve this style, you need to braid two big and small lines on each side of the head. Afterward, accessorize with a braided ring at the front. This style is perfect for people who have an oval shape. It blends well with casual wear, particularly those that highlight your curves.
#13. Fulani braids with Afro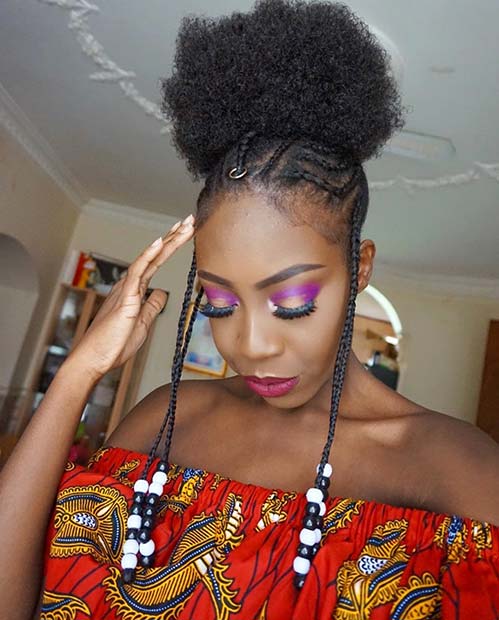 If you love Afros, you will love this beautiful hairstyle. The front part of the hair is braided with Fulani tribal braids, while the rest of the hair is tied in a beautiful afro. You can add in white and black beads and your favorite eye shadow for an even bold look. To get that African look, wear your favorite off-shoulder African print top.
#14. Side braids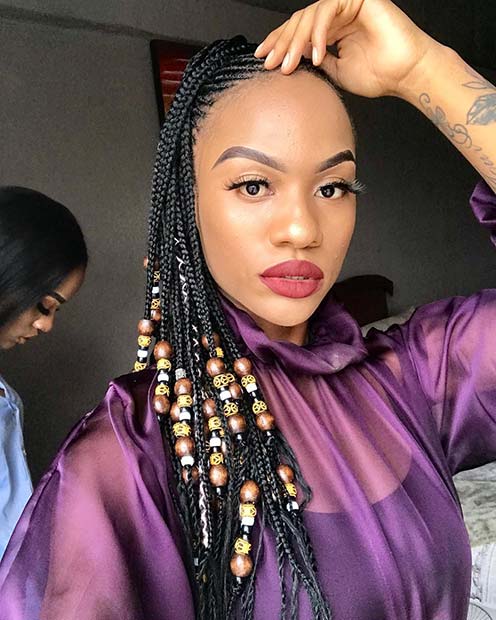 Here we have beautiful, inspired Fulani braids perfect for people with an oval shape. What gives this style a touch of elegance is that the braids are worn on one side and accessorized with beads. You can rock this look for any special occasion. If you are looking for a hairstyle that you can wear for weeks without worrying about visiting the salon, this will make a good choice.
#15. Dark red braids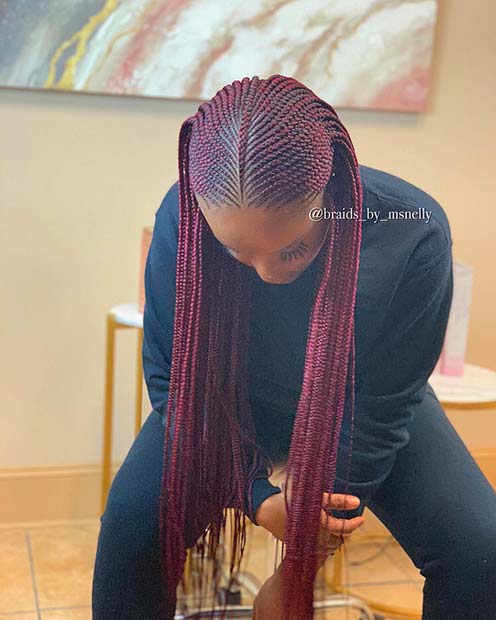 Looking to try bold colors? These dark red braids could be the perfect choice for you. In this style, the hair is braided into dark red Fulani braids using appropriate hair extensions. We love this color because it is bold, stylish and will make heads turn. So, if you are not comfortable with many eyes on you, pass this one.
#16. Fulani twist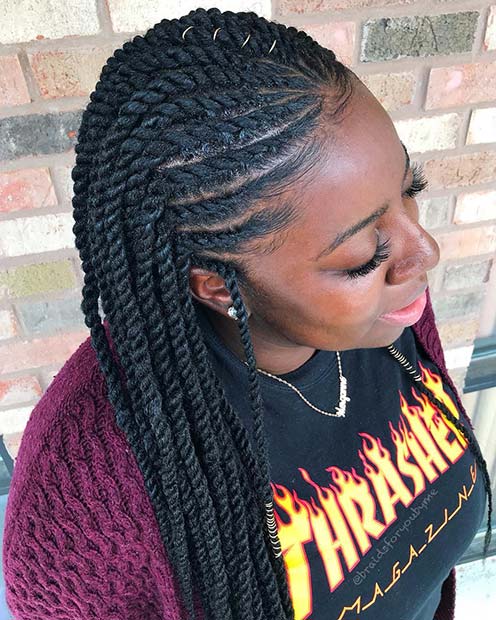 Our next Fulani braids variation idea is these gorgeous Fulani twists. The style is suitable for all face shapes. Moreover, the style involves a beautiful pattern adorned with various hair accessories. This stylish hairstyle is not too flamboyant and can fit into any environment. You can rock it to work, the beach, or even for that special occasion.
#17. Chunky braids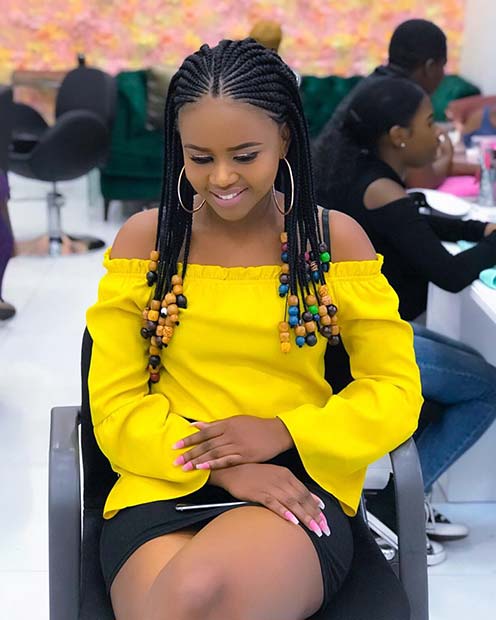 Last but not least, we have chunky braids with unique beads. The braids are of medium size, and one side of the hair is decorated with colorful beads. The other side has neutral-colored beads. You can recreate this look by trying out different colored beads. The look is ideal if you have a diamond face shape as it will highlight all your facial features.
Conclusion
Fulani braids are here to stay, and there's nothing we can do about it. Whether you want a short, long, straight, or curly hairstyle, you are sure to get a style that will suit you. The good thing with all these styles is that you can pair them with any hair accessories. You can use a braid string, beads, and hair rings to achieve your desired look. Which of the above hairstyles would you like to try? Please share your thoughts with us in the comment box below.