First Ever MTV Africa Awards is a hit with Nigerians taking the lead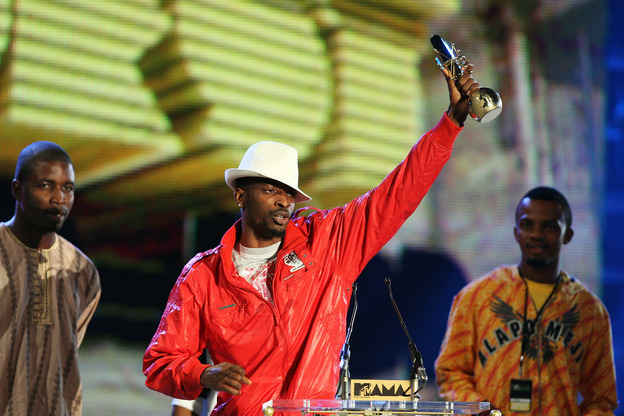 Africa has long featured a vibrant music scene, but artists have had difficulties breaking into overseas markets. With MTV's Saturday night award show, African artists now have an opportunity to get more global exposure as well as celebrate the continent's artistry.
The MTV first-ever music awards program for Africa took place in Nigeria's capital city, Abuja with acts from across the continent nominated for prizes on November 22nd, 2008. Nigerian Artists were the big winners at Saturday's 1st annual MTV music awards for Africa on their own turf, keeping 6 of the 10 awards given out.
There was a cameo appearance by US rapper The Game, who gave a brief medley of his hit songs. There were also performances by the rapper's compatriots Flo-rida, and Kelly Rowland. The legend gong went to the late Fela Kuti, the Nigerian pioneer of Afrobeat. The award was received by the star's children, Yemi and Seun.
Winners were selected by fans sending text messages except for the legend award.
There was also a tribute to "Mama Africa" Miriam Makeba, the South African singer who died just over a week before the award event.
Winners each received a Golden Microphone trophy, which has a futuristic microphone emerging from a globe of the world, with the African continent symbolically placed at the top of the world.
Even though this was an African event there were some non-African artists nominated in different categories, including Lil Wayne, The Game, Coldplay, and Keys.
[slideshow=13]
The full list of nominees and winners for the 2008 MTV Africa Music Awards were:
Best Female Artist
Wahu (Kenya) – Winner
Asa (Nigeria)
Dama Do Bling (Mozambique)
Sasha (Nigeria)
Zonke (South Africa)
Best Male Artist
Jua Cali (Kenya)
2Face (Nigeria)
D'Banj (Nigeria) – Winner
DJ Cleo (South Africa)
HHP (South Africa)
Best Live Performer
Samini (Ghana)
D'Banj (Nigeria)
P-Square (Nigeria)
Cassette (South Africa)
Jozi (South Africa) – Winner
Best Group
P-Square (Nigeria) – Winner
Freshly Ground (South Africa)
Jozi (South Africa)
The Parlotones (South Africa)
East African Bashment Crew (Uganda) – Bebe Cool and Necessary Noize
Best Alternative
Buraka Som Sistema (Portugal)
Goldfish (South Africa)
Seether (South Africa) – Winner
The Parlotones (South Africa)
Coldplay (UK)
Best Hip-Hop Artist
9ice (Nigeria) – Winner
HHP (South Africa)
Professor Jay (Tanzania)
Lil Wayne (USA)
The Game (USA)
Best R&B
P-Square (Nigeria)
Akon (Senegal / USA)
Loyiso (South Africa)
Alicia Keys (USA) – Winner
Rihanna (USA)
Best Artist of the year
Asa (Nigeria)
D'Banj (Nigeria) – Winner
P-Square (Nigeria)
HHP (South Africa)
Seether (South Africa)
Best New Act
Kwaw Kese (Ghana)
Wahu (Kenya)
9ice (Nigeria)
Naeto C (Nigeria) – Winner
Da L.E.S. (South Africa)
Video of the Year
Movaizhaleine (Gabon) – Nous
Ikechukwu (Nigeria) – Wind Am Well – Winner
P-Square (Nigeria) – Roll It
Freshlyground (South Africa) – Pot Belly
Pro Kid (South Africa) – Uthini Ngo Pro
Listener's Choice Award
– Jax Panik (South Africa) – 'Cigarettes and Cinnamon'
– D'Banj (Nigeria) – 'Why Me' – Winner
– Naakaya (Tanzania) – 'Mr. Politician'
– JB Mpiana (DRC) – 'Zadio Kongolo'
– P Unit Featuring DNA (Kenya) – 'Una'
– Toniks (Uganda) 'Beera Nange'
– Ofori Amponsah Featuring Samini (Ghana) – 'Odwo'
MAMA LEGEND AWARD – Fela Kuti (Nigeria)
MY VIDEO AWARD – Jide Rotilu