FIFA World Cup 2022 Draw: Who Will Represent Africa In Qatar?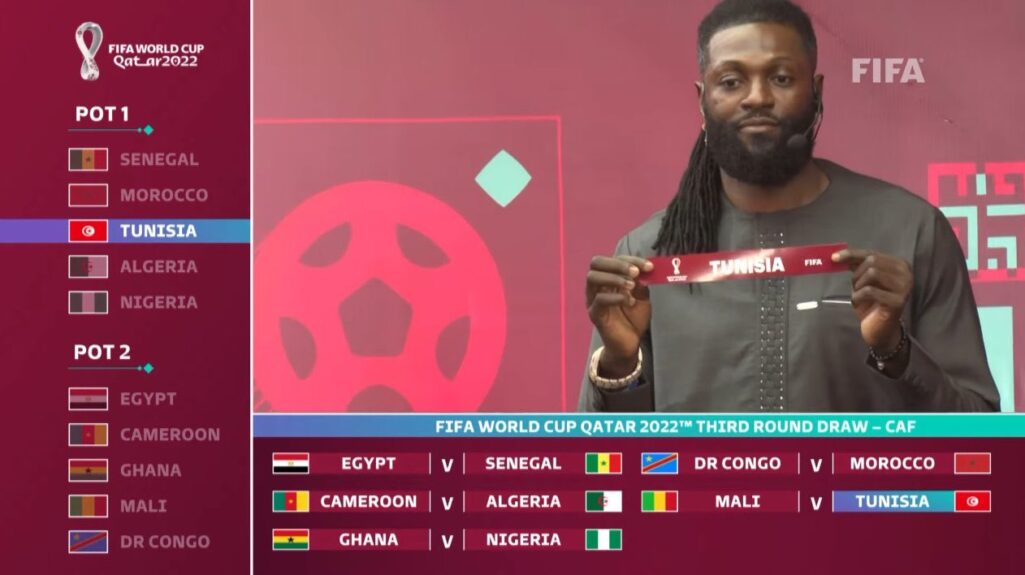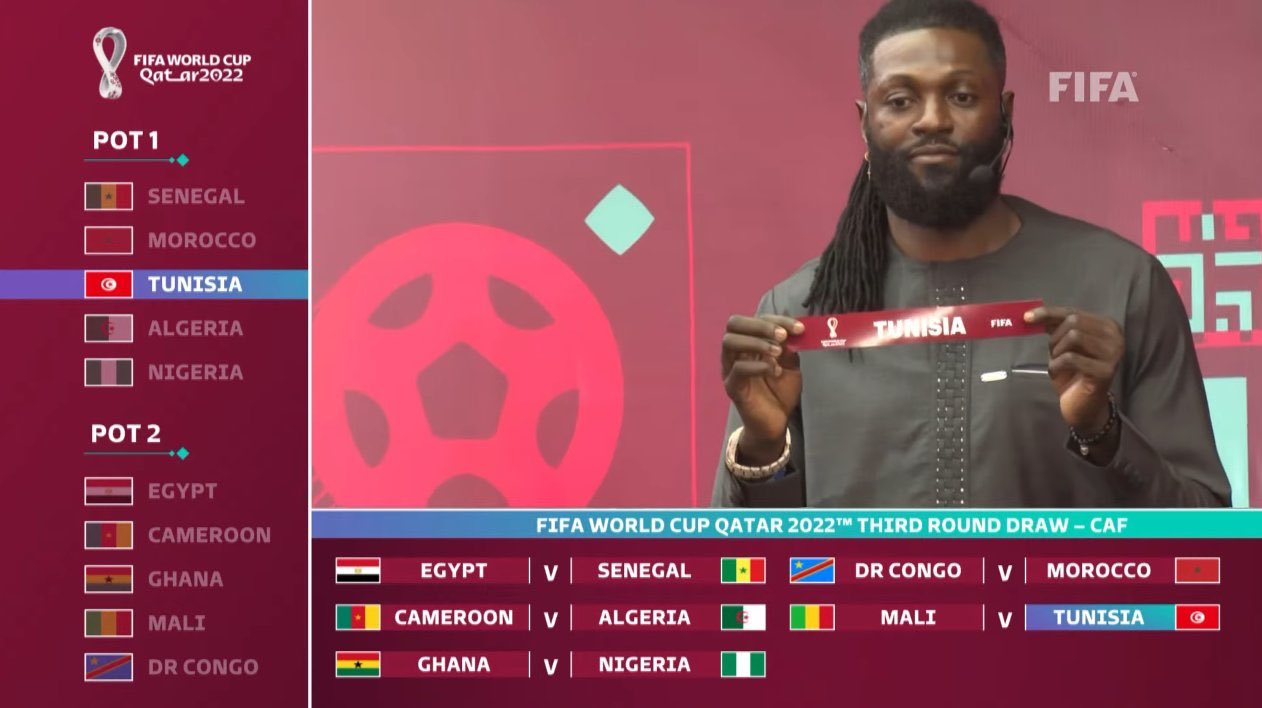 The die is cast. The Confederation of African Football (CAF) has completed the draw for the final playoff fixtures for the FIFA World Cup 2022. Ten teams will lock horns for five places to represent Africa in Qatar.
The draw, which took place on Saturday 22 January 2022 in Douala, Cameroon, saw Nigeria, Cameroon, Senegal, Tunisia, and Morocco in Pot 1. On the other hand, Pot 2 contained Ghana, Algeria, DR Congo, Egypt, and Mali. Following the draw, Liverpool teammates, Sadio Mane and Mohamed Salah will slug it out as Senegal battles Egypt. Consequently, one of the African heavyweights will miss out on a flight to Qatar come November.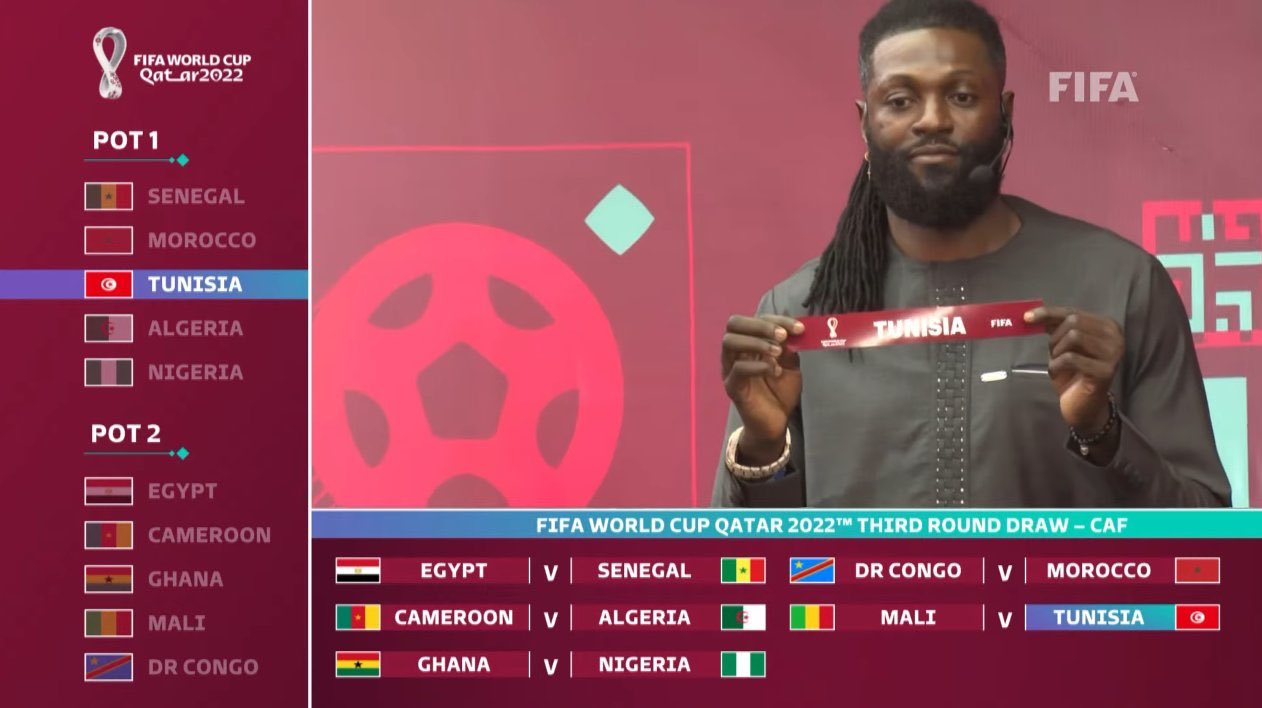 Egypt and Senegal, both of which are still competing in the Cup of Nations in Cameroon, were two of the five African nations that competed in the last finals in Russia. Elsewhere, Algeria and Ghana were dealt challenging fixtures with Cameroon and Nigeria, respectively. This is coming on the heels of a humiliating early exit from the Africa Cup of Nations. Meanwhile, Morocco finds itself pitted against DR Congo—that failed to qualify for the Nations Cup in Cameroon.
After being matched with Tunisia, Mali has a chance to qualify for the first time. However, they will play their home game on neutral territory, as they did not have suitable stadiums in the last qualifying round and had to play in Morocco.
Road to the third qualifying round
The ten nations were all winners of their respective groups in the second round of African World Cup 2022 qualifiers, which took place between September and November. In March, they will compete in a two-leg encounter to determine which five teams would advance to the finals. The specific dates of the matches will be confirmed in the coming days, according to the CAF. Here is a recap of the draws.
Reactions to the Draw
Several reactions are making the rounds all over conventional and social media since the World Cup 2022 draw. While many are cursing their luck, others are relishing the big fixtures that await. See some reactions from commentators below.
The World Cup playoffs in Africa are going to be brutal 😂😂😂 superb draw pic.twitter.com/8YFl4FJWe5

— Mohammed Ali (@mohammedali_93) January 22, 2022
World Cup Qualifiers Draw – Africa
Ghana 🇬🇭 vrs Nigeria 🇳🇬
Who else can't wait for this match? Chai😂#WorldCup #TeamGhana

— Ernestina Serwaa Asante (@Yaa_Serwaa1) January 22, 2022
Full World Cup Qualifiers Draw – Africa

Egypt 🇪🇬 v 🇸🇳 Senegal
Cameroon 🇨🇲 V 🇩🇿 Algeria
Ghana 🇬🇭 v 🇳🇬 Nigeria
DR Congo 🇨🇩 v 🇲🇦 Morocco
Mali 🇲🇱 v 🇹🇳 Tunisia

Fixtures to be played in March 2022

Wild Stuff 🔥

— Kafui Dey (@KafuiDey) January 22, 2022
World Cup playoff draw in march

Egypt 🇪🇬 vs Senegal 🇸🇳
Cameroon 🇨🇲 vs Algeria 🇩🇿
Ghana 🇬🇭 vs Nigeria 🇳🇬
Mali 🇲🇱 vs Tunisia 🇹🇳
Dr congo vs Morocco 🇲🇦

No easy game. Indeed Africa will be presenting the best

— CKF_22 (@KnowledgeKill) January 22, 2022
With the Africa Cup of Nations in the knockout phase, reactions from the national team coaches have been few and far between. Nigeria's Technical Director, Augustine Eguavoen, called the Ghana v Nigeria match 'a fixture to relish'.
Who will Represent Africa at the World Cup 2022?
African football is famous for being the world's capital for football upsets. With Morocco going against DR Congo, that looks like the easiest fixture on paper, and so many will fancy the Atlas Lions to go through. For Cameroon v Algeria, anything can happen. The Desert Foxes are low on confidence following their abysmal run at AFCON 2021, but they have never failed to qualify for the World Cup since 2006. The Indomitable Lions is Africa's most successful team at the World Cup. So, some past pedigree may count for them.
Nigeria v Ghana is a real nail-biter, with both nations crashing out of AFCON 2021 early. The West African nations are fierce footballing rivals, and as such, passion and determination may cut it where skill fails to. Ghana, regular World Cup qualifiers in the 21st century, will fancy their chances. Nigeria, on the other hand, will be looking to pile more misery on its neighbors.
Salah v Mane makes for an interesting matchup, as Africa's finest go against each other. With Egypt looking lackluster in the recent past, Senegal will be looking to trump the pharaohs. Egypt can go through, but they will have to put in two indomitable performances to do so. Mali v Tunisia is also another interesting game where anything can happen. Their very controversial game at AFCON 2021 grabbed headlines for all the wrong reasons. Both teams will be hoping that their World Cup 2022 qualifiers will be different.
At a glance, it is easy to see that West Africa continues to dominate the continent in the game of soccer. In case you haven't noticed already, West and North Africa continue to dominate the soccer scene on the continent. Interestingly, both have four teams in the last ten while Southern and Eastern Africa have none.