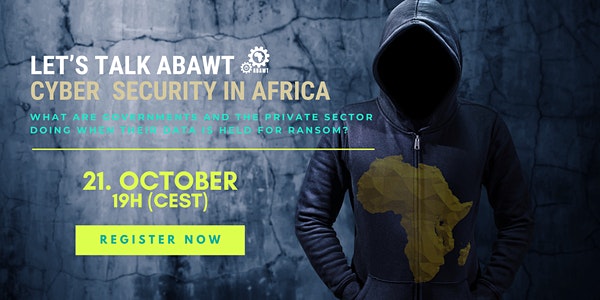 Let's talk ABAWT: CYBER SECURITY IN AFRICA
Phishing, DOS (Denial-of-Service), Malware or the big V-word we are all tired of: Virus. What do they all have in common? They are all tools to attack us in our "cyber" space – tools that managed to bring government networks down, shut down NASA's computers for 21 days, and shut off power in about half the homes in Ukraine in 2015 – one day before Christmas, and caused Germany to give the chancellor her own "Merkel-phone" after the NSA listened into her calls and messages.
Cyber is the space we spend most of our time in – whether we are aware of it or not. And it needs to be protected, just as we lock our doors behind us when we are in our own home to avoid strangers wandering around and steeling.
With our upcoming talk, we will shed some light on Cyber security in the African space. What are African governments doing in the fight against cyber attacks? How does the private sector prepare or react to attackers when their data is held for ransom?
Learn about the current landscape and activities of cyber security technology and methods on the African continent, understand the needs, and plan the future together.
See you on October 21st, 2021 at 7pm (CEST / UCT +2)