The 5 African Acts who took home awards at the 2017 BET Awards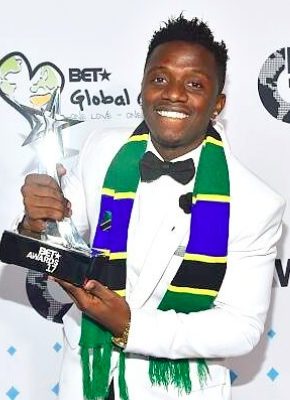 No longer is African music customized to African ears. African songs have matured getting well distilled to be alcoholically consumed by a global audience. Major hits from the continent have turned worldwide sound-storms.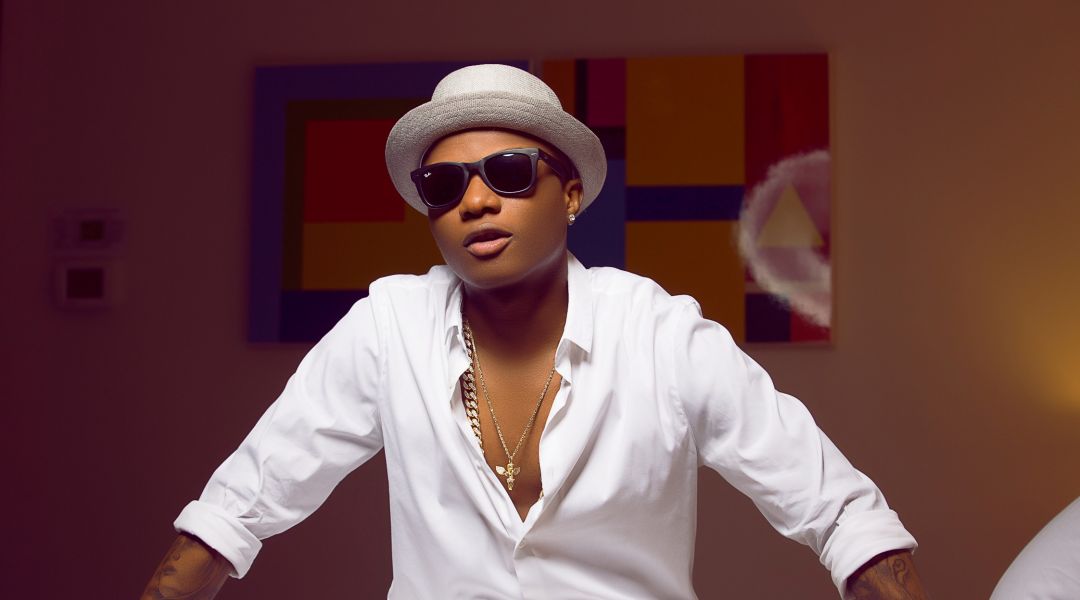 Most notorious among the pack of African artists who have perfumed the global audience with the aroma of African music is the Nigerian mega-act Wizkid (real name Ayodeji Ibrahim Balogun). And to firmly reinstate his chieftaincy in Africa music, he scooped home the recently held Best International Act: Africa at the 2017 BET Awards.
The announcement comes from the special ceremony which convened on in the United States, Los Angeles.
"Congrats to #BETAwards17 'Best International Act: Africa' winner @wizkidayo ".
The BET event was hosted by regular face Eva Marcille (this time marking her second appearance as a BET host). She was accompanied in her hosting by co-host South African TV actress and model Nomzamo Mbatha. Nomzamo Mbatha as we know is a popular face of South Africa TV.  Nomzamo Mbatha crept into international fame for her performance in the romantic comedy film, Tell Me Sweet Something. For that, she bagged an Africa Movie Academy Award in the category of Best Actress at the 12th Africa Movie Academy Awards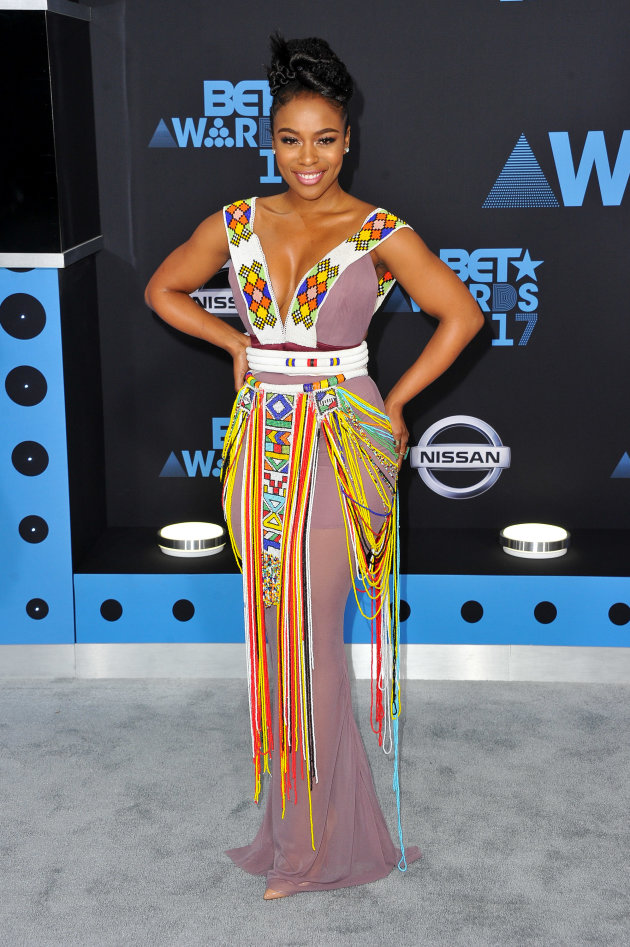 This latest achievement from Wizkid sees the serial winner kidnap the award for the second time. The first time he had won it was some five years ago in 2012.
The highly coveted award pits Wizkid against his eminent musical colleagues with fierce competition coming from the Nigerian duo Tekno, Davido, Ghanian Mr Eazi as well as the South African trio of AKA, Nasty C and Babes Wodumo.
For Tekno and Mr Eazi, this happened to being their debut nomination. This is a testimony to the great works they did last year with ear-rattling singles.
Well for Wizkid, it is all about consolidating his place in the international sphere with major collaborations like One Dance and Come Closer with Drake cycling his name around earth. The One Dance he wrote with Drake was eminently a world banger nicking seven nominations and bagging three.
20 year South African Nasty C, frenetically excited with his nomination, was beaming with praise for Wizkid:
"Wizkid congratulations, it's for Africa, you took it home man, I'm proud of you, everyone that's coming up you just got to keep your head up, thick skin, just keep working, keep on your toes, keep it up."
At the moment, he has his hand filled with his sophomore album, "Sounds from the Other Side" which he dropped in July spiced deliciously with major collaborations like "African Bad Girl" where he colluded criminally with American superstar, Chris Brown, "Daddy Yo" as well  "Sweet Love".
GLOBAL GOOD: POWER AWARD
Yvonne Chaka Chaka (South Africa)
Taking a moment off Wizkid and his exploits, Yvonne Chaka Chaka also earned a lovely night winning the Global Good Power award as a meritorious reward for her immortal strides in African humanitarianism.
Chaka has carved her philanthropic mark on history. She deploys her fame in combating health concerns in Africa. Her notable Princess of Africa Foundation commendably makes giant efforts in tackling HIV, malaria, tuberculosis in vulnerable African communities challenged with paucity of infrastructure.
VIEWER'S CHOICE "BEST INTERNATIONAL ACT"
Rayvanny (Tanzania)
Rayvanny from Tanzania also went home with the Viewer's Choice Best International Act. Previous winners in this categories spreads across the enigmatic Falz, Kenzo and others. Rayvanny is popularly a musical descendant of super Tanzanian singer Diamond Platnumz.
And in befitting gratitude he pays plaudits to Diamond Platnumz. Yo guys, we did it," he proudly crested on social media. "Thanks everybody who voted for me. My brother Diamond Platnumz, I know you are waiting for this. This is not mine bro, this is yours because you sacrificed yourself for me. Yo my brother. This one is for you. Thanks a lot BET Awards, this means a lot to me."
GLOBAL GOOD: STAR AWARD
Ilwad Elman (Somalia/Canada)
Another winner that night was Canadian Somalian Ilwad Elman who deservedly takes home the Global Good Star Award.
Ilwad Elman has made her mark in getting Somalia back on track after the destabilizing war which ravaged Somalia. A war that also took her father peace activist and entrepreneur Ahmed Ilwad. She energetically works with the UNICEF in championing the protection of children and women from the violence Somalia is experiencing.
BEST INTERNATIONAL: EUROPE
Stormzy (UK)
As said, it was not entirely Wizkid's day, UK based Ghanaian Stormzy still had a very memorable day to remember. Stormzy bagged the 'Best International Act: UK.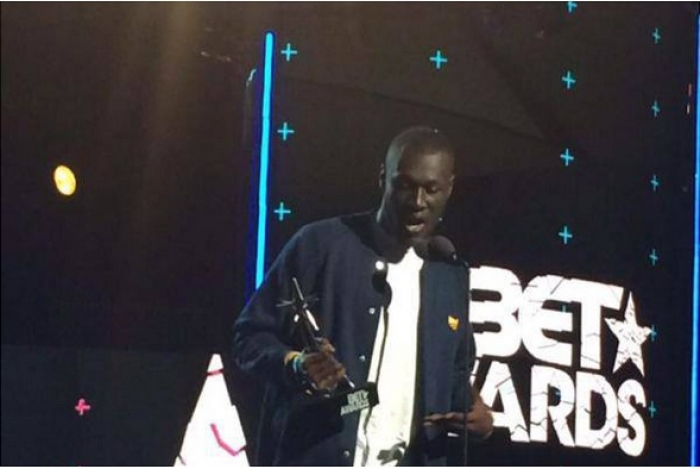 This was one fiery category contested by the cream of black artistes featuring the intimidating likes of Craig David, Emeli Sande, Skepta, and Giggs. This would be the second time Stormzy is repeating this feat. Two years back in 2015, Stormzy also won the BET award for 'Best International Act: UK'. This was a strong reminder of how well his music has been globally absorbed and a rewarding testament to the hardwork he has been exerting behind the scenes.
International BET Award Winners 2017:
BEST INTERNATIONAL: AFRICA
Wizkid (Nigeria)
BEST INTERNATIONAL: EUROPE
Stormzy (Ghana/UK)
VIEWER'S CHOICE "BEST INTERNATIONAL ACT"
Rayvanny (Tanzania)
GLOBAL GOOD: STAR AWARD
Ilwad Elman (Somalia/Canada)
GLOBAL GOOD: POWER AWARD
Yvonne Chaka Chaka (South Africa)