Akon and Mother Kine sit with African Vibes Magazine to discuss Konfidence and Giving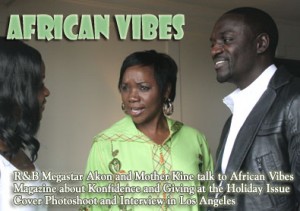 R&B sensation is busy making hits and running his many different businesses. When #African Vibes Magazine met with the artist, he was in the process of recording "Oh Africa" with Keri Hilson and The Soweto Gospel Choir. It was a campaign to benefit underprivileged #African youth. This is one of many initiatives the Singer was engaged in to help Africans.
African Vibes Magazine Editor In Chief, Amabel Niba sat with #Akon and his mother Kine in Los Angeles to talk about their work with the #Konfidence foundation as well as upcoming initiatives by the foundation that they were piloting in Senegal before a planned future roll out into other parts of Africa.