Young South African Man Turns Old Plastic Bottles To Reading Lamps
Many students agree that the best time to read is at night. As people retire to their beds, distractions drop significantly. However, students that stay with their families may be prevented from using the bulbs. This is because they make sleeping difficult. This was the challenge faced by Siphamandla Ntshewula when he was studying for matric in Khayelitsha, Cape Town. Eventually, he found a way to get around this problem using plastic bottles. Speaking about his challenges, he said,
"I found that when I would study at night, I would get complaints from my aunt to switch off the light because it was too bright. And as you can see, I live in a fairly spacious house. What about those students who live in one-roomed shacks?"
Ntshewula's desk lamps are made from plastic bottles. He uses a 2-liter plastic bottle, small light bulb, and fabric from an old pillow to craft his lamp. He can make a lamp in less than one hour. Inasmuch as children help him gather the plastic bottles and his aunt gets him offcuts of fabrics from her workplace, Ntshewula spends at least R100 on the bulb, switch, plug, and electric wire for each lamp. Speaking about his future plans Ntshewula said,
"I am also looking into making my lamps battery-friendly because as you know, we have problems with load-shedding. And sometimes people cannot afford to buy electricity."
Ntshewula has applied to join a youth-in-business program. There he hopes to learn how to start a business, register a company, as well as other business matters. His lamps work best with weaker bulbs. Too powerful bulbs may burn the plastic bottles.
Previous Innovative Lighting with Plastic Bottles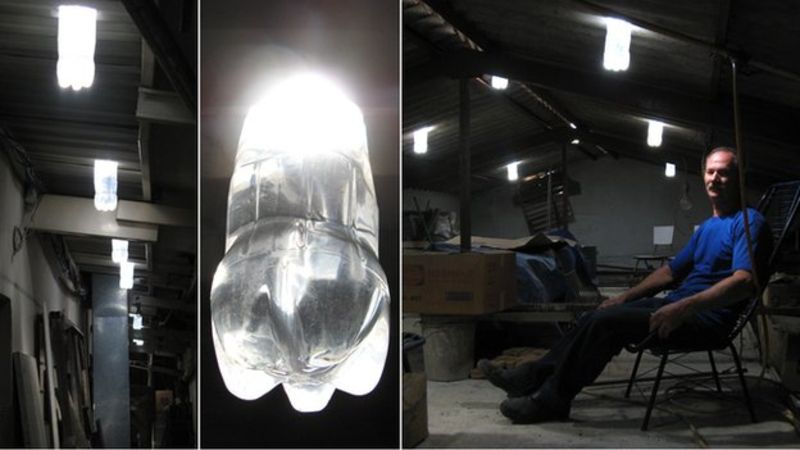 In 2013, the BBC reported about Alfredo Moser, the inventor of the bottle light. The Brazilian mechanic in 2002 found a way to illuminate his house during the day with plastic bottles. Moser's plastic bottle light model uses nothing more than plastic bottles filled with water and a bit of bleach. The purpose of the bleach was to prevent algal growth.
Consequently, you make holes in the roof and fix the plastic bottles in using polyester resin. The mechanism for the generation of light is refraction. In the last decade, the innovation has spread all over the world. In recent years, tiny solar-powered bulbs are fixed into the plastic bottles to provide light at night too. Explaining the innovation, Moser said,
"Add two capfuls of bleach to protect the water so it doesn't turn green . The cleaner the bottle, the better. You fix the bottle in with polyester resin. Even when it rains, the roof never leaks – not one drop. An engineer came and measured the light. It depends on how strong the sun is but it's more or less 40 to 60 watts."