North African Inspired Grilled Chicken and Vegetable Kebab Recipe By Mesa De Vida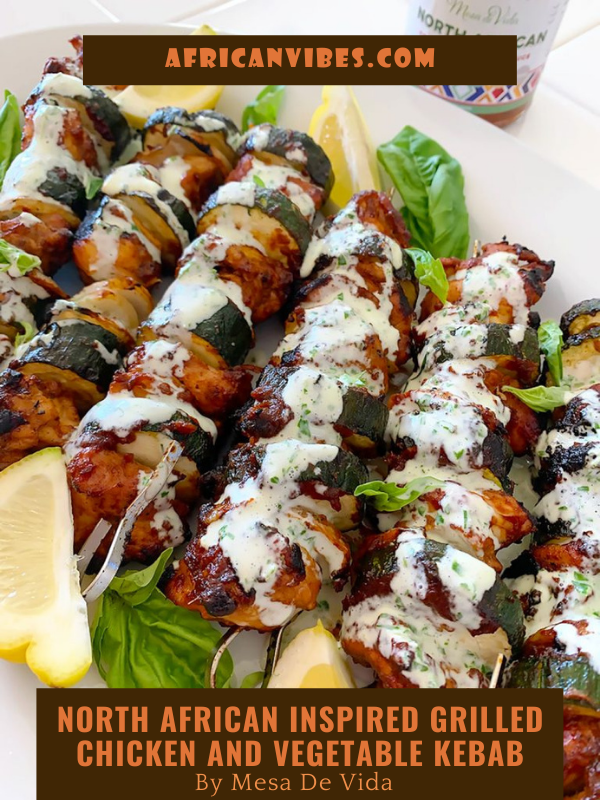 Tender, flavorful chicken and vegetables glazed in a rich glaze with North African inspired flavors. Complete these delicious and easy kebabs with a garlicky herb yogurt drizzle for a fabulous meal that is great to serve at your next al fresco dinner party!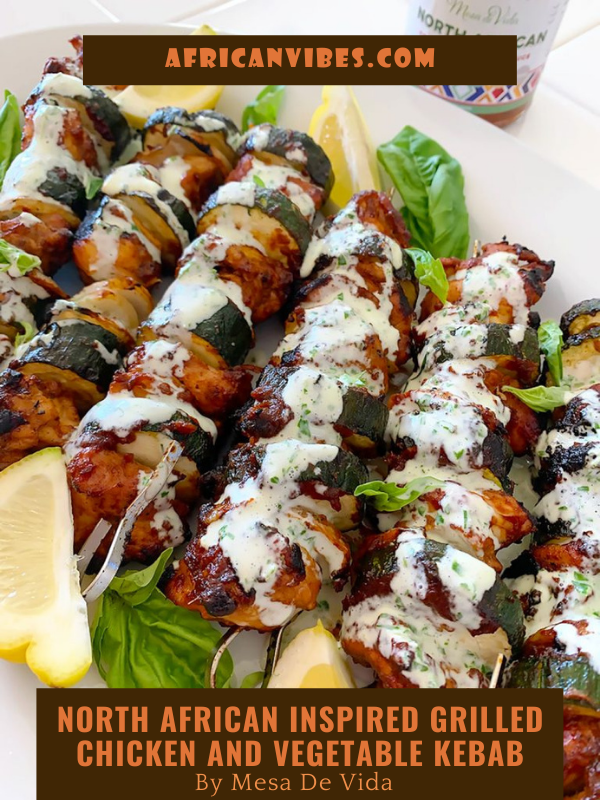 Prep Time15 mins
Cook Time10 mins
Total Time25 mins
This recipe, as well as our Caribbean inspired grilled chicken recipe, are lower in sodium and sugar than ordinary marinades and grilling sauces, and anything but ordinary!
This recipe is naturally gluten-free.
You can make this recipe Paleo-friendly by making the drizzle with tahini in place of yogurt, and add 2 more tablespoons of lemon juice.
You can make this recipe Whole30-friendly by swapping out for the tahini drizzle, above, and leave the honey out of the glaze. If you'd still like a sweet-savory glaze you can mix 1 date, finely minced into a paste, with the North African cooking sauce.
For the marinade
1
lb
boneless, skinless chicken thighs or breasts
½
onion cut into large dice
2
medium zucchini
sliced 1/2
salt to taste
*Our cooking and seasoning sauces are extremely low in sodium, allowing you to salt to your own tastes/health preferences. Salt does help the flavors permeate the meat, so I recommend a pinch or two to help the marinade really sink into the meat for this quick marinating process.
For the glaze
3
tbsp
Mesa de Vida North African Inspired Cooking & Seasoning Sauce
For the garlicky herb yogurt drizzle
1
cup
plain yogurt Greek yogurt produces a thicker sauce,
regular plain yogurt produces a thinner, dressing-like drizzle
¼
cup
fresh herbs
a combination of basil, cilantro and mint. Parsley also is great. Use any/all that you have on hand