Nollywood Actress Stephanie Okereke is the new Brand Ambassador for Kanekalon hair in Nigeria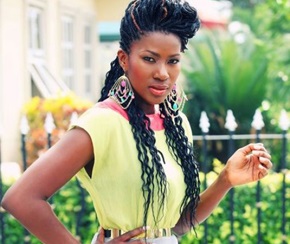 Kaneka Corporation of Japan, maker of the renowned hair fiber, Kanekalon, has signed an endorsement deal with Nollywood's A-list actress, Stephanie Okereke, as its brand ambassador in Nigeria.
According to Kaneka Corps Marketing Manager, Hideaki Nakamura, the agreement is an indication of the Company's commitment to expanding business interests in Nigeria. Further explaining this, Nakamura said,
"In line with Kaneka Corporation's corporate philosophy and strategic direction to promote the beauty of the African woman through the provision of high-quality hair products, Kaneka desires to play a more prominent role in the economy by investing more in the Nigerian market. The deal with Stephanie is consistent with Kaneka's policy of using the best talents everywhere the company has presence, to promote our product and Stephanie came highly recommended in this area."
The endorsement comes on the heels of the successes recorded by Kaneka in Nigeria in 2010. This includes the 'Braids Parade', an initiative celebrating Nigeria's 50th Independence Anniversary through a hair competition. Others are the 'Night of 1000 Braids', a Kanekalon braids event designed to thank its customers for their patronage during the year.
Okereke has promised to use her star power to propel the brand. "The African woman is legendary for her beauty and her strength, her style, and grace; she is an epitome of beauty, and unmatched quality and a style icon. All this I hope to promote as Kanekalon ambassador" says the award-winning Nollywood A-List actress.