Morocco is home to World's Largest Solar Plant to date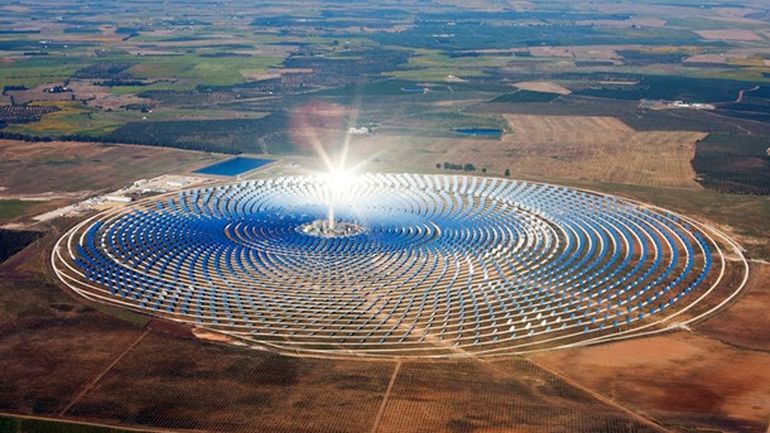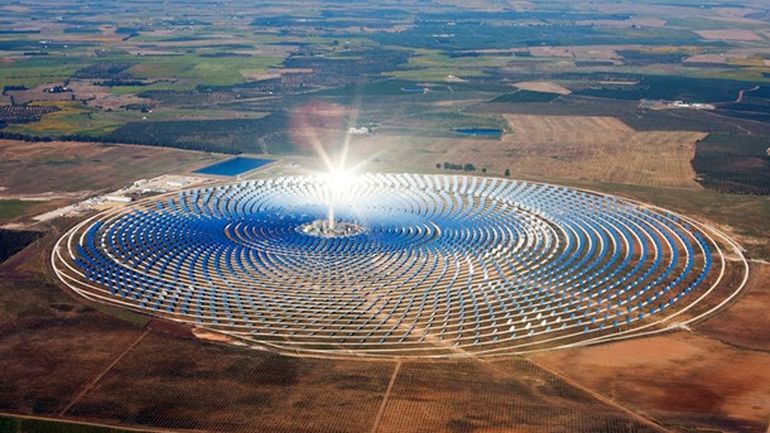 Morocco is reducing its dependence on fossil fuels by tapping into its abundant sunshine to build the largest solar plant in the world to date.  According to the World Bank, the country currently imports about 97% of its fossil fuels. The panels will take up an area the same size as Morocco's capital, Rabat. Morocco hopes to use the next UN climate change conference, which it hosts in November, as the springboard for an even more ambitious plan to source 52% of its energy from renewable sources by 2030.
The solar plant, called the Noor complex, uses concentrating solar power (CSP) which is more expensive to install than the widely used photovoltaic panels, but unlike them, enables the storage of energy for nights and cloudy days.
The first phase of the plant is visible from space.
"Noor has a power-generating capacity of 160 megawatts. When construction on subsequent phases is completed sometime around 2020, the complex will be capable of producing 580 megawatts." NASA's Kathryn Hansen wrote.
The power station on the edge of the Saharan desert will be the size of the country's capital city by the time it is finished in 2018, and provide electricity for 1.1 million people.
Noor 1, the first section at the town of Ouarzazate, provides 160 megawatts (MW) of the ultimate 580MW capacity, helping Morocco to save hundreds of thousands of tonnes of carbon emissions per year.
"Desert complex will provide electricity for more than 1 million people when complete, helping African country to supply most of its energy from renewables by 2030
"It is a very, very significant project in Africa," said Mafalda Duarte, the manager of Climate Investment Funds (CIF), which provided $435m (£300m) of the $9bn project's funding. "Morocco is showing real leadership and bringing the cost of the technology down in the process."
"Morocco knew their demand for electricity was growing at 7% a year and that they were dependent on imports for 97% of that energy," Duarte said. "They had the vision to promote renewables at a time when oil prices were high and they undertook regulatory reforms, put institutions in place, and they have done a great job."
If the dreams of its architects are realized, the resulting energy will eventually be exported north to Europe, and eastwards to Mecca, as well as providing a secure source of energy at home.
Desert complex will provide electricity for more than 1 million people when complete, helping African country to supply most of their energy from renewables by 2030