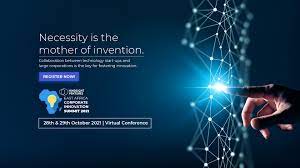 East Africa Corporate Innovation Summit 2021
Over the years, working with leading global corporates and setting up accelerators and innovation labs, we have seen first-hand the important role that corporates and corporate leaders play in furthering innovation and startups in their journey. Exposure that startups gain through corporate accelerators and innovation labs, is unquestionable. For many, it helps fasten the learning process or fail fast or pivot and for many, the validation brings about the "J-curve".
Continuing our work in the East Africa region, and leveraging our expertise of setting up over 30 corporate accelerators and innovation labs, we are now priming-up for the East Africa Corporate Innovation Summit – a corporate innovation and venturing event, coming up on 28 – 29 October 2021.
EACIS 2021 is themed on our over-arching mission of "Converege. Connect. Collaborate", and aims to bring together corporate innovation and venturing leaders from the region and across the world, to share best practices around innovation and corporate venturing with our industry audience from East Africa. With disruption and change ever-more threatening, and the desire for innovation ever-increasing; we firmly believe that being a part of EACIS 2021 will allow participating organisations to get ahead of the curve.
We look forward to bringing together a stellar line-up of speakers, industry partners, showcases and offer a fantastic networking opportunity with the corporate innovation and venturing ecosystem.