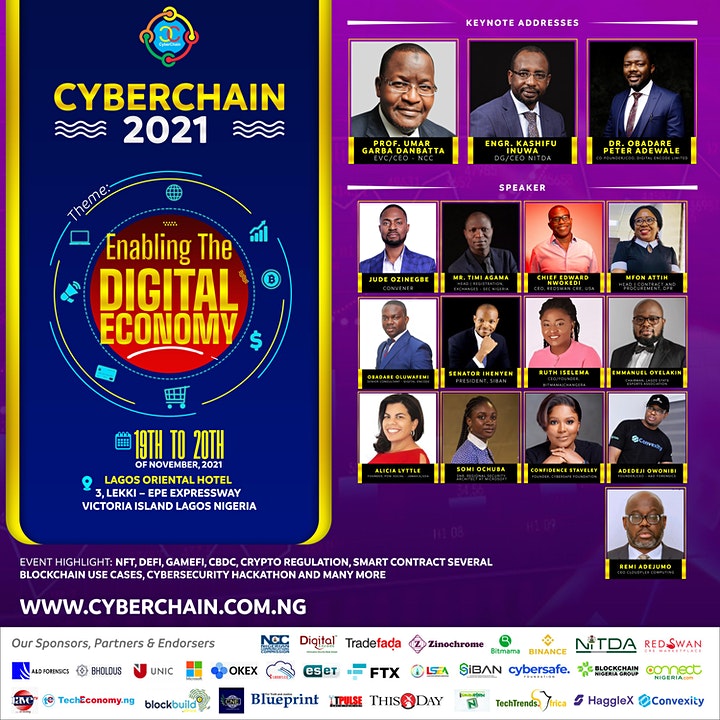 Cyber Chain 2021
Hello there,
As the Digital Economy evolves, the Nigerian Tech Space is experiencing a plethora of events, from Teir-1 Fintechs becoming Unicorns, many others attracting Investors both home and offshore, some closing shops and a few more getting birthed.
What are we to expect from Cyberchain 2021?
A lot. DeFi's, NFTs and GameFi's have filled the ecosystem, regulators have woken up, builders and creators are getting smarter, demand pull is on the rise, dip buyers are getting "dipper" and everyone wants to stay safe and keep their digital assets secure. It's time to gather together again and do what we do best – Harmonize Cybersecurity and Blockchain
Something for you.
We have taken time to bring together, some of the best minds in the Cybersecurity, Fintech, RegTech, and Blockchain ecosystems to share deep insights and leading trends to help us get up to speed with industry's best practices.
Cyberchain2021
The Cyberchain Team.