Cool Sites and Gadgets for 2010 FIFA World Cup in South Africa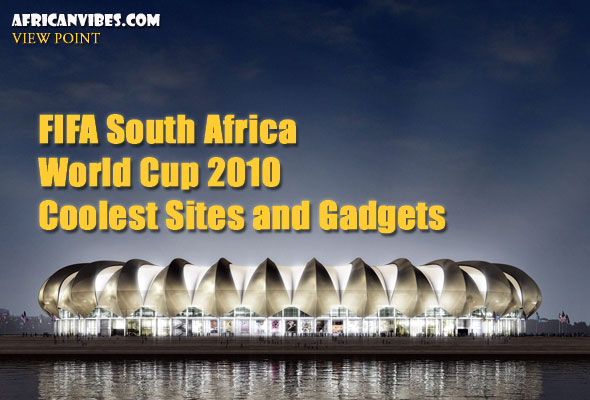 The World Cup is the most-watched sporting event in the world. As we celebrate this very special moment, the first such event to be held on the African Continent, we are trekking the web looking for cool and exciting sites and gadgets about it. Also, we will keep our list growing as events progress. If you find a cool site that is not on our list, drop a comment.
ALSO READ: TAKE OUR POLL: Which Of These 5 African Teams Will Advance Furthest At The FIFA 2018 World Cup?
The Group Predictor by Castrol Football: This is a very cool tool. It helps predict how well your favorite teams will do during the championship. The site also carries other predictors such as the tournament predictor, match predictor etc. It is a sure win in originality.
The Marca Calendar: Marca.com created a very unique Calendar that captures the groups and schedules for the world cup. They rank high on originality.
A Virtual Global Competition – FIFA has outdone themselves: Besides being a very informative site, we think FIFA.com has done a fine job in presenting World Cup-related information but they have lots of icing on the soccer pudding with an online World Cup tournament all soccer fans can play for free in the safety of their homes without the recommended rigorous physical training required to be good at the sport. What do you think?
ESPN's iPhone App will knock your socks off: It's their thing. They know sports and market it well. Their World Cup iPhone App is a knockout, probably one of the best out there. What do you think?
Navigate South Africa with Find and Follow – SA: Find and Follow – SA is a free blackberry app that helps you navigate South Africa during the World Cup and … beyond. With it you can Stay on top of the latest scores, news, and schedules, as well as make informed choices about hotel, restaurants, transport and other services during the World Cup. What do you think?
Live Commentary on Goal.com: If you can't watch the game live but would like to know what's happening, then Goal.com should you stop. They run live commentary on the games giving you a good idea of where things are and who is doing what. What do you think?
Find Match Schedules on Fifa.com: Fifa has put so much work into organizing information on their site. It is a good stop for all things World Cup-related. Their schedule is cool and keeps you current on scores and upcoming games. What do you think?
If you know of a cool World Cup gadget or site, drop a comment.