After Winning #AFCON2021, Can Senegal Do It On the World Stage?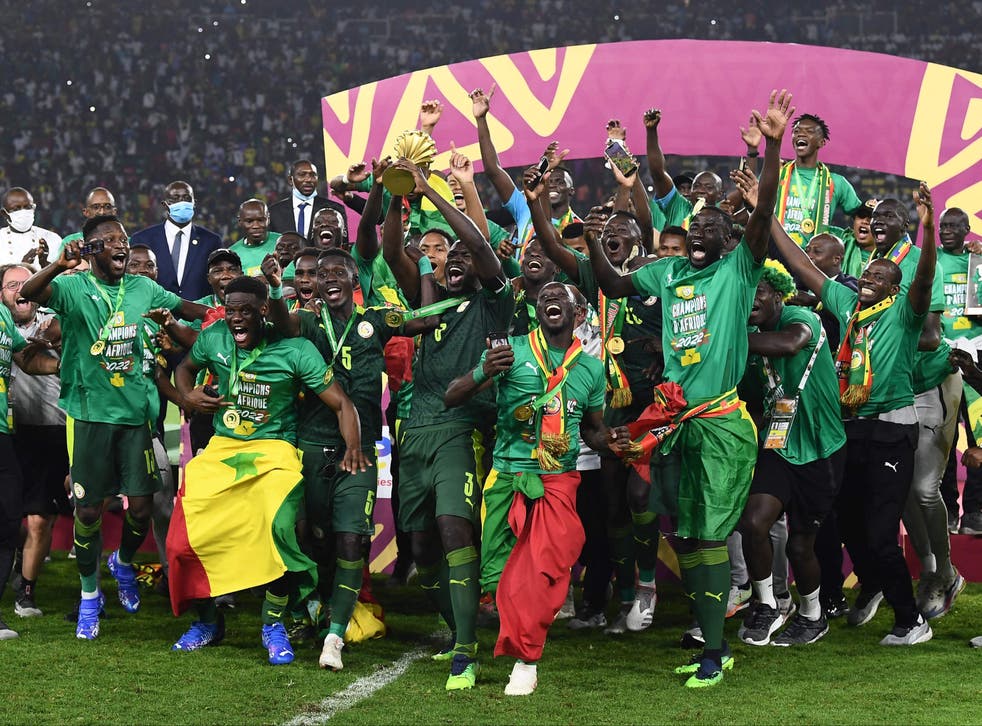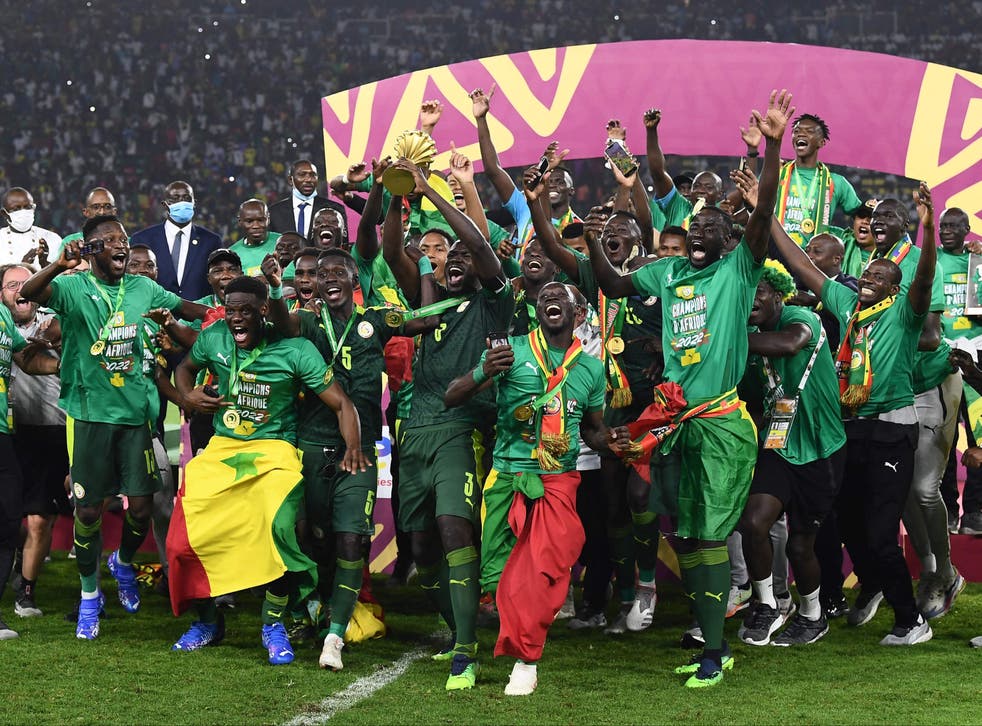 And so it's over. After 28 days of intense matches that started with 24 teams, the Teranga Lions of Senegal are now African champions. The West African football giants have won #AFCON2021, making it their first-ever win at the tournament. Senegal came close in 2002 and 2019, but never crossed the finish line. Now, they have done so in fine fashion at the Olembe Stadium in Yaoundé. 
ALSO READ: AFCON 2021 Knockout Preview: Who Will Win The Trophy?
Road to the Trophy
Pitted in group B against Guinea, Malawi, and Zimbabwe, the Teranga Lions made light work of the group, qualifying as winners. Having won Group A with 5 points, they overcame Cape Verde Island in the Round of 16. Victories against Equatorial Guinea and Burkina Faso helped them book their place at the showpiece in Yaounde. 
The #AFCON2021 final saw big names pitched against each other. Senegal's Kalidou Koulibaly, Idrissa Gueye, Cheikh Kouyate, Sadio Mane, Edouard Mendy, and Ismaila Sarr squared up against Mohamed Salah's Pharaoh's. The encounter was not without drama as Senegal won a penalty in the early stages. However, Sadio Mane failed to convert. 
After 120 minutes of missed chances, the game ended in a tie. Eventually, Senegal bagged their first-ever AFCON trophy after a 4-2 win on penalties. It was redemption at last for Aliou Cisse, the Senegalese coach, who captained the Senegalese team to AFCON 2002 and missed the decisive penalty that condemned the Teranga Lions to 2nd place at that tournament. Finally, Senegal had crossed the line that the 2002 generation had failed to. 
Key Stats From #AFCON2021 
After 52 exciting games in Cameroon, Vincent Aboubakar topped the goal chart with 8 goals. This places him at par with Laurent Pokou as the top scorer at a single AFCON tournament. Sadio Mane picked up the award for the Player of The Tournament, while his compatriot Edouard Mendy, picked the award for the Goalkeeper of The Tournament. Meanwhile, Egyptian keeper Mohamed Abou Gabaski, was named Man of the Match for the Final. 
Reactions to Senegal's Win 
Football fans and sports commentators have taken to social media to express their reactions to Senegal's win. Here are some of the interesting analyses of the tournament. 
To miss a penalty in an international tournament.. and then win it later with one of the best penalties you'll ever see… shows cojones of the highest order. Take a bow, Sadio Mane, and congrats to Senegal on their first Africa Cup of Nations trophy. 👏👏👏 pic.twitter.com/HleUyf3X2a

— Piers Morgan (@piersmorgan) February 6, 2022
These Senegal fans just kept repeating " All praise to Allah alone"🇸🇳🇸🇳

I've never witnessed anything like this,and rightly so, Senegal's biggest Sporting night ever.

May your national team win the AFCON soon!!#TeamSenegal #Afcon2021 pic.twitter.com/wwccl3cbkB

— George Addo Jnr (@addojunr) February 7, 2022
Senegal's capital Dakar erupted with jubilation as its soccer team defeated Egypt to win its first ever Africa Cup of Nations, erasing the country's reputation as one of Africa's most underachieving footballing nations https://t.co/E5BnYcuytK #AFCON2021 pic.twitter.com/O4pb3hO2cK

— Reuters (@Reuters) February 7, 2022
Senegal deserved the win over Egypt 🏆

— 🇬🇭DσɳRιƈσ🇺🇸 (@korl__) February 7, 2022
Sadio Mané leads "Superb" Senegal to win Arguably, the most qualitative AFCON in the past 20 years in terms of Tactics, passion, and surprises.
African football has come of age !! I am excited… pic.twitter.com/9kouu8AGMU

— Sunday Oliseh (@SundayOOliseh) February 6, 2022
ALSO READ: How Cameroon Businesses Are Winning From The AFCON 2022 Games
Will Senegal Triumph Over Egypt for a Second Time? 
When Emmanuel Adebayor drew Senegal v Egypt as the third fixture of the World Cup 2022 final playoffs, he did not know he was setting up a rematch. Interestingly, after locking horns at the #AFCON2021 final, Senegal will once against face Egypt in March in a two-legged affair. The winner takes one of Africa's five tickets to Qatar. 
Egypt, reeling from the pain of losing out on 2 of the last three AFCON titles, will be out for blood against the Senegalese. Mohamed Elneny already expressed a desire to play in Qatar, as this is the first-ever World Cup on Arab soil. Whether the Pharaohs can avenge their #AFCON2021 final loss is a fate only time can tell. 
However, Sadio Mane and co are fully aware that anything short of qualification would be a disaster. President Macky Sall declared Monday 7th February 2022 a national holiday for their triumph. Next month, however, they risk missing out on football's biggest showpiece if, like the Proverbial Israelites, the Pharaohs do not let them go.