African Vibes Magazine brings Contemporary Africa to Hollywood at its 4th Anniversary Event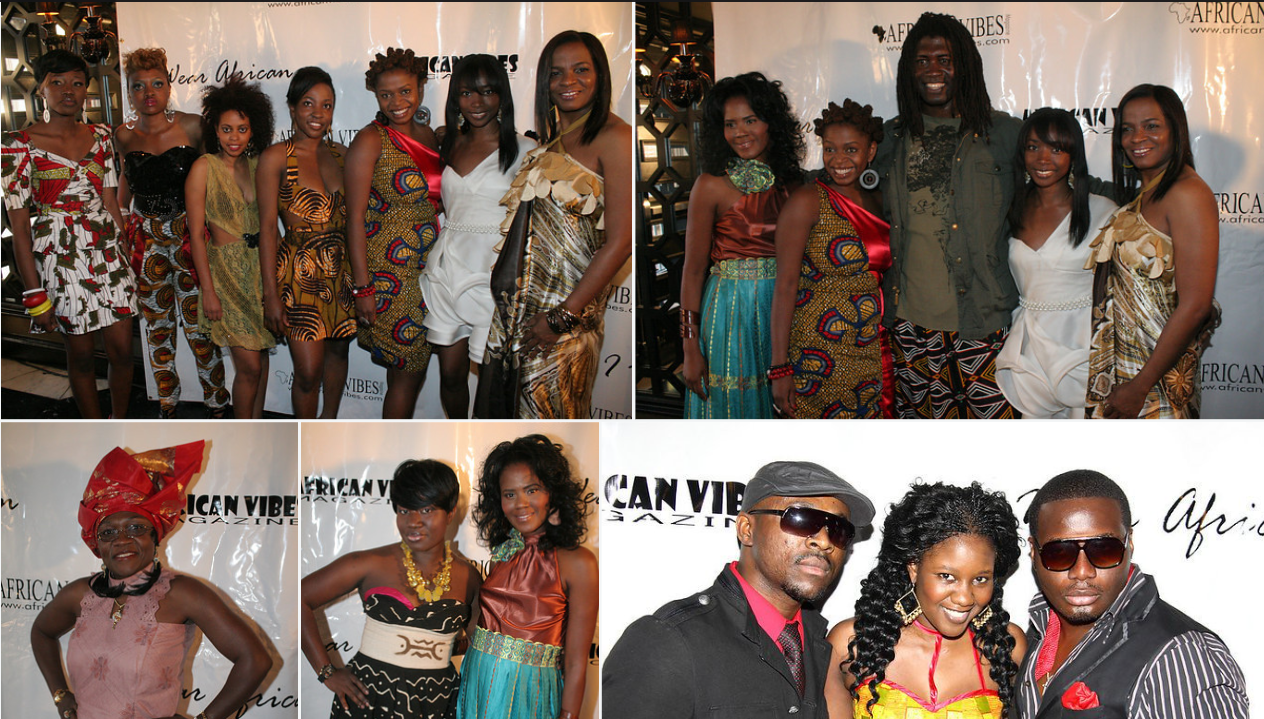 African Vibes magazine rolled out the red carpet in style to celebrate its fourth anniversary of shining a positive spotlight on Africa and Africans, by presenting an "#I Wear African" fashion show on Saturday, April 24, 2010, at the Avalon in Hollywood. The event kicked off at the Glam Lounge where VIP guests were offered complimentary champagne, hors d'oeuvres, and gift bags with items from Tourneau, Milani Cosmetics, Tarte Cosmetics, Clear Essence.
The Glam Lounge was followed by the 'I Wear African' Runway and Award show which brought new and fresh aesthetics to contemporary #African style through the interpretive work of some of Africa's hottest and talented designers. And if that wasn't enough, award-winning and international superstar and singer Awilo Longomba — known as the "King of Techno-Soukous Music" in international music circles — rocked the runway by shaking his hips and gyrating across the runway as the evening's special musical guest. The magazine honored Awilo and celebrity fashion designer and "Project Runway" alum Korto Momolu with the African Vibes Magazine African Diamond Award for uplifting their African heritage through music and fashion.
In the "I Wear African" fashion show, one #afronista after another trotted down the catwalk in a colorful kaleidoscope of designs and jewelry, representing designers from various parts of Africa. The designers who participated in the "I Wear African" fashion show included #Sheila Denanyoh  (Ghana) of Ill-la-la Designs; #Arthlene Legair (Dominica, West Indies)  of the #Legair Brand; #Kahindo Mateene (Democratic Republic of Congo-DRC) of #Modahnik; Maryanne E. Mokoko and Stephanie T. Mouapi  (Cameroon) of Côté Minou; #Mekdes Tefera Taye (Ethiopia); jewelry designer Monalisa Okojie (Nigeria) of  #NEHITA and #Christiane King (Ivory Coast), who is a contestant on this season's "Project Runway." Makeup for the 'I Wear African' Runway was provided by Official Beauty Partner, Milani Cosmetics.
A special highlight of the evening was the presentation by Liberian-born Korto Momolu, who showed pieces from her fall 2010 Collection — the Korto Momolu Collection.  Viewers will remember the Liberian-born Momolu as a finalist and fan favorite on season five of "Project Runway."  In February, she debut her first post-show collection during New York Fashion Week. Highlighted as "one to watch," Momolu has been featured in various national newspapers and publications including LA Times, InStyle, Essence, and African Vibes magazines.  Currently, she has a signature handbag and jewelry line exclusively designed for Dillard's Department Stores and Dillards.com. And she's set to produce a poolside fashion show at the Tom Joyner 2010 Fantistic Voyage™ Cruise.
Blond and blinged out, Awilo gave a stirring performance, singing in both French and English, and showing why he is the most wanted Congolese artist on the African continent and Europe.
Awilo's album, "Super-Man" won the Best Soukous Entertainer Award in 2009 at the International Reggae and World Music Awards (IRAWMA) and was nominated for Best African Act at the #African Music Awards. He is this year's recipient of the 2010 Humanitarian Award at the upcoming Beyond the Tears Awards.  And he's nominated again for the Best Soukous Entertainer award at this year's IRAWMA awards to be held on May 2 in Queens, New York.
The opening acts were Avin-U C, consisting of three artists – EddyB, #Naomi Achu, and H.Bolo – all hailing from Cameroon. Other performances included Liberian hip hop artists #Romeo Mulbah aka #2C. Mulbah just snagged the HIPCO Artist of the Year at the 2010 Liberian Entertainment Awards.
The event was co-hosted by actress/filmmaker #Tangi Miller and African Vibes Magazine Editor In Chief, #Amabel Niba.  Miller is best known for the role of the smart, spirited, and stylish Elena Tyler on the J.J. Abrams hit show, "Felicity."  She also recognized the winner of the $1,000 Ideas Contest created by African Vibes magazine in partnership with its Gold sponsor, Keller Graduate School of Management.
After the show, VIP guests, designers, models, and artists were ushered to the VIP Lounge After Party where they were served more champagne and hors d'oeuvres while dancing the evening a way to contemporary African tunes by #DJ Fly who has been a constant at all African Vibes Magazine anniversary celebrations.