Zimbabwean Sculptor Is Fighting COVID-19 With Stones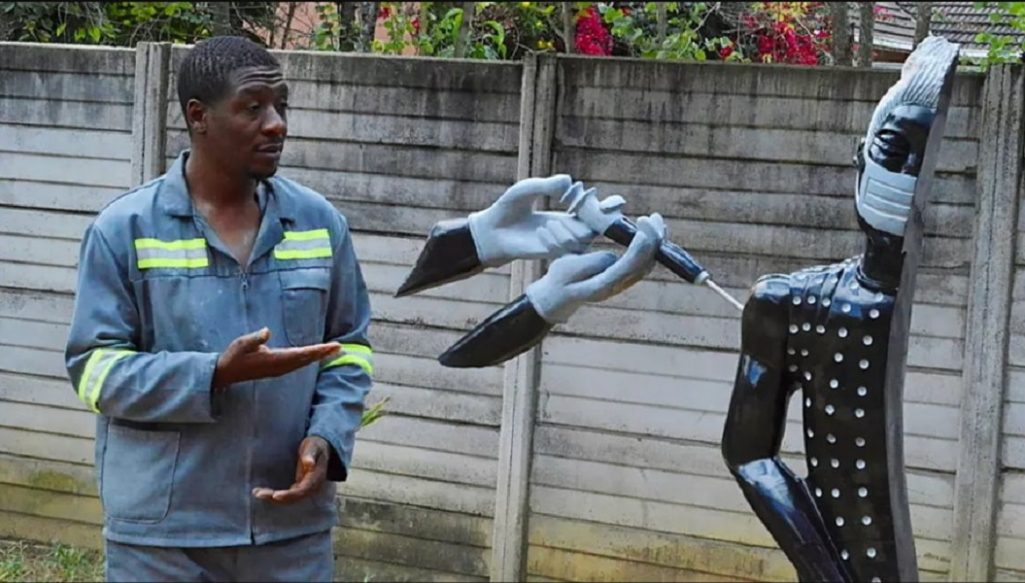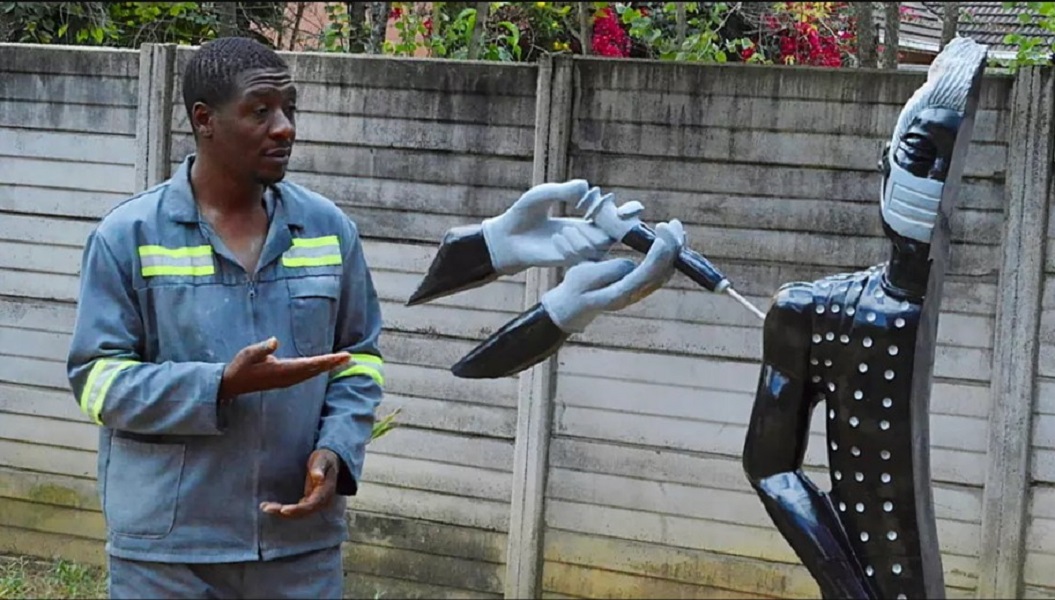 Since COVID-19 struck the world, African governments have been working tirelessly to combat the pandemic. Governments mostly use online, TV, and radio announcement to create awareness about the virus. However, much more awareness is needed particularly in rural areas. To help combat the virus, both companies and individuals are taking part in spreading the word in their own unique ways.
In a Harare suburb, Zimbabwean sculptor, David Ngwerume, is attracting global attention by using stones to create awareness about the COVID-19 pandemic. After discovering that Zimbabwe has beautiful stones, the 40-year-old says, "I'm taking advantage of that beauty to capture the world's attention."
David's latest stunning creations stand under shady trees in his garden. He makes most of his sculptures using stones found along mineral belts—some of which are mineral ores. Using black springstone, an iron-rich serpentine rock, David has calved a sculpture he calls "Arms."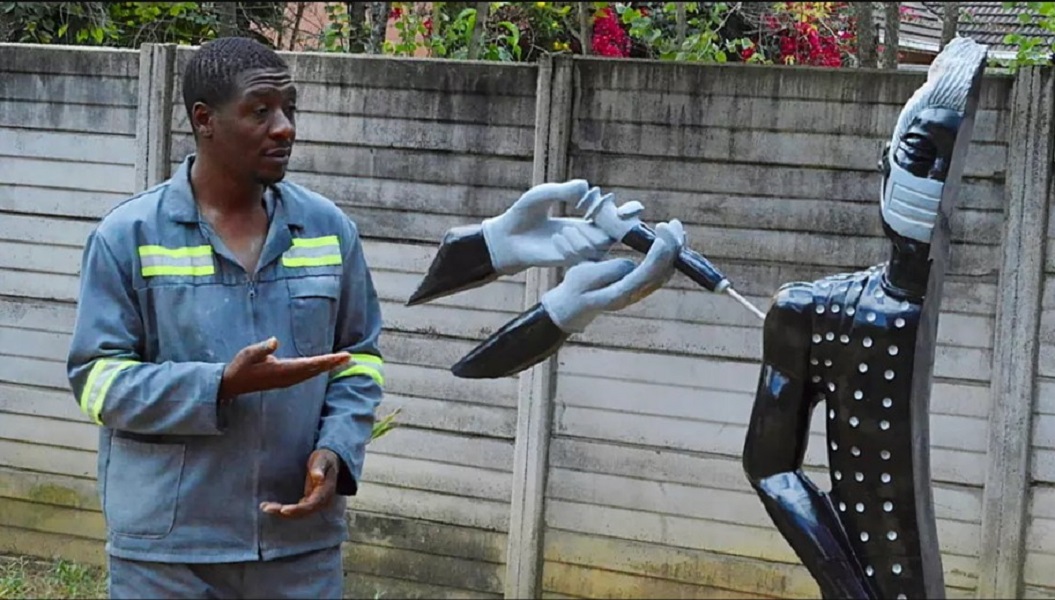 This is one of his COVID-19 themed sculptures. Polished black, Arms shows a beautiful woman in part, wearing a mask while being vaccinated. On her shoulder, she has disembodied hands holding the vaccination jab. The aim of creating Arms is to encourage Zimbabweans to get vaccinated against coronavirus.
Promoting Wearing of Masks
To encourage his fellow citizens and the world to wear masks, David Ngwerume has created some stunning sculptures. The first, and most talked about, is called "MJ", named after the late US pop music legend, Michael Jackson.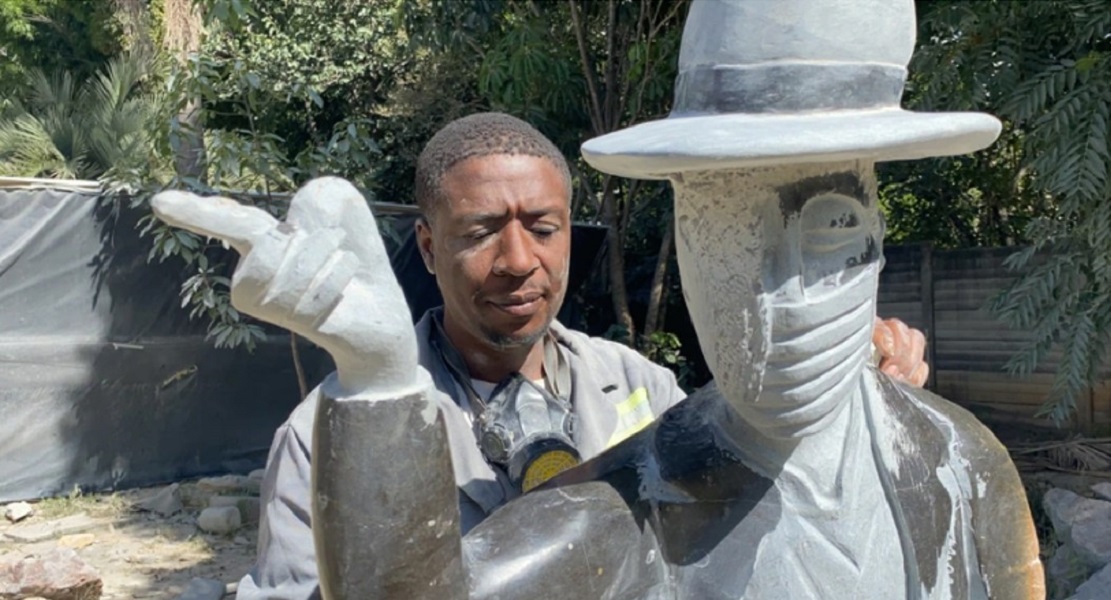 This exhibit which is also carved from springstone, shows the pop star wearing a mask, hat, and gloves. Michael Jackson used to wear a mask on many occasions. When asked the reason for putting on a mask, he said the air is polluted. Also, the MJ sculpture shows the US pop icon pointing at people to tell them to "Mask Up." According to David,
"Michael Jackson used his public figure position to highlight what he was seeing as what would come with the times; that we have the COVID pandemic. We are now wearing masks. At that time people thought he was trying to show off. He warned us. Now I am using his figure around this COVID pandemic on my art to show that Michael Jackson gave us the warning to Mask up."
The New Normal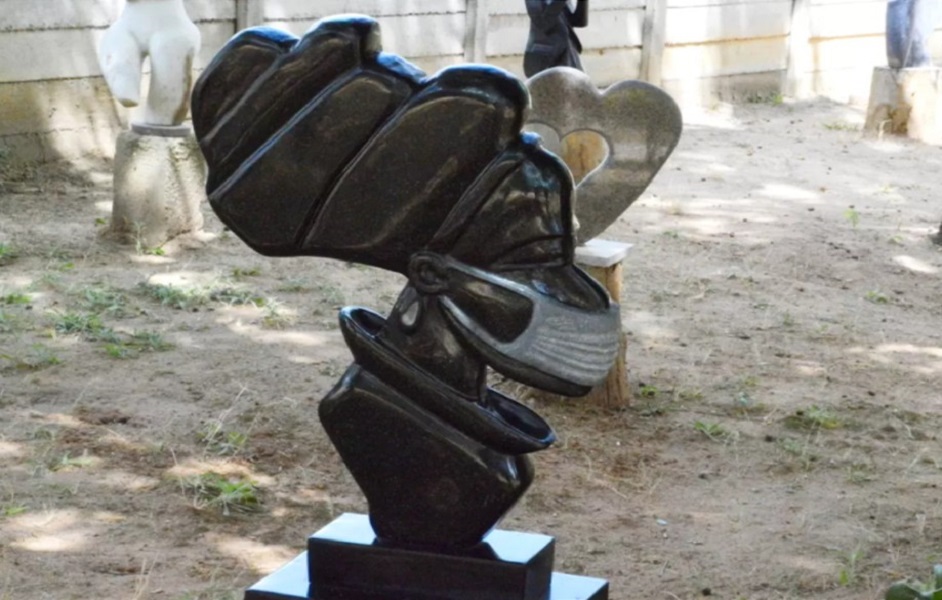 The second sculpture is called "New Normal". It is a creation from black granite. The sculpture profiles the head of a woman wearing a mask and resembles the shape of Africa. Using New Normal, David reminds everyone that a mask protects both the wearer and the people around. He also notes that vaccination is essential, yet most people in the world are hesitant. The sculptor from Zimbabwe has also made another exhibit called "We are torn". This creation is meant to encourage and remind everyone to sneeze into the elbow.
After the onset of the pandemic, David started asking, "how best can I be relaying messages and also putting a substance in my work and trying to connect with humanity". Consequently, he came up with the idea of creating what he calls the "COVID-19 Gallery". Currently, David posts his exhibits online to spread his message across the world. This move is also intended to prevent people from crowding in his workshop and potentially spreading COVID-19.
COVID-19 Vaccination in Africa
Zimbabwe launched its vaccination program in February 2021. By end of April, 414,735 people were vaccinated. Zimbabwe aims to vaccinate 60 percent of its population by end of the year. A total of 41 African nations have received COVID-19 vaccine doses through the Covax initiative. However, Africa lags behind in vaccination compared to the developed world.
So far, some countries have already exhausted their doses. The Indian government decided to stop vaccine export due to rising infections. Consequently, African countries are uncertain about the next vaccine supplies from the Covax initiative.