Samsung Heavy Industries Nigeria Sponsors Free Eye Surgery For 115 Cataract Patients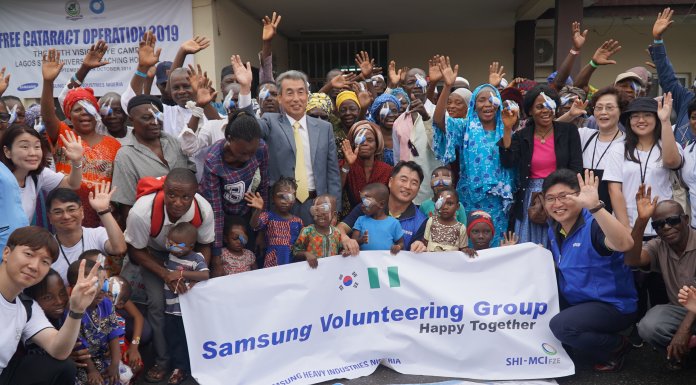 Recently Samsung Heavy Industries Nigeria Limited (SHIN) sponsored free eye surgeries that benefitted around 115 cataract patients. SHIN worked in collaboration with Vision Care and the Lagos State University Teaching Hospital. Vision Care an arm of WHO has a mission of improving and restoring vision in people with eye problems.
Free eye surgery part of SHIN's CSR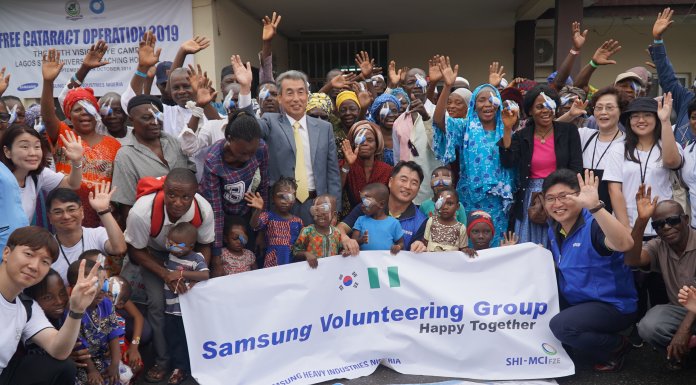 In an interview SHI-MCI CEO and SHIN Representative, Dongseong Suh indicated that they have collaborated with Vision Care since 2015. He was speaking on September 30 during the flagging off of the program at LASUTH. Suh revealed that the free eye surgery initiative was part of their corporate social responsibility in the country. He added that as a leading multinational corporation, they recognize the CRS spirit of giving back to society.
SHIN has engaged in several CSR projects, such as donating electric gadgets and clothes in Jos, Plateau State to Rhizna group. Suh also indicated that they had established a Welding Qualifications Centre in Lagos that has trained more than 600 welders. The welders have been receiving free training, and they are part of the internationally qualified workforce in fabrication construction. The workforce is vital for offshore and onshore work and enabling Africa to keep international projects.
A program meant to benefit less privileged in society
The focus of the free surgery was vulnerable individuals in society who cannot afford expensive surgery. The Samsung representative indicated that cataracts are the cause of over half of blindness, according to WHO. He said that there is a growing need to address the issue, and therefore addressing cataract surgery is a befitting venture.
Professor Adetokunbo Fabanwo, LASUTH Chief Medical Director, acknowledged the gesture stating that other organizations should embrace the same. He said SHIN was doing a good job helping vulnerable members of society. He added that the government could not do it on its own, which is why they partner with other organizations.
Free eye surgery an annual event for Samsung Heavy Industries Nigeria
A parent of a two-year-old boy was happy that his son could see following the surgery. The overjoyed father said that he realized his son could not see last year. However, it was challenging for him to raise the amount necessary for the surgery. After hearing about free eye surgery he gave it a trial and the son could now see. The father said that his son could now attend school something impossible before.
Another beneficially who traveled from Delta State indicated she had bought glasses severally without any change. Iweroma Grace said that after numerous visits to various hospitals, she could not get help. Eventually the free eye surgery helped her get cataract treatment.
Another patient indicated that he had missed the free surgery the previous year and had to wait until this year. Dehininsilu Miniru stated that previously, he could not see far, but through the free Samsung eye surgery, he is able. He said that he got the information form one of his relatives last year. However, because of financial constraints, he had to wait until this year.