MoiMoi Rollup By 9jaFoodie
MoiMoi Rollup By 9jaFoodie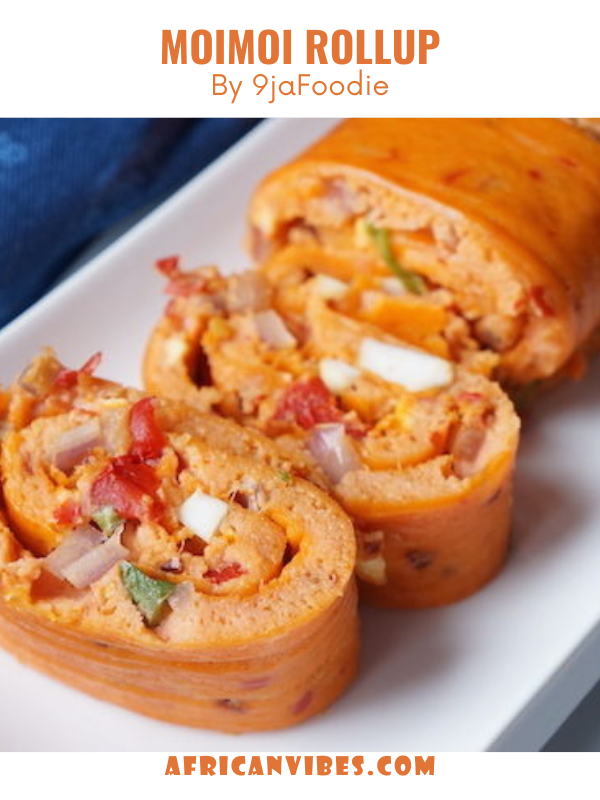 Prep Time20 mins
Cook Time30 mins
Total Time50 mins
MoiMoi Rollup is a Nigerian breakfast staple made from pureed beans. It's perfectly savory and often served as an accompaniment to breakfast porridge. Traditional Moimoi is wrapped in Banana leaves or Ewe Eran (Thaumatococcus daniellii).
The inspiration for this came from a Japanese rolled omelet. I first experimented with the idea in late 2012 but it didn't quite work out, I tried to prepare it stovetop using the wrong pan type. If you want to achieve this roll stovetop, you need a large nonstick pan like the one I used for the Breakfast Yam Casserole. It should be cooked on low heat in order to distribute the heat evenly.
For this recipe, I took Traditional moimoi and elevated it a bit by deconstructing parts of the ingredients and presenting it a little differently. The only thing "special" about this is the way it's rolled, the taste is exactly like the moimoi you know and love. I made use of peeled beans because I had some in the freezer. Moimoi can be made from Unpeeled beans as I presented in this recipe we shared last month.
This is the perfect recipe for your next brunch or special valentine breakfast. It should take about 20 minutes with already peeled beans. it's amazingly simple to make and present beautifully. Double or triple the recipe to make a bigger batch. Recipe as is will serve two.
1
Red Pepper (Tatashe) (Halved )
1
1 Sprig green onion (optional)
2
eggs ( 1 boiled, 1 raw)