Paradigm Initiative Launches Online Platform To Combat Cybercrime In Africa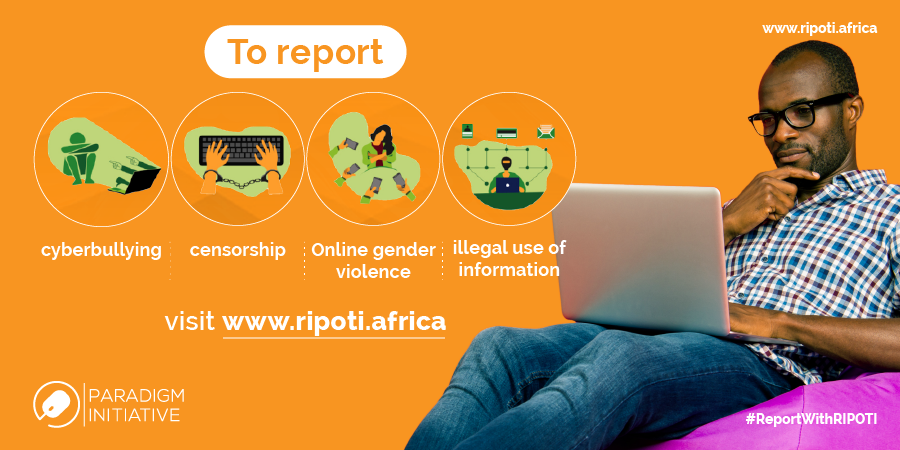 David Oyando alias Mulamwah is a popular Kenyan content creator. Sometimes last year, he was pushed to the limits by cyberbullies on social media. There was all sort of negative opinions from the public directed towards him. It included mean comments about his comedy not being funny and all. Consequently, this bullying and ridicule saw him burn his signature attire on camera. Mulamwah's action is an example of what cyberbullying can do to victims. Well, Ripoti wants to give victims of cyberbullying in Africa a chance to fight back.
Cyberbullying is one of the numerous in today's world. This inhuman act is so disturbing that it can lead to depression and sometimes suicide. Unfortunately, cases of cyberbullying are somewhat regarded as immaterial by authorities. Although there are rules against the acts, so little is done to enforce them. Luckily, this is expected to change with the newly launched cyberbullying reporting platform, Ripoti.
What's Special about Ripoti Initiative?
Intoducing Ripoti Toolkit for Digital Rights Violations.

Digital Rights are equal to Human Rights. The violation of these rights is a major call for concern.

Report a case or get assistance today by visitinghttps://t.co/63bJ5Cwiqw. pic.twitter.com/PvibSDSIId

— Paradigm Initiative (PIN) (@ParadigmHQ) May 10, 2021
Ripoti is a Swahili word that translates to 'Report' in English. This platform was launched on April 30th by Paradigm Initiative and partners. It is designed to empower the public to anonymously report cases of cyberbullying. Consequently, experts follow up on the reports and act on them. Ripoti has one main agenda, to help the victims of cyberbullying get justice. This timely and ingenious platform is expected to check cybercrime in Africa. Cases similar to that of Mulamwah are on the rise. Also, digital rights violations are rampant in Africa and statistics reveal the adverse effects of cyberbullying.
Paradigm Initiative (PIN) is a digital inclusion program that seeks to bridge the digital gap in Africa. Sadly, the slimming digital gap also opened opportunities to cybercriminals. Thus, PIN saw the need to curb these crimes. Generally, African youths are the most affected victims. From vile comments to trolling, stalking, and so forth, cyberbullying in Africa comes in different forms. The victims are often helpless with no place to get help. With Ripoti, they now have a place to go.
How Ripoti Cyberbullying Reporting Platform Works
Digital rights are human rights.

To report cyberbullying, illegal use of information, censorship, or any other violation of your digital rights, visit https://t.co/rP8RQddZBV, and get connected with a professional who can help you seek justice. #ReportWithRIPOTI pic.twitter.com/QEcqt7GaGK

— Paradigm Initiative (PIN) (@ParadigmHQ) May 12, 2021
Cyberbullies often disguise their identities online making them hard to track. Although there are regulations against cyberbullying in most African countries, the lack of infrastructure makes it hard to track cybercriminals. Ripoti aims to get everyone to report any case of cybercrime that they come across. On the reporting page, there is a form that reporters are required to fill. The form makes use of dropdown menus to ease the reporter's job while ensuring the provision of relevant information. Once submitted, the mandate is upon the cybersecurity experts to investigate and take action.
Ripoti has made it clear which crimes can be reported through their platform. They include cyberbullying, online gender violence, internet censorship, and network disruption. Also, Ripoti has teamed up with cybersecurity firms, attorneys, governments, and other private entities. This collaborative effort is expected to help them meet their goals. So far, the results are promising. In less than a month, close to 20 reports have been filed by the public. Hopefully, this will lead to a significant drop in cybercrime in Africa.
What to Expect Moving Forward
The internet has played a massive role in networking, research, entertainment, business, and several other areas. This makes it a great addition to the human ecosystem. However, there is a need to keep it in check so that criminals don't take advantage of it. With the history of cyberbullying dating back to the 90s, it means platforms like Ripoti are long overdue.
Now more than ever, people realize the power lies within them. Hopefully, the platform will help to put an end to government clampdowns. One of the most recent being the censorship that happened in Uganda during the national elections. The success of Ripoti will translate to lower depression and suicide rates from cyberbullying. This will help to create a safer Internet ecosystem for the future generation.