2 Times Super Bowl Champion Osi Umenyiora Wants This In The NFL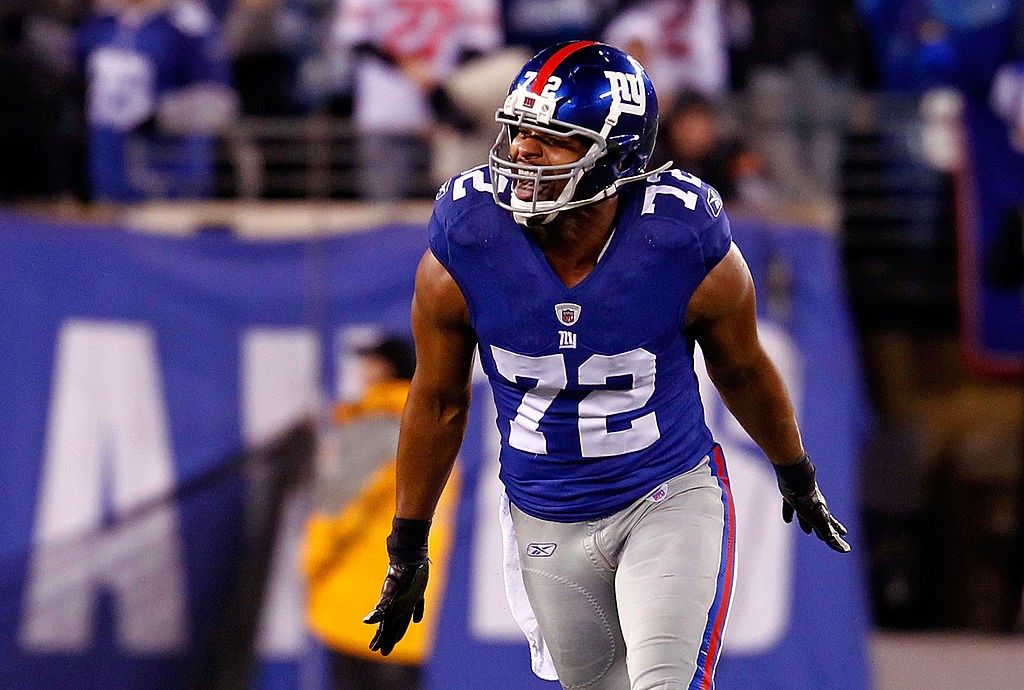 Osi Umenyiora conquered the Super Bowl, twice. By every statistic of the game, the former New York Giants defensive player is a legend. However, he feels the accolades on and off the pitch are not enough.  He wanted to do more for his roots.
Therefore, for the past 20 years, he has been sending resources silently to his home country. However, a time came when it started to feel like "pouring a bucket of water into an ocean". Instead of handing out fish, he decided to teach people how to fish. By this, he was giving people the opportunity to help themselves.
ALSO READ: 15 Foreign Born Soccer Players That Chose Africa
Why is he doing this? Because he believes that the best athletes are found in Africa. Consequently, he is leading the drive to find potential NFL talents across Africa.
This quest recently took him to Ghana for a week-long camp and clinic. For Diaspora Africans that are not sure of the best way to help the continent, Osi Umenyiora is showing you how.
Who is Osi Umenyiora?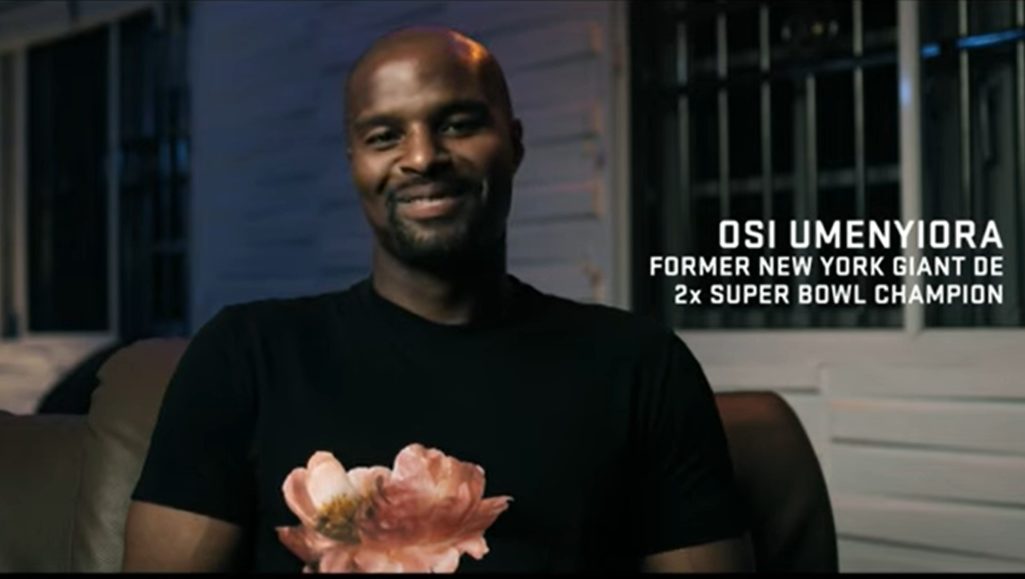 Before delving into Osi Umenyiora's change-making drive, it makes a lot of sense to know him first, right? Ositadimma Umenyiora was born to Nigerian parents from Ogbunike town in the country's southeastern Anambra State. Perhaps, for convenience sake, he shortened his first name (an Igbo name) to Osi.
He was born in Golders Green London. His parents moved back to Nigeria when he was 7 years. After spending seven years in Nigeria, he left for Auburn Alabama to live with his sister. It was at Auburn High School that he was introduced to football. He was around fifteen years old at that time.
Osi Umenyiora did not get an athletic scholarship until his coach intervened. His coach called a former teammate (Tracy Rocker) who offered Osi the scholarship he needed to play college football. Following the scholarship, he got to play college football with Troy State Trojans. It was in college that he transitioned to defensive end from nose guard.
Osi repaid Rocker's trust by setting a school record for most sacks in a single game and most tackles in a season. In 2014, Troy University inducted him into their Sports Hall of Fame. Although not invited to the 2003 NFL Draft Combine, he was later drafted in the second round by the New York Giants.
ALSO READ: Returnee Spotlight: See How Ujiri Masai Wants To Make Africa World's Basketball Capital
After a dramatic and eventful career spanning over two decades, Osi Umenyiora announced his retirement from football on 26 August 2015. Perhaps, he is trying to give African Athletes the same chance that Rocker gave him.
The birth of The Uprise talent platform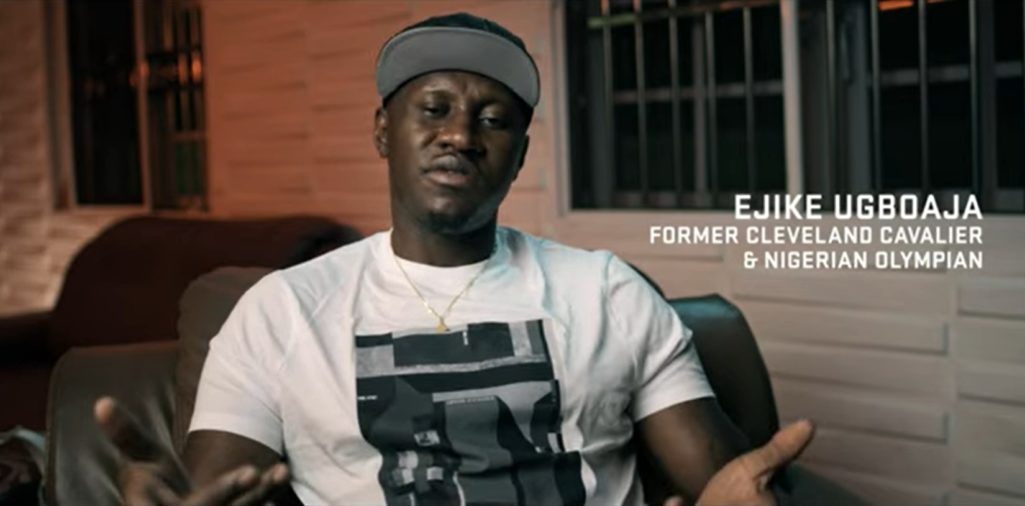 There are over 100 players of African descent in the NFL. Upon his many visit to Nigeria over the years, Osi Umenyiora has been looking for ways to help the youths in his home country. He found a talent scout platform, "The Uprise" with Ejike Ugboaja, a Nigerian and former NBA player.
Together, the duo set up six camps across the continent to identify rising talents. The big breakthrough came in 2020 after Osi Umenyiora secured NFL backing. In early 2021, three players that made it to the tryout held in Nigeria's capital sealed NFL contracts.
Now in his forties, Umenyiora believes the recruitment of Africans into the NFL will increase the appeal of the sport on the continent. In June, the NFL's official African players highlighting platform, NFL Africa organized its first Africa camp. Umenyiora was part of the NFL delegates at the event.
The 49 prospective athletes were selected from the participants of the various regional camps Osi Umenyiora directed. During the two-day program, the players were evaluated for a chance to be invited to the International Player Pathway or international combines. Athletes between 16 and 19 years will also get a shot to attend London's NFL Academy.
ALSO READ: Top 10 Best African UFC Fighters In The Last Decade
Also in attendance at the camp were scouts to select the best for the NFL's International Player Pathway. The pathway gives athletes from other countries other than Canada and the USA a chance to feature in an NFL team.
Six other players of African descent including Liberia's Kwity Payer (Colts end) and Ghana's Jeremiah Owusu-Koramoah (Browns linebacker). Although Umenyiora is excited about the level of talents the Uprising has produced so far, he thinks the organization still has a long way to go.
What Osi Umenyiora thinks about African athletes
During an interview with NFL.com, Osi Umenyiora made an important observation about athletes from Africa. Making reference to his Nigerian roots and the values imbued in him by his parents, he said,
"Education is the most paramount thing in the world . Interestingly, most Africans have this mindset. It is a mentality that is implanted in them."
He recalls how some of the guys from his camp went to the UK combine and everyone was wowed by their size and athleticism. However, what impressed him the most was their work ethic and mentality.
They were not so eager about making it to the NFL. Instead, they just wanted to go to school and get the chance to do something more extraordinary with their lives. Therefore, they see American football as an opportunity to get to their lofty destination.
Furthermore, he reminisced about how his parents thought that playing football was an unnecessary discussion that would affect his studies negatively. This story is not far from the norm in most African homes.
"African parents are not really concerned about sports. Their priority is for their kids to get educated. So, I bagged my degree in business administration".
Why prospective NFL athletes should never abandon education
Not every athlete ends up successful. Some will put in their best but may never find the big break that they have been looking for. However, having a good education will give you the lifeline to be comfortable when your sports ambition fails.
"Even if I never made it to the NFL, I may not be super successful but I would have been OK. I would have still been better than I was when I was in Nigeria."
According to Osi Umenyiora, having the mindset of going to school is crucial because only a small percentage of athletes eventually make it to the NFL. So, being educated gives players that don't make it an alternate path to success. Umenyiora is bringing this mindset to The Uprise.
ALSO READ: Top 10 Male Table Tennis Players In Africa
"This program's main principle is to make the people coming to it understand that although football is great, the percentage of people that become successful is pretty slim. You have to give priority to your education. We are going to make sure that is what they do".
Osi Umenyiora's future plans for The Uprise
At the end of the camp in Ghana, a total of 15 players got the chance to change their lives. However, this is not going to be a one-off event. Osi Umenyiora is looking at building a facility or structure where the best coaches are hired for a short period of five months.
Consequently, when they scout for potential stars, they will house and feed them and give them some form of mentoring on the fundamentals of American football. His ultimate goal for The Uprise is to use it as a platform to increase the number of African NFL players to about 20%.
He believes this will get Africans more interested in the sport because more people will want to watch the games to see their brothers playing. He wants more people to understand the game and the success it can bring.
Conclusion
In reality, many Africans in the diaspora want to help build up the continent but are unsure of the right way to go about it. It is not surprising that there are lots of charity organizations cropping up every now and then.
ALSO READ: Kansas City Chiefs End 50-Year Super Bowl Wait. Meet The African Players That Made It Happen
Osi Umenyiora had the chance to do the regular charity stuff—which would have been easier. However, he asked himself, instead of charity, "why not give people the chance to help themselves? This single question gave birth to The Uprise. You can read Osi's recent interview with CNN here.
In the real sense of it, a charity has never really helped anyone or country. It is a quick fix with no long-lasting impact. Rather, charity makes the receiver a slave of the giver. Real aid starts with empowering the receiver to create their own wealth.
Africans in the diaspora still unsure of how to give back to their roots are welcomed to join the African Vibes community. Pressing African problems are frequently discussed on the platform and you will also get ideas and detailed steps on how to come in—whenever you are moved to do so.