These Uganda Policemen Show A Powerful Display Of Feminism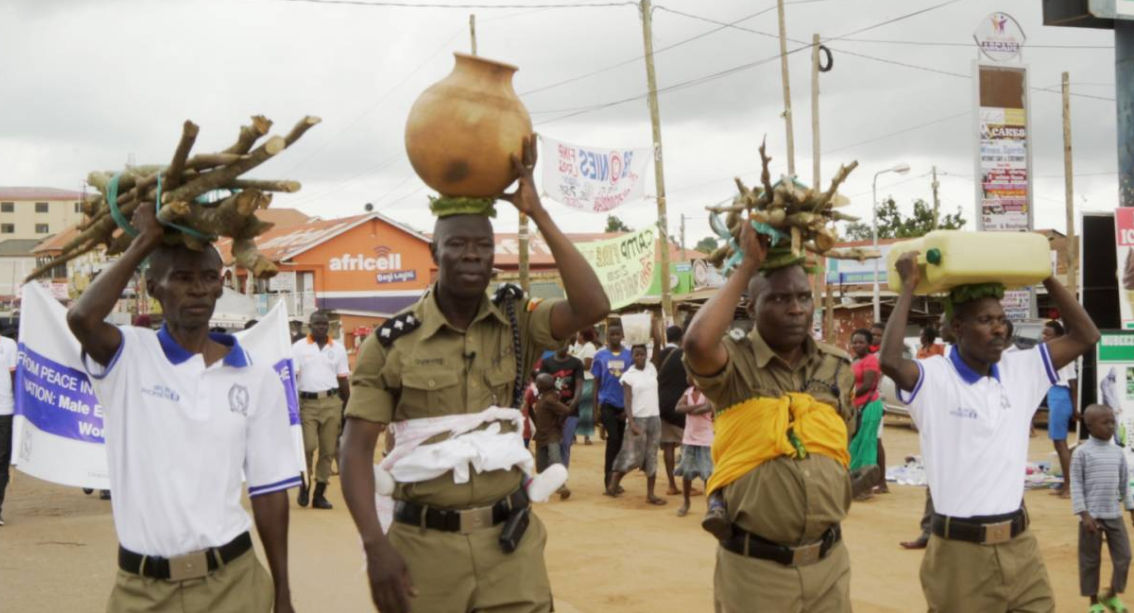 Balancing a heavy clay pot on his head with a baby tied to his back, policeman Francis Ogweng caused a scene. He marched down the busy highway towards Uganda's capital, Kampala. With traffic backed up to the horizon, crowds of men stared and laughed as the baby girl swaddled in white cloth slipped precariously down Ogweng's back, pulling his khaki uniform into disarray.
"We want to put ourselves in the shoes of women," Ogweng, an assistant superintendent in the Uganda Police Force (UPF), told the Thomson Reuters Foundation. "Is it difficult to carry water? Is it difficult to carry a baby?"
ALSO READ: Kiira Motors Corporation Edges Uganda Towards Sustainable Transport With Solar Buses
Judging by the sweat dripping down his face, it is. Onlookers were surprised to see a senior officer marching to stop violence against women, in a force that opponents of Uganda's long-serving President Yoweri Museveni accused of spending more time suppressing dissent than tackling crime. Police often break up opposition rallies in the East African nation with teargas and beatings, rights groups say they torture suspects to elicit confessions, and surveys often rank the force as Uganda's most corrupt institution.
"Their image has been tainted," said Regina Bafaki, head of Action for Development, a local women's rights group.
"They have actually been more violators than protectors of citizen's rights."
But a spate of unsolved murders of young women, with more than 20 corpses found beside roadsides south of the capital since May, is putting rare public pressure on the police. They have charged more than a dozen suspects with the women's murders, listing possible motives range from domestic rows through sexual abuse to ritual murder linked to human sacrifice.
BATTERING OF WOMEN
Ogweng was not alone, flanked by three policemen carrying bundles of firewood, a 50-strong police brass brand and other officers carrying placards that read: "Peace in the home. Peace in the nation. Prevent Gender Based Violence".
"Men can also carry water, men can carry babies … it does no harm at all, it doesn't make a man less of a man," said Ogweng, who describes himself as a feminist – a rarity in a country where women often kneel to show deference to men.
ALSO READ: Unraveling The Mystery Behind Uganda's Banana Disease
About half of Ugandans believe that domestic violence is justified under certain circumstances, such as when women neglect children or burn food, government data shows.
"There are those who still believe that battering of women, beating of women, is something normal," said Asan Kasingye, assistant inspector general, another unlikely ally in Uganda's fight for gender equality.
"We must invest our resources, our training, our recruitment … into fighting against gender based violence," he said, seated in his top floor office at the police headquarters.
"It must percolate, it must be known by everybody. So it preoccupies us."