Help On The Way To Fight East Africa Locust Invasion But We Are Running Out Of Time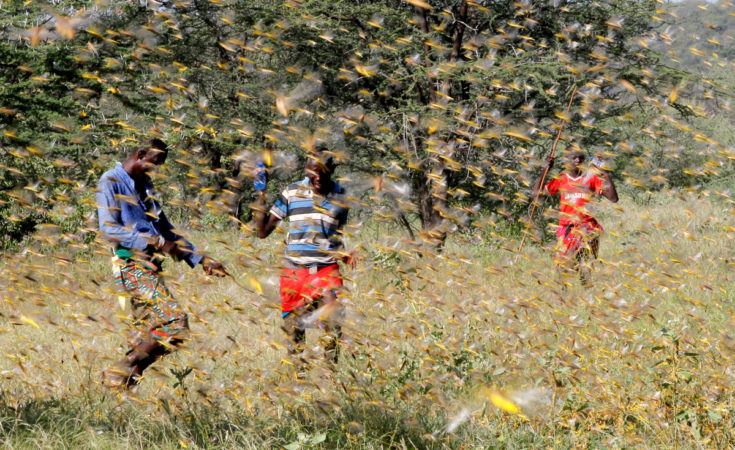 East Africa is struggling to contain pockets of conflicts and food shortages. Now, the region will have to deal with locust invasion too. Swarms of voracious desert locust have invaded several countries in the region. For Kenya, this is the worst in 70 years. An interplay of drought and cyclones created the perfect conditions for the tiny critters to breed and travel from the Arabian Peninsula en masse to East Africa. However, with pesticides in short supplies, the region desperately needs external help to fight the invasion.
There are fears of food insecurity as the tiny pests are devouring everything on their path. In northeastern Kenya, the swarm is as large as 926.6 square miles—about 192 billion locusts. Some swarm can consume as much food as 35,000 people in a single day. Also, with the right wind speed, they can travel 100 miles a day.
The U.N. Food and Agriculture Organization needs $76 million to combat this locust invasion. So far, they have only $30 million. The main response has been spraying pesticides. However, more needs to be done. Bernard Makanga is one of the farmers affected by the locust invasion. Speaking to DW he said,
"Normally by this time, these beans, they're ready for harvest. But the locusts have destroyed them all. There is nothing left to harvest. And there is nothing else that I know how to do. It's just this farm. That's where I get food, where I feed my family and friends, all people."
The Need for more Help to Fight Locust Invasion in East Africa
The U.S. Agency for International Development (USAID) recently announced $8 million to fight the locust invasion. USAID Administrator, Mark Green, in an interview with Foreign Policy, shed more light on how the United States is responding to the crisis. Green said,
"In parts of this region, these are also countries for which we have been dedicating a lot of humanitarian assistance. Somalia and Ethiopia, in particular, and parts of Kenya—these are countries where there have been humanitarian, food-related needs for some time. This just makes that worse."
The new announcement brings the total U.S. government's response to nearly $9 million. However, part of the money was used to train over 300 scouts and pest experts. Also, about 5,000 sets of protective equipment were purchased. USAID has disaster experts in all the affected countries namely Kenya, Ethiopia, Republic of South Sudan, and Somalia. They are assessing the humanitarian needs in a bid to better coordinate responses. In a statement, USAID said,
"They will work closely with these groups to determine whether additional assistance is necessary, based on evaluations made on the ground. The United States also calls upon other donors to contribute funds to the immediate needs of communities throughout the Horn of Africa."
The Fear of more Crisis
East Africa is already battling with food insecurity and armed conflicts. In South Sudan, about 6 million people are already suffering from food shortages. In rural Somalia, about fifty percent of families depend on animals for their livelihood. As food shortages continue to rise, this region risk facing physical confrontation. According to a Kenyan newspaper, Daily Nation, locust invasion in Samburu is "threatening to trigger conflicts over grazing fields among pastoralist communities". The UN Food and Agriculture Organization (FAO) representative in Kenya, Tobias Takavarasha agrees to this,
"That danger exists, to the extent that there is a risk wherever there are shortages of food. This is where we have experts to assure that the pesticides that are procured to spray the locusts are the correct ones, that they are internationally approved and registered, and that they are effective."
The Second Wave of Locust Invasion
With the rains due in March, the population of the locusts can explode 400-fold by June. This will make the region a reservoir from which the locusts can spread to other countries. As farmers prepare to plant their seeds, a new generation of larvae is already wriggling on the ground. Kenya has run out of pesticides. Security forces in Somalia are shooting anti-aircraft guns at the swarms. Thus, the region is racing against time. Emphasizing the sense of urgency, FAO's head of resilience for Eastern Africa, Cyril Ferrand said,
"The second wave is coming. As crops are planted, locusts will eat everything."