Harnessing The Power Of Nollywood In The Fight Against COVID-19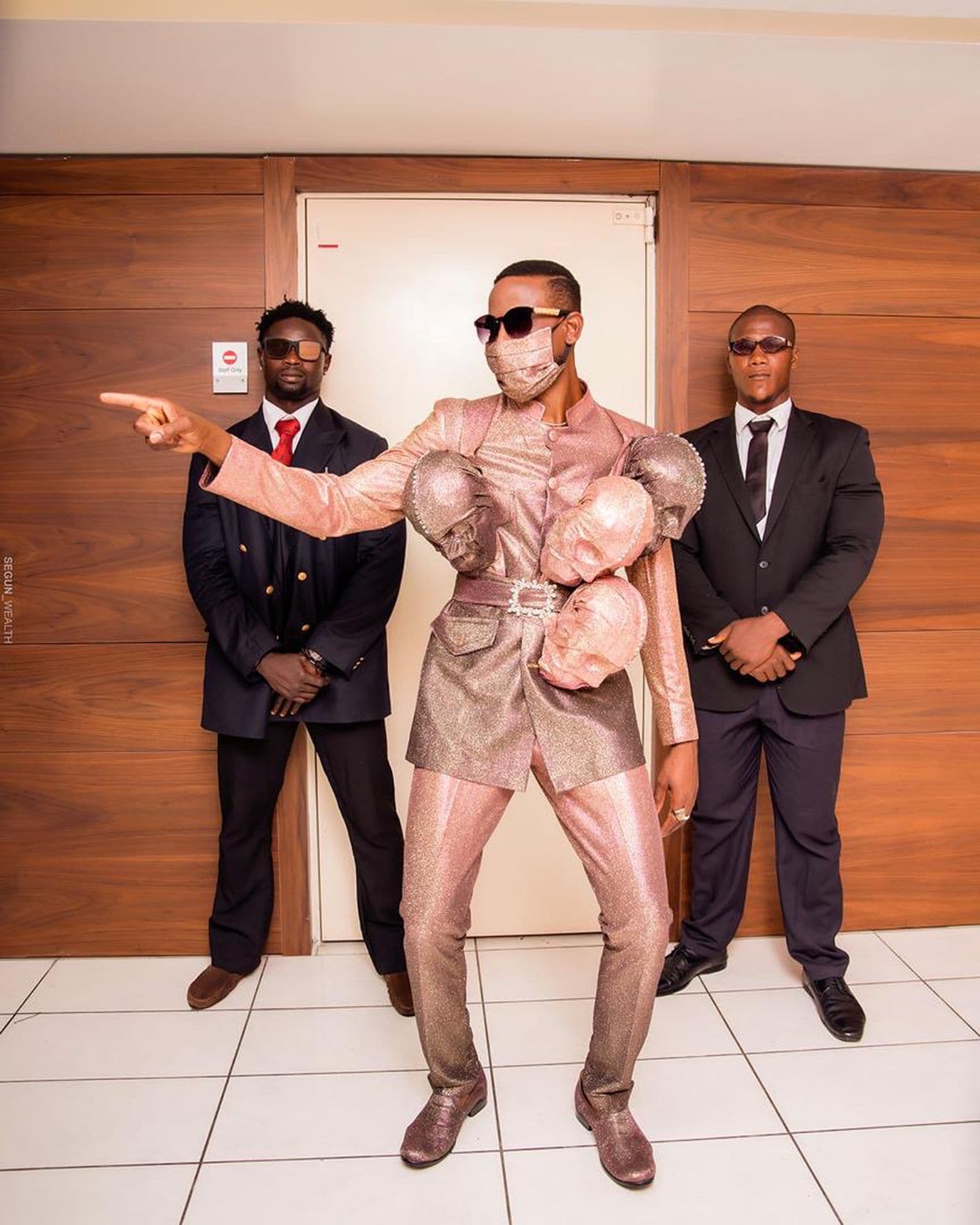 The fight against COVID-19 is all-encompassing. From statistics, it seems some countries are winning while others are losing. The number of confirmed cases of COVID-19 in Nigeria is growing at an alarming rate. A combination of illiteracy and mistrust for the government is making it difficult to enforce social distancing and the use of masks. However, these are two important steps that can slow the spread of the virus.
Nigerians may not trust the government but they love and revere many Nollywood stars. Thus, Nollywood stars are harnessing this innate power in the fight against COVID-19 in Nigeria. As a way of creating awareness on the use of face masks, Nollywood stars turned up in glistering, jeweled masks at the African Magic Viewers' Choice Awards (AMVCA). This was before the government enforced lockdown to curb the spread.
One of the stars at the AMVCA was Omashola Kola Oburoh, a Big Brother Naija finalist. Explaining the reason for the mask through an Instagram post, he said,
"Fashion can also be a Protest/Educative not just a Statement…… let's join hands to fight against Covid-19."
https://www.instagram.com/p/B9vFt2ansCI/?utm_source=ig_embed&utm_campaign=loading
The index case of COVID-19 in Nigeria was an Italian who flew from Milan to Lagos on 27th February. Today, Nigeria has over 1,700 cases with 51 deaths. Television presenter and Nollywood star Ada Afoluwake Ogunkeye, popular as Folu Storms expressed her bitterness at the disregard for social distancing at the event. Furthermore, she resolved to avoid large crowds.
https://www.instagram.com/p/B9v_t7tlKt3/?utm_source=ig_embed&utm_campaign=loading
https://www.instagram.com/p/B9up6hDlfzF/?utm_source=ig_embed&utm_campaign=loading
Using Nollywood power to address COVID-19 misconceptions
Before COVID-19 spread into Nigeria, there were so much misconceptions about the virus. The most common were 'drinking alcohol prevents coronavirus', 'coronavirus is a disease of the rich' and 'heat kills coronavirus'. Consequently, these myths prevented people from taking proper precautions. The UN bodies in Nigeria knew that the fight against COVID-19 in Nigeria had to start with addressing these myths. Therefore, they turned to Nollywood stars for assistance.
Nollywood is the second-largest movie producer in the world with about 50 movies per week. Hollywood is in a distant third. Quickly, the UN bodies in Nigeria mobilized Nollywood stars to produce contents to educate the citizens. In a powerful song about coronavirus, award-winning musician, Cobhams Asuquo said,
"My brother, my sister, papa, mama, and pikin. Corona no big pass us we go fight am we go win. No shaking of hands with your neighbor; blow them a kiss from afar, use soap and water to wage war…"
https://www.youtube.com/watch?v=_jwzRtVeU1U
Other popular Nollywood stars have also released educative videos to fight against coronavirus. The different parts of the UN have also collaborated with different government agencies. Part of their response was the launch of an emergency fund to support the presidential COVID-19 Task Force.
Also, the different parts of the UN in Nigeria facilitated the procurement of essential medical supplies worth $2 million. Also, the UN and WHO are contributing to risk communication and community engagement.
The humanitarian concerns in the fight against COVID-19
The fight against COVID-19 is throwing up more humanitarian consequences. For example, excessive force has become almost normal in enforcing lockdown. Also, lockdowns have led to job losses and pay cuts. Those who live on daily wages are now relying on aids or government palliatives for survival. Likewise, there are growing concerns about food shortage and hunger.
In Nigeria, many Nollywood stars and celebrities have been doing their best to support the needy. Some have given out millions of naira using social media platforms. However, there is still a wide humanitarian gap to bridge. The UN and partner agencies in Nigeria are doing their best to prevent the pandemic from reaching internally displaced persons (IDPs) camps. Surely, the only way we can defeat the virus is by working together.