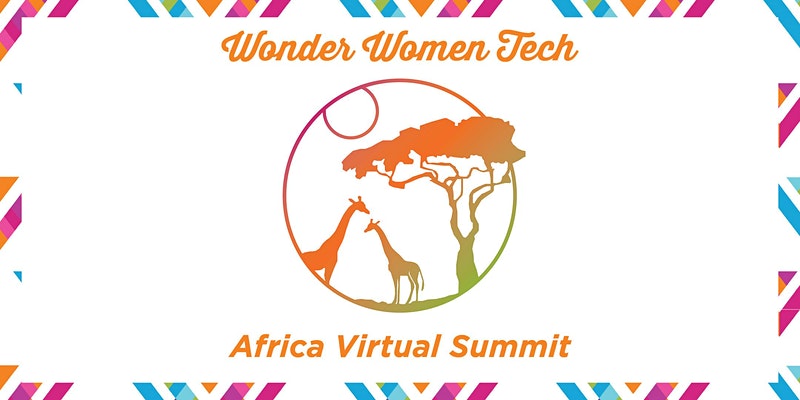 Wonder Women Tech Africa Summit
Join us for our first-ever Africa Virtual Summit designed to explore the African Diaspora, & innovations in black and African communities.
About this event
AFRICA VIRTUAL SUMMIT AUGUST 20th 2021
Celebrating Culture and Belonging
Join us for Wonder Women Tech's first-ever Africa Virtual Summit on Friday, August 20th, 2021. This summit is designed to explore the African Diaspora, innovations in Africa and engage in discussions regarding the challenges and solutions within black and African communities. The summit will offer thoughtful conversations, impactful solutions, empowering talks, and the opportunity to hear from some of the most inspirational LatinX speakers in STEAM (Science, Technology, Engineering, Arts, Math).
Entering its eighth year, Wonder Women Tech typically draws thousands of diverse people to attend presentations, coding classes, and career development workshops to spotlight women, diversity in tech, and the pioneers leading the way for technology innovation.
2019 was a groundbreaking year for Wonder Women Tech with the first-ever all deaf main stage panel, a Smart Cities Fest, and a multilingual panel. 2020 we launched our first-ever Virtual Summit. This year we are embracing the unprecedented COVID-19 landscape, as interactive experiences and inspiring speakers are now accessible for everyone, no matter where you are located, from students to professionals, including those with disabilities. Our Wonder Women Tech Africa Virtual Summit offers:
Main Stage with over 150 Speakers
Amplify Stage featuring BIPOC first-time speakers and fresh voices
Virtual Career Fair
Fireside Chat with industry experts and thought leaders
Keynote Speeches
Virtual Mentor Magic Sessions
Multigenerational Discussions
Musical Performances
Interactive Experiences
Masterclasses and workshops
Ticket Scholarships
And more!
The Africa Virtual Summit will bring you a special day of experiences designed to innovate, inspire, and ignite you!