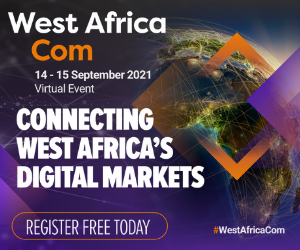 West Africa Com 2021 (co-located with Nigeria Com)
Building Digital Economies To Position West Africa As A Global Tech Powerhouse
West Africa's best-dedicated tech and telecoms event is back virtually in 2021!
13 years of uniting west africa's tech ecosystems to drive inclusive digital growth
West Africa Com Virtual is the leading telecoms and technology event in the region, uniting leaders of the TMT industries, policy makers and regulators, large enterprises, start-ups and investors alike from across the West African Francophone and Anglophone markets.
Our virtual event works very much the same as our face-to-face events, with many of our pre-existing physical features transferring across to the digital experience, plus an abundance of new features, enhancing your ability to stay ahead of the curve, discover what industry innovators have planned, and network with executives across the region's ecosystem, all from your own home.