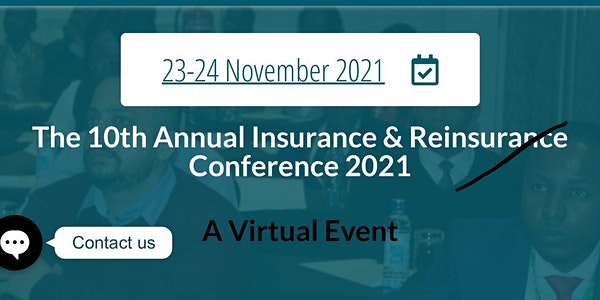 The Virtual Africa Insurance & Reinsurance Conference 2021
The Africa Insurance & Reinsurance Conference will take place on 23-24 November 2021 and will mirror our previously planned in-person event – but now from the comfort of your own desk! No travel required What is a virtual conference? You may be trying to visualize just how we're going to switch our trademark event of the year to a virtual event. But yes we will and we are super excited to be doing something that is so innovative.
Capturing Growth in the Africa Insurance & Reinsurance LandscapeThe Details
Access all sessions—both live and recorded
Innovative Sessions that will address the industry's most relevant topics including the industry's response to the COVID-19 crisis- How we can chart through this stormy seasons to create a better future?
Network and collaborate with professionals from around the world.
Technology-focused Sessions—just like the live events.
A showcase of innovative technology and services that will streamline your operations and prepare you f or the future.