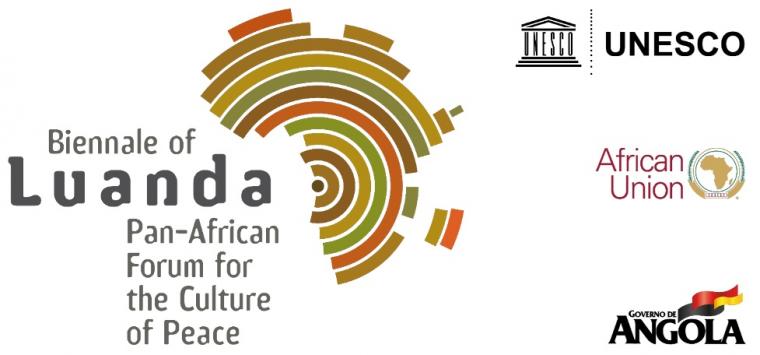 The Pan-African Forum for the Culture of Peace
The 2nd edition of the Biennale of Luanda – "Pan-African Forum for the Culture of Peace"
The African Union has always placed culture and culture of peace at the top of its agenda which affirms the commitment of the African Union Member States to ensure the coordination and harmonization of their policies to strengthen the African cultural identity and shared values. The AU theme of year for 2021 is "Arts, Culture and Heritage: Levers for Building the Africa We Want" and it offers a golden opportunity for the African Union to renew this commitment and enhance the promotion of the concept of a "Culture of Peace" across the African continent through the Luanda Biennale.
The Biennale of Luanda – "Pan-African Forum for the Culture of Peace" is a joint initiative of the the African Union (AU),United Nations Educational, Scientific and Cultural Organization (UNESCO), African Union (AU) and the Government of Angola that participates in the implementation of the "Plan of Action for a Culture of Peace in Africa/Make Peace Happen" adopted in March 2013 in Luanda, Angola, during the Pan-African Forum "Sources and Resources for a Culture of Peace." The first edition of the Biennale was held in Luanda in September 2019. The 2nd edition will be held from 4 to 8 October 2021 in Luanda. under the theme: Strengthening the Pan-African Movement for a Culture of Peace and Non- Violence: Towards a Global Partnership
The aim of the Biennale of Luanda for the Culture of Peace in Africa is to work towards a daily and sustainable individual and collective appropriation and implementation, on the continent, of the concept of a culture of peace which consists of "values, attitudes and behaviors that reflect and promote conviviality and sharing based on the principles of freedom, justice and democracy, all human rights tolerance and solidarity, which reject violence and are inclined to prevent conflicts by addressing their root causes and to solve problems through dialogue and negotiation, and which guarantee to all people the full enjoyment of all rights and the means to participate fully in the development process of their society.
This year the Biennale of Luanda will host 4 thematic Forums that will bring together innovative ideas and best practices, as well as partners interested in peace and sustainable development, to scale up successful projects and initiatives on the African continent at local, national or sub-regional level.
These Forums will be organised in Luanda, Angola and online on 5, 6, 7 and 8 October 2021.