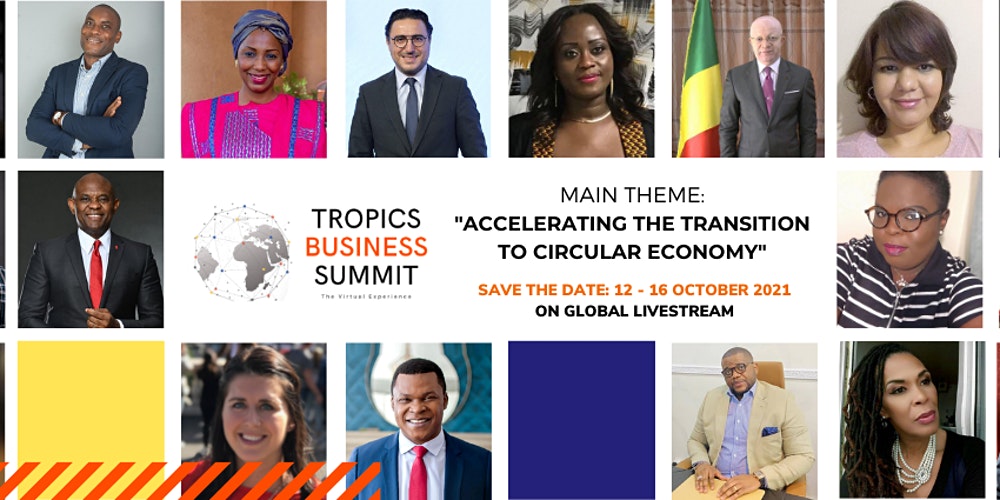 5th Annual Tropics Business Summit (Trade & Invest With Africa & Caribbean)
It is our pleasure to invite Startup owners, Investors, Members of Governments, Institutional and Media Partners to participate in the 5th annual TROPICS BUSINESS SUMMIT (https://TropicsBusinessSummit.com) – The Virtual Experience, which will take place from 12-16 October 2021 online.
TROPICS BUSINESS SUMMIT (TBS) is the Pan-African leading event bridging the funding gap between anglophone, francophone, lusophone, hispanophone and arabophone markets globally.
For the 5th consecutive year, this high level business meeting will gather:
– 350+ speakers and panelists
– 100+ countries
– 50+ journalists and media partners
– 350+ startups and investors
– 50,000+ online attendees watching from all continent.
Our main audience is made of investment professionals and associated professions, project holders, heads of governments, embassies, business leaders, institutional partners and investors, representatives of public authorities, media and opinion leaders.
Even more ambitious, the 2021 edition of the summit presents a rich agenda in terms of business opportunities and B2B dealmaking events highlighting key sectors of 50 African countries of honour alongside 50 guest countries from the remaining four continents in the world.
Request your 5-day virtual pass and spread the word within your network:
Day 1: Africa – World Trade and Investment Meetings under the theme « Accelerating the transition to circular economy »
Day 2: Private Equity Forum under the theme « Accelerating innovation for inclusion in Africa and the Caribbean »
Day 3: Global CEO Champions Forum under the theme « Leading beyond COVID-19 and connecting African and Caribbean leaders to the globe »
Day 4: Tropics Women in Business (TWiB) Forum under the theme « Women leaders and deal makers leading by example and taking the world forward »
Day 5: Closing ceremony, Announcements Day (Deals and Pitch Winners) and After-Party.
Unlock global investment opportunities and register online:
– Delegates: [email protected] cc [email protected] and [email protected]
– Sponsors and partners: [email protected] cc [email protected]
– Investors relations and government delegations: [email protected] cc [email protected]
– Media partners: [email protected] cc [email protected]