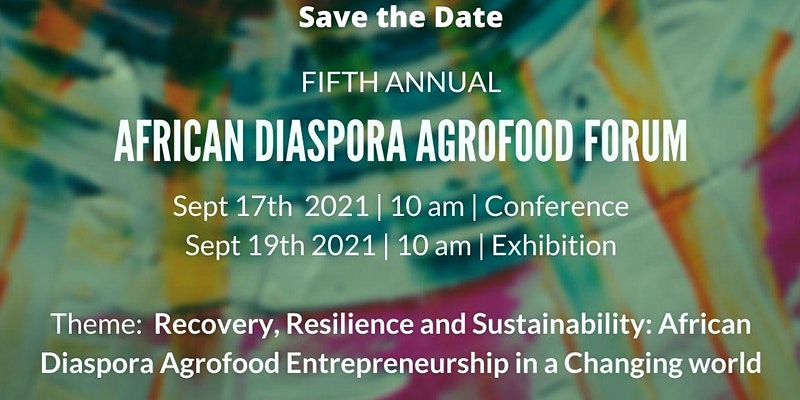 5th African Diaspora Agrofood Forum
The forum creates an opportunity to showcase the agrofood projects of African Diasporas, foster collaborations and create links to relevant resources and networks.
The theme of this 5th edition is "Recovery, Resilience and Sustainability: African Diaspora Agrofood Entrepreneurship in a Changing world".
Development experts, policy makers, financial experts and African diaspora entrepreneurs will discuss the role and potentials of the African diasporas in the agrofood sector.
The forum is a two days event scheduled to hold on the 17th and the 19th of September 2021. On the first day will be a virtual conference via Zoom and the second day is for an exhibition fair of agrofood products by African entrepreneurs at the beautiful Botanic Garden Meise Belgium.
The event is organized by the food bridge vzw in partnership with Meise Botanic garden, COLEACP, Sankaa vzw, FAO and other partners.
Some of our confirmed speakers are;
Mr Escipion Oliveira Gomez, Assistant Secretary General OACP Secretariat
Mr Jeremy Knops, DG COLEACP
Ms Giulia Castro, FAO Rome
Her Excellency Dr Kaapanda, Namibian Ambassador to Belgium
His Excellency Mr Chiedu Onowu Nigerian Ambassador to Belgium
Ms Elke Briers, King Baudouin Foundation Belgium
Ms Caroline Moraza, German Import Promotion Desk (IPD)
Mr Richard Dickens Agbenyo CEO and Co-Founder, Van de Dutchies Farms Ghana
Ms Lina De Munck, Founder Soul Food Mama and Co-Founder Origine et Saveurs Belgium
Mr Fombong Forkwa, Co-Founder Wasterminators, Cameroon
Mr Andrew Bamugye, Founder and Managing Director Destiny Farms Ltd Uganda.
Mr Moussa Faya, Founder Moussa's Bissap, Belgium
Dr Suzanne Awung, CEO Suzy farms Cameroun