Entrepreneur Spotlight: How Anthony Dzamefe Grew From Hawking Watches To Build A Global Watch Brand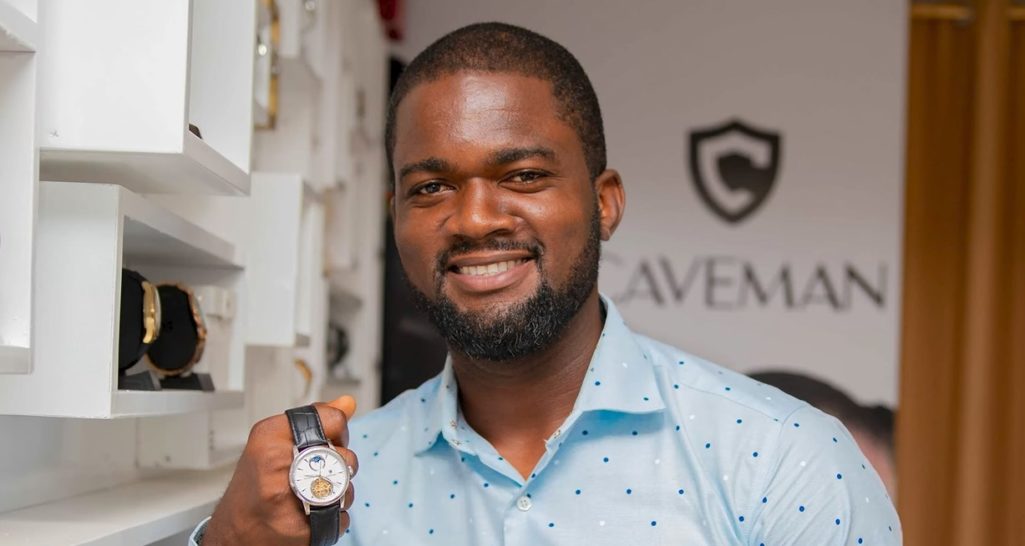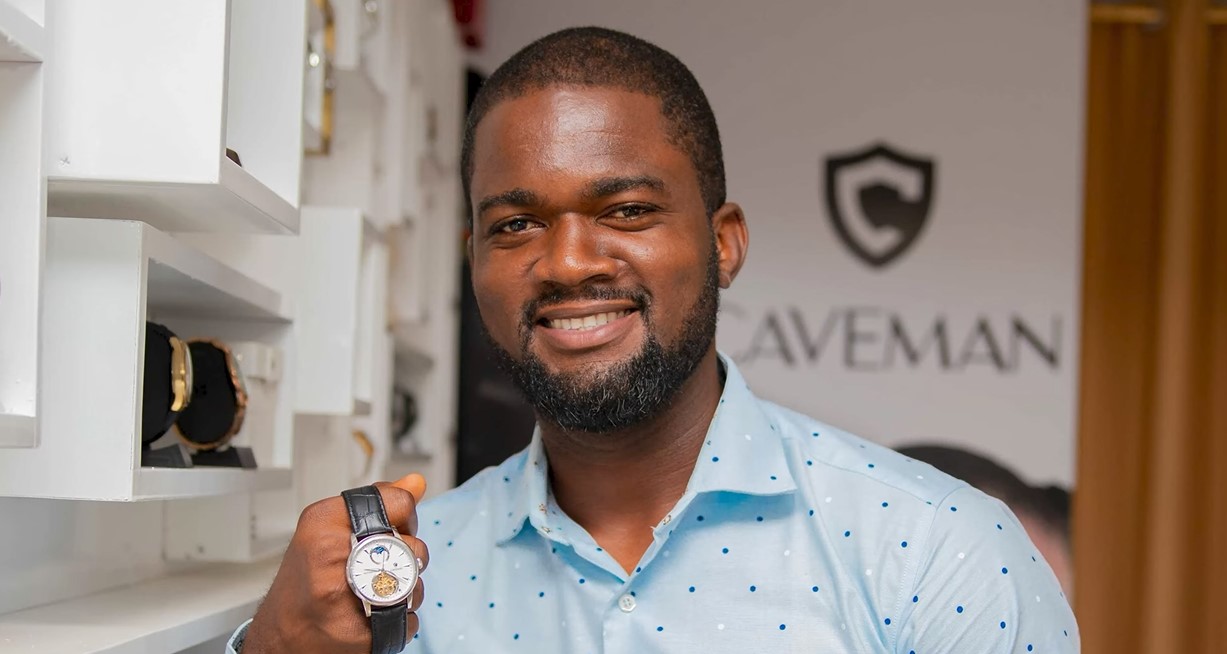 [AdSense-A]
The ten nominees for the 2020 7th Africa Youth Awards had a lot in common. The commonalities included passion, excellence, youthfulness, and more. These contestants were chosen from various categories such as health, fashion, construction, activism, etc. Given that these are all thriving sectors in Africa today, this was a highly contested seat. However, one nominee and entrepreneur stood out from the crowd and was crowned the award winner. His name is Anthony Dzamefe.
Who is Anthony Dzamefe?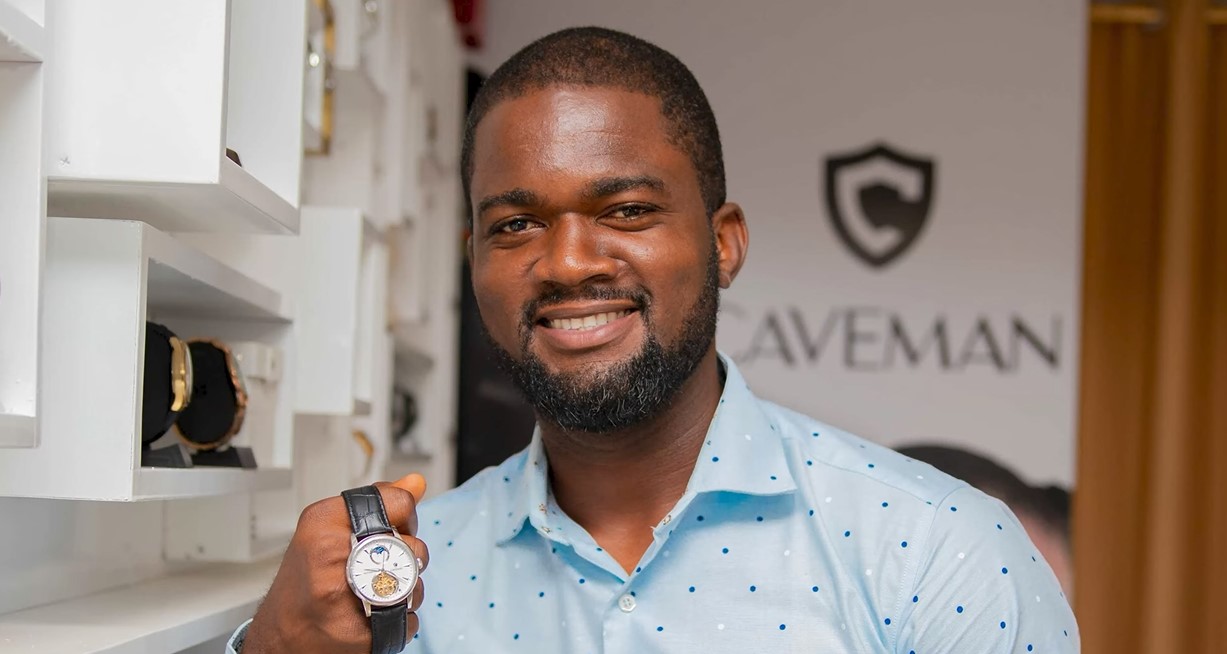 Anthony is a Ghanaian national who accidentally found his passion by selling watches. After graduating from college, he took a job as a marketer for a hotel where he directed clients in the airport to the hotels. This job allegedly earned him GH₵ 500 per month—which converts to around $85 in today's value.
Anthony struggled at this job for a while before realizing the potential of reselling watches on the streets. He is the founder and CEO of Ghana's only watchmaking company, Caveman and Timepiece GH. On top of being named Entrepreneur of the year for 2020, Anthony has bagged many other awards and recognition for his successful watch brand.
How did Anthony Start the Business?
Anthony had said in many interviews that before he started thrifting and reselling watches, he was not a watch enthusiast. It happened one day that he went out shopping for a wristwatch and was shocked at how expensive they were. Essentially, he felt that 150 Cedis for a watch was too expensive. Since he needed a watch, Anthony continued shopping elsewhere and found one at a better price of 50 Cedis. It wasn't until he posted a picture of the wristwatch on social media when someone asked if he was selling it. Subsequently, he did at a profit and saw an opportunity to buy at lower prices and sell at a margin.
[AdSense-A]
This model went on for a while and inspired Anthony to build a business around selling watches. It occurred to him that he could take control over most of the value chain, like repairing watches, selling straps and other accessories. Therefore, he studied how to work leather and repair watches. This knowledge earned Anthony the expert badge in watchmaking.
Anthony went ahead and resigned from his low-paying job to venture into the watch-making business. Ridicule from his peers was not enough to deter him from pursuing his dreams. Now, Caveman Watches makes global standard bespoke wristwatches in the heart of Accra, Ghana. In 2018, the global luxury watch market was valued at approximately $6.93 billion. It was forecast to reach a value of $9.3 billion by 2025. These statistics show that his business is on the right path to make a name for itself. He also aims to compete with big brands like Rolex and the rest.
Why the Brand Name Caveman?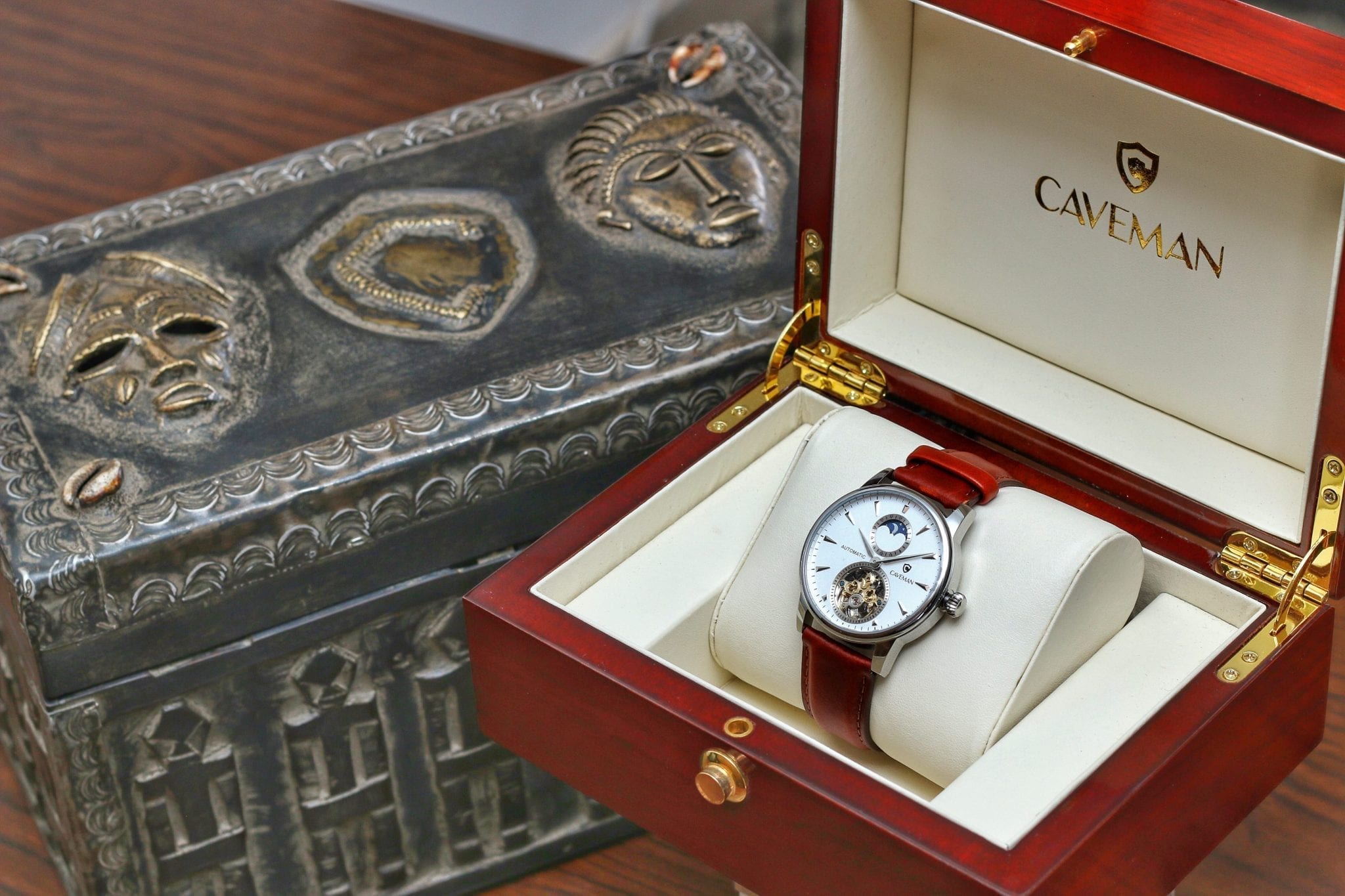 Obviously, Caveman is an odd name to call a brand. The word caveman was used to describe the primitive humans who lived in caves during the Paleolithic, particularly in Africa. The choice of name continues to be a source of controversy, but Anthony has an answer. When he was getting into the watch business, he says that he did considerable hands-on work to perfect his products.
For instance, he has said that most of the custom designs they do are assembled by hand in their business premises. Anthony also strives for originality and uniqueness when designing watches. Borrowing from the idea that cave dwellers from ancient Africa developed brilliant ideas, he decided to call his business Caveman. His idea of naming his business is to show African ingenuity.
[AdSense-A]
About Caveman Watches
When you think of the function of a wristwatch, you think of telling time, right? Caveman watches aim to change this notion. They are a classic African wristwatch brand that was established in 2018 with inspiration from the durability, originality, and beauty of nature incorporated in the handcrafted watches of the caveman.
This Luxury watch brand, aside from developing bespoke and quality watches, has a unique and intricate design that makes it a must-have for most individuals—particularly the affluent. Caveman Watches was featured in the New York Times and other prominent publications. The brand has a goal to create watches that are timeless and memorable, hence the slogan, 'Be Remembered'.
5 Business Lessons from Anthony Dzamefe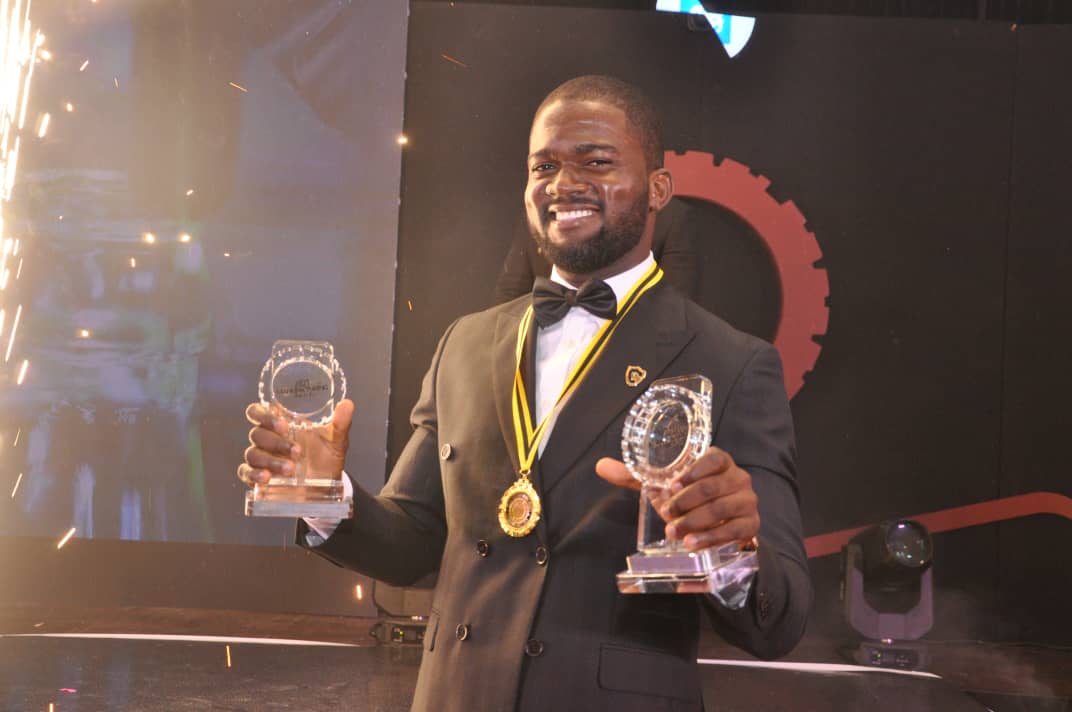 #1. Mockery will always be there
In several interviews that he has been featured in, Anthony has noted that he was ridiculed by people when he sold watches in the streets. Primarily, he was mocked for being a graduate selling watches in the streets. However, Anthony gave this a dead ear and went on with business. Therefore, he advises that if you want to be successful, you have to expect hate from onlookers.
#2. Be quick to try out new ideas
When Anthony Dzamefe realized that he could profit off reselling his watch, he decided to build a business around this. Subsequently, he discovered that most of his customers had good watches, but inferior straps. So, he set out to learn how to make these straps and sell them too.
#3. Be willing to learn
Before Anthony Dzamefe started selling and repairing watches, he had little or no knowledge of how watches worked. Therefore, he set out to learn everything about watches through videos on horology and taking apprenticeship lessons on leather works. This knowledge made him comfortable repairing watches
[AdSense-A]
#4. Focus on solving a problem first
As a watch repair guy, Anthony realized most of his customers had good watches, but the straps were terrible. So he thought of adding value by making quality leather straps. This made his customers happier since they could get almost everything done in one place.
#5. Find what you're good at and monetize it
Anthony feels that most African families have forced their kids to pursue certain career paths and they end up not fulfilled. He challenges this by calling on parents to let kids experiment with what they like and make money from. If someone does something they're good at and monetizes it, they will get more fulfillment.
Conclusion
Entrepreneurship is primarily about solving problems and monetizing that for sustainability. It comes with risks and rewards. This is evident from the business idea of Anthony Dzamefe. Cavemen could have not existed if he did not persevere through challenges such as ridicule and inadequate capital. Two years down the line and the brand has received endorsement from top African celebrities and beyond. Ultimately, Anthony's journey is a testament that Africa is a land of opportunities. Also, you will never go wrong if you allow your passion to lead you.