Afronista Of The Week: What Is Queen Of Sono Star Pearl Thusi Up To?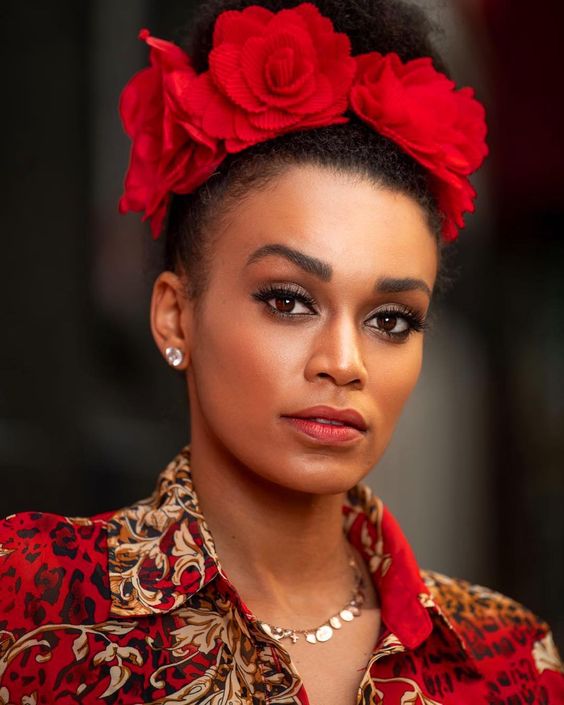 She is an actress, radio personality, model, television host, MC, and businesswoman. To add to that, she is also a mother to two lovely daughters, Thandolwethu Mokoena and Okuhle Thusi. Life has not been a bed of roses as many put it but that has not hindered her from pursuing her dreams. Wondering who we are talking about? Well, today's African Vibes Afronista Of The Week is none other than Pearl Thusi, the Queen of Sono star.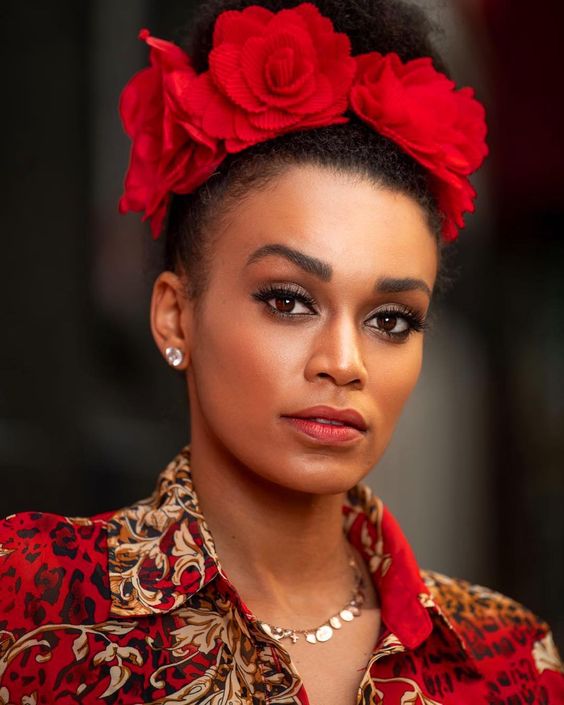 A Sneak Peek At Pearl's Early Life
Pearl Thusi's official name is Sithembile Xola Pearl Thusi. She was born on 13th May 1988 in KwaZulu Natal, South Africa. She has two younger sisters, Pamela and Prunella Thusi. Her mother's demise in 2004 was hard on her as she took the full responsibility of taking care of her siblings and father. In 2020, she got another blow as her father also passed away. Although her relationship with her father was strained at some point, they had mended things up at the time of his demise.
From a young age, Pearl Thusi had a passion for beauty. She started participating in beauty pageants while in primary school. She become the Miss SA Teen contest runners-up in 2003 and won the Miss KZN title in 2007 at the age of 17 years while still in high school.
Dealing With Racism
Although setbacks are quite discouraging, Pearl Thusi decided to not let them derail her from her desired future. Since she was young, Pearl was always teased by other children because of her overly light skin. This did not seem to get better with time as friends and fans also thought and implied that she only made it in life and particularly in her career because of her light skin. In response, she said,
"My father is dark. My mother was slightly light. I have a recessive gene from five generations back on my dad's side. My ancestors five generations back were mixed race and so that is where it came from. With a gene recession it is normal, that, for years, nobody would be born light, or have blue eyes, until a few generations later."
What Is Pearl Thusi Net Worth?
Over the years, Pearl Thusi has continually excelled in her career as an actress, TV personality, and businesswoman. That means she is consistently smiling to the bank. As of 2021, her
net worth
was estimated to be $2.1 million (R31 million). This is mainly because she is prudent when it comes to managing her wealth and she is also a thrift spender.
Did Pearl Thusi Adopt?
Interestingly, Pearl adopted her second daughter, Okuhlekonke Thusi, also known as Okuhle, in 2018. Although she doesn't like sharing her story in public until she becomes of age, she is proud to be her mother. She also wishes that Okhule maintains the confidence she has gained so far into her teens and adulthood. Pearl Thusi had this to say on motherhood.
"Mothers are like heroes… They're not only born. They can also become. Be made. Not only by blood but by love. By kindness. Bravery. Compassion,".
How Did Pearl Thusi Become Famous?
Pearl Thusi's career began when she won her first modeling title at the age of 15. At 18 years, she became a TV presenter and co-hosted a kids' show as well as an English-Xhulu translator. Her rising star almost dimmed out when she fell pregnant with her first-born daughter. At the time, she was only 19 and had just started her studies at the University of Witwatersrand, Johannesburg.
However, having a baby at such an early age did not stop Pearl Thusi from actualizing her dreams. At 21, she premiered in her first TV show, "The Number 1 Ladies' Detective Agency" and starred as Patricia Kopong. In 2015, at only 27 years, Pearl took her acting career a notch higher and appeared on her first official movie  '
Tremors 5: Bloodlines'
where she co-starred as Dr. Nandi Montabu. These and several other achievements place her among the most famous African women starlets.
Pearl Thusi African Looks
Thusi rocks African fashion with glam. Her fashion sense cuts across southern and western Africa. Thus, you will often catch her rocking Kente, a popular Ghanaian fabric.
An African wedding is an event that is filled with exuberance, glamor, and above all colors. This is superbly portrayed in this glamorous royal blue wedding garb. The golden intricate decorations coupled with the big orange and golden beads give this dress the perfect African touch. The pleasantly done headgear complements the whole look.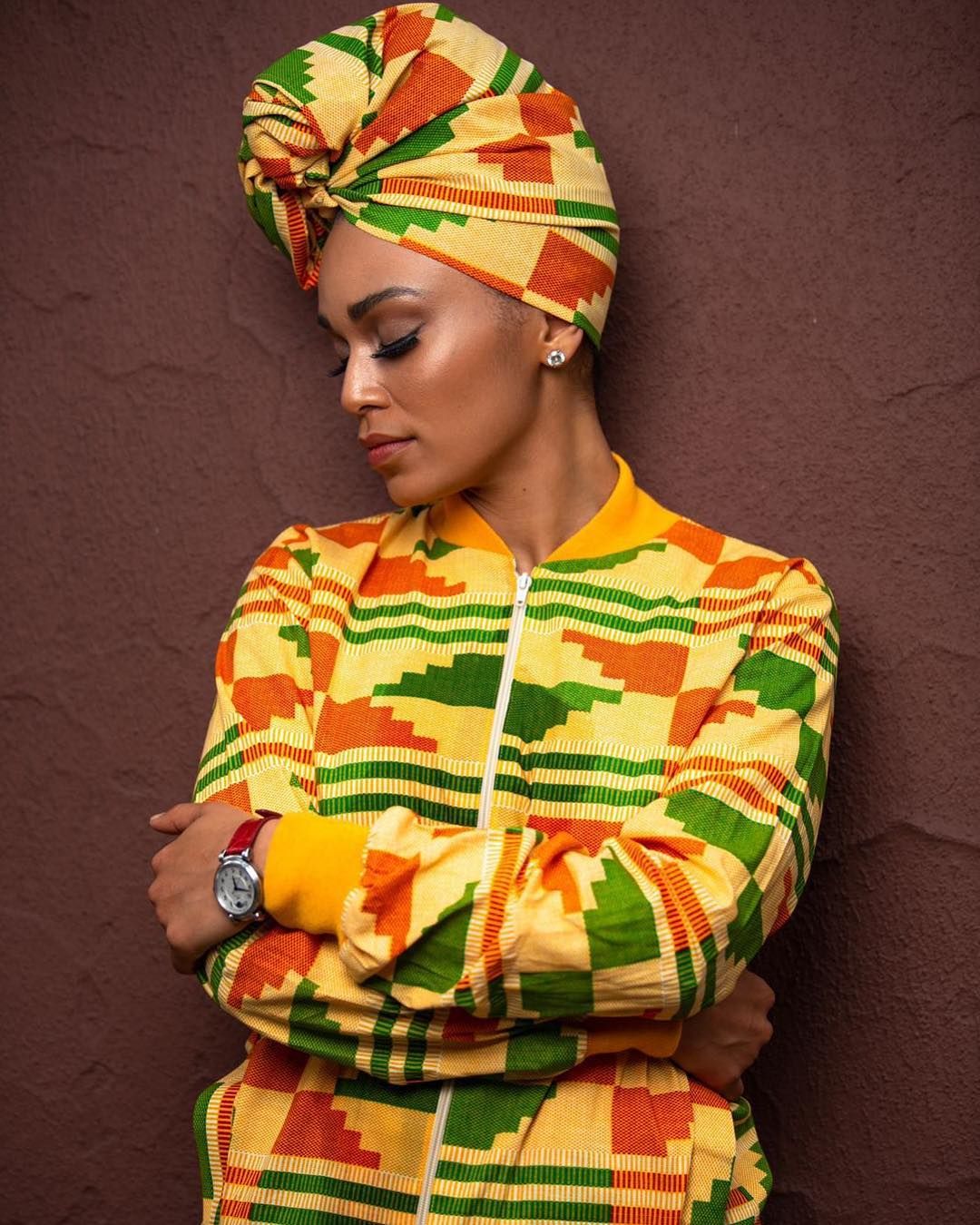 Have you ever thought of Africa in colors? Maybe not. Yellow, green, and red colors predominantly rule the African prints. Pearl Thusi's vibrant kente top and headscarf is a perfect exhibition of the continent's colors and the vibrancy of its people.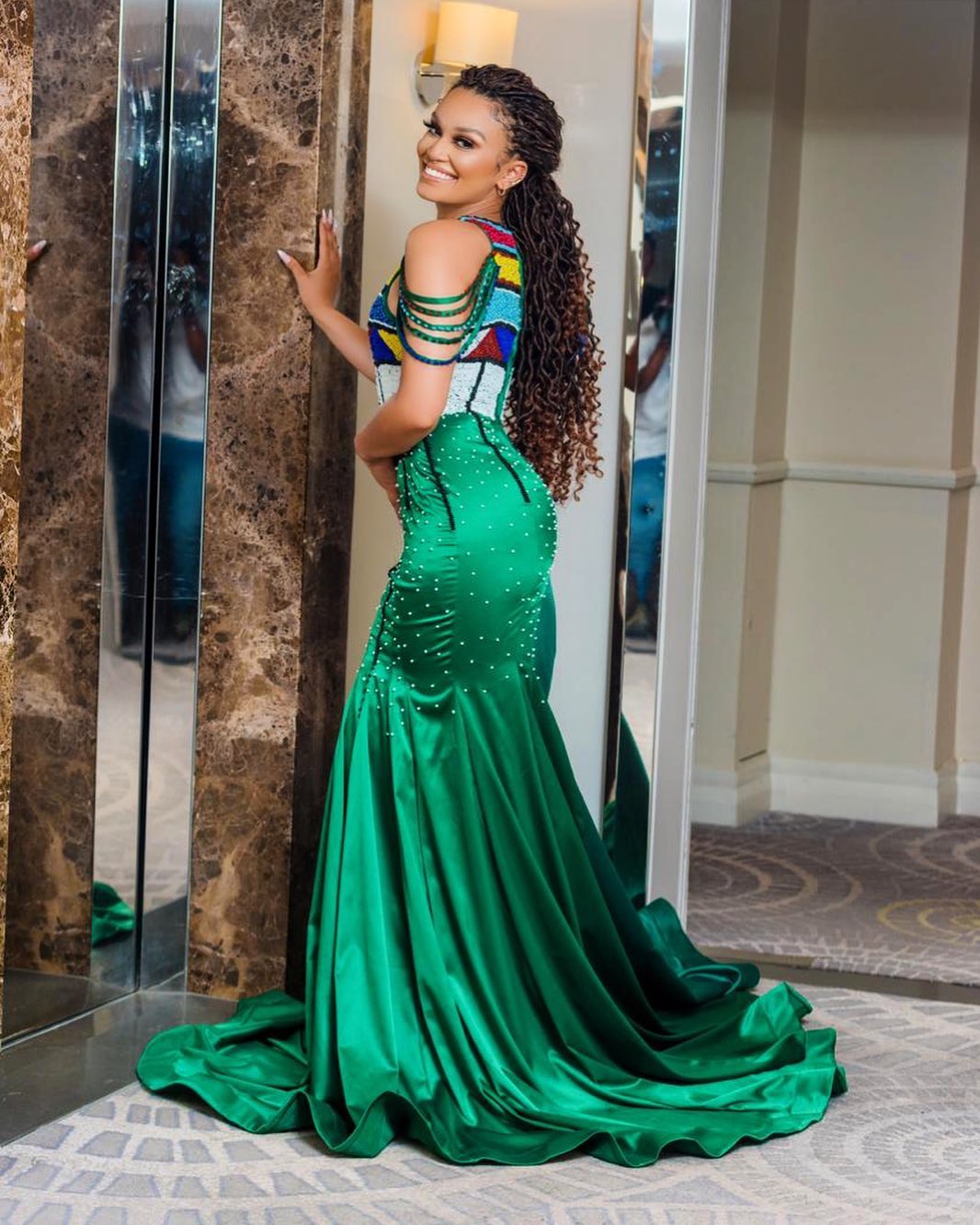 South Africa has a rich African traditional fashion style that is nicely showcased in this shiny green African dress. The colorful white, blue, black, red, and yellow beads on the bodice and skirt of the dress give this Pearl Thusi dress a colorful touch.
Red Carpet Regalia Worn By Pearl Thusi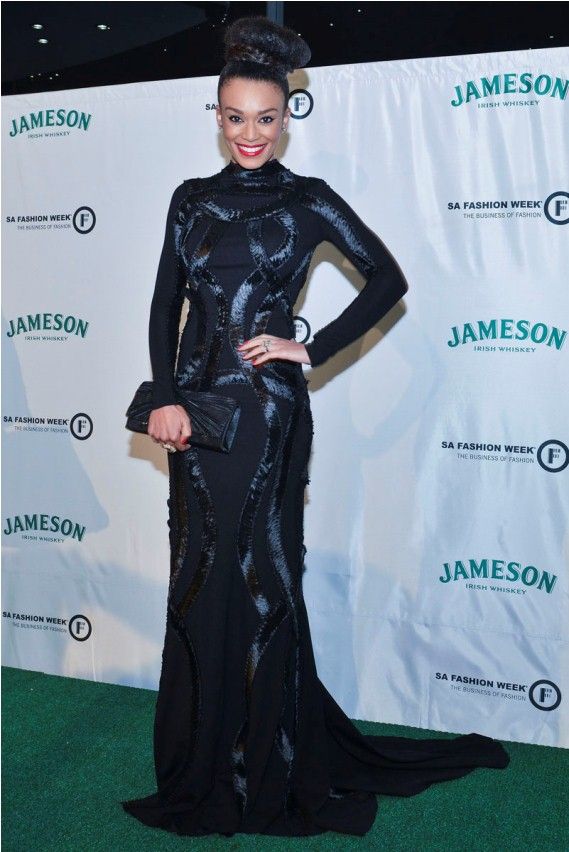 This apparel worn by Pearl clearly portrays that you can never go wrong with black. The shiny decorations still in black color make all the difference to this long dress ideal for red carpet events.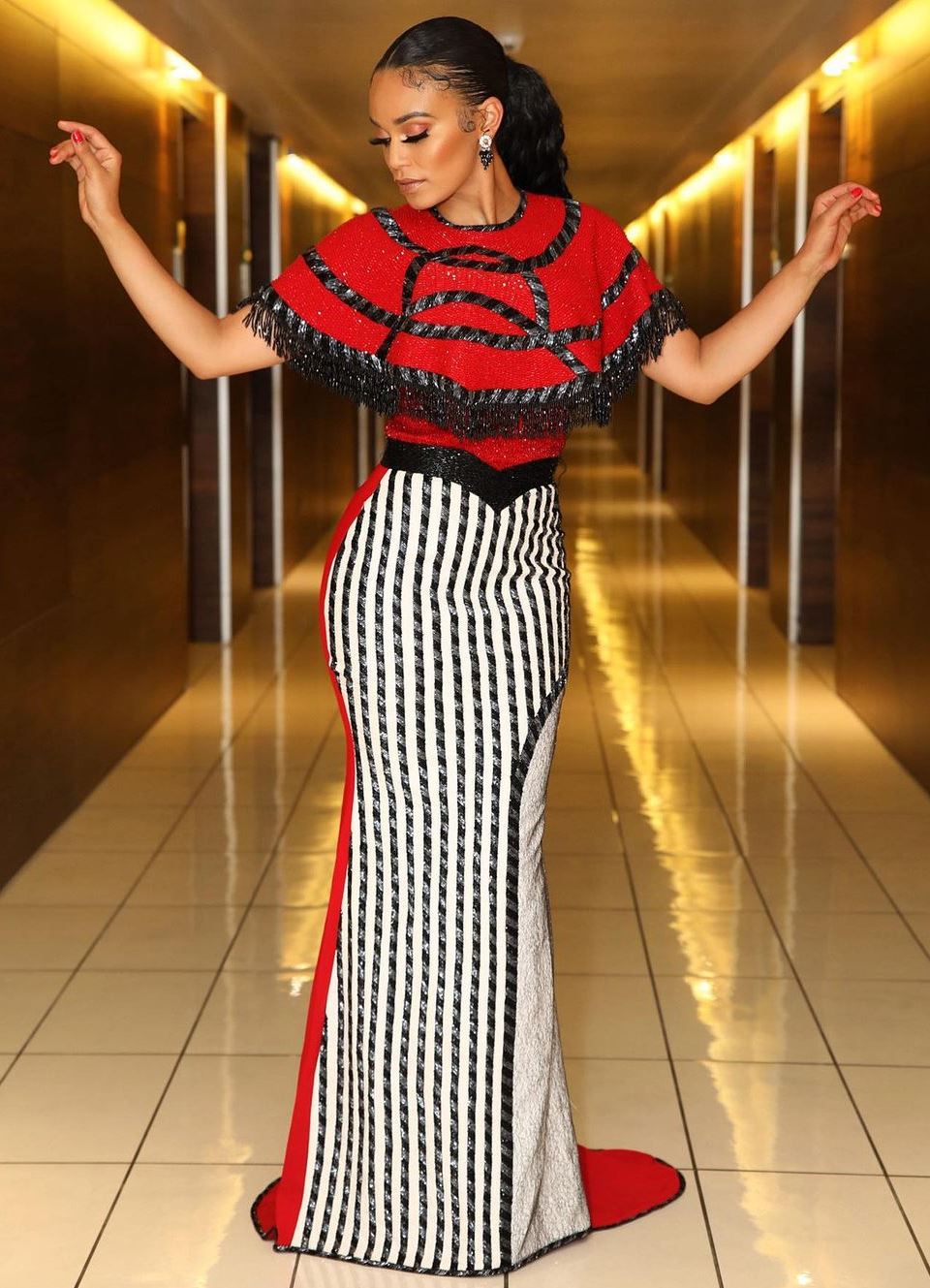 Red, black and white always look good together. The stylish red bodice with black decorations makes a bold statement. You cannot fail to note the intricate fringed bodice hem completing this Pearl Thusi outfit.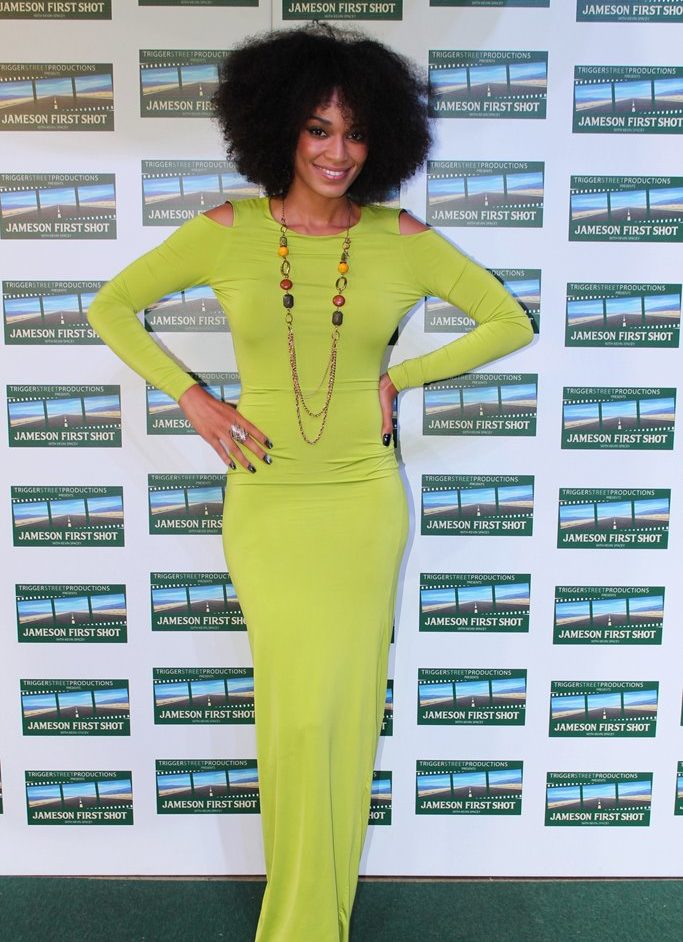 If you are a nature lover, then you will definitely fall in love with this light green color worn by Pearl. No wonder she is presenting such a warm and wide smile. The colorful pearls give a beautiful yet contrasting finish to the whole attire.
Simple And Elegant Summer Garb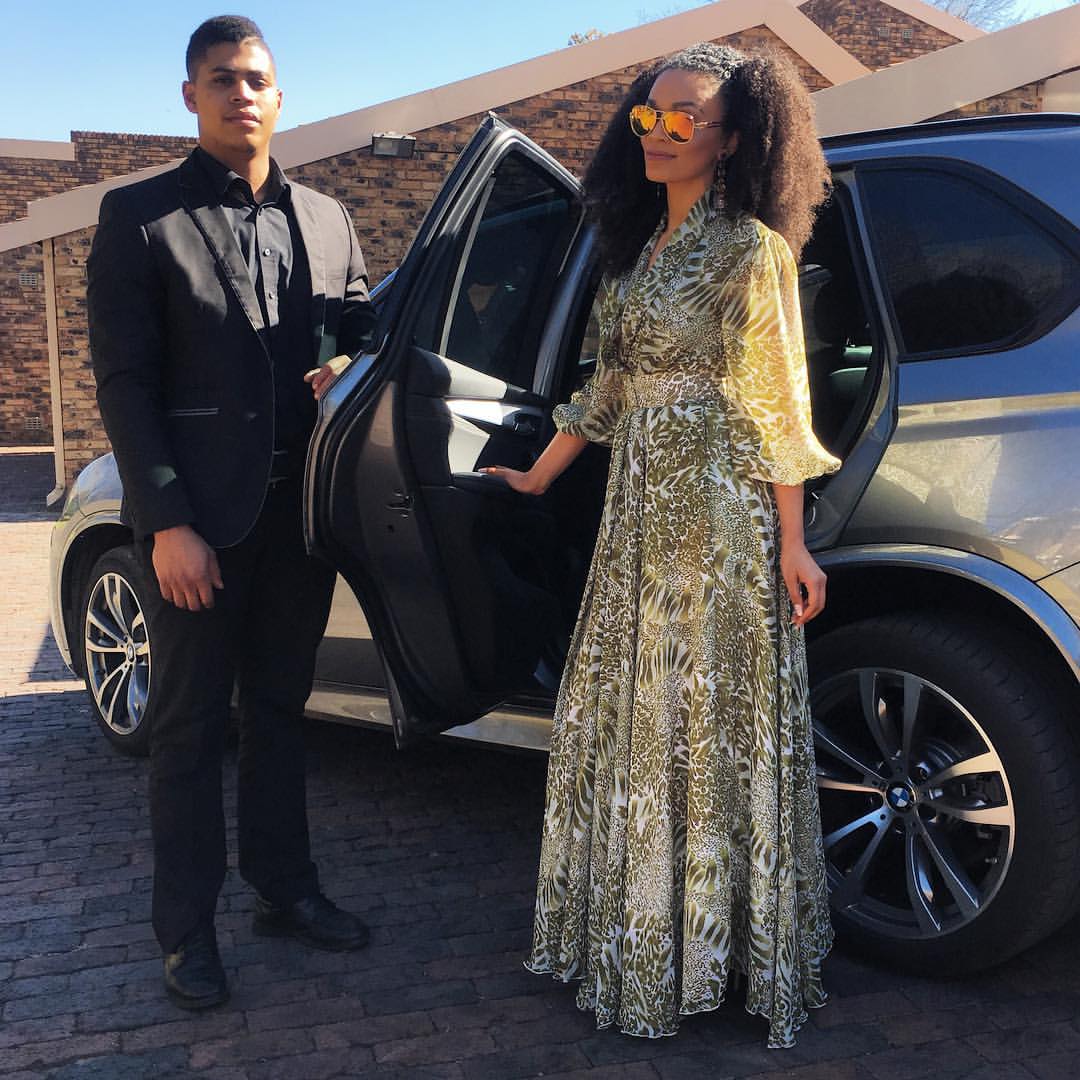 Are you planning an outdoor trip during the upcoming summer holiday to enjoy and appreciate nature? Then, this moss green and white summer dress is an exemplary choice. The long sleeves are ideal for shielding the hands from the warm piercing summer sun rays. Pearl's shades finish off this simple yet stylish summer look.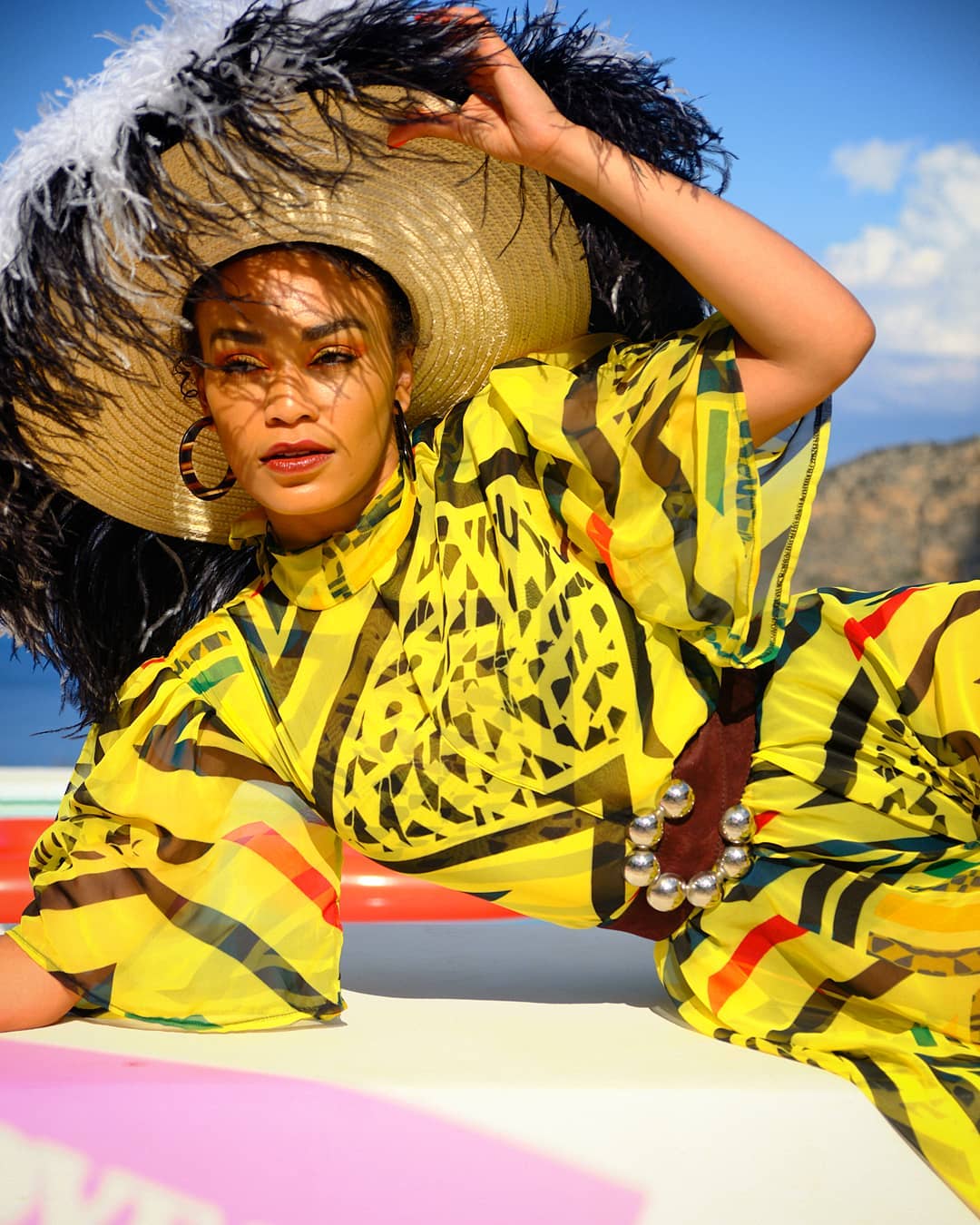 Yellow brightens up spaces. It blends well with numerous other colors as evident in this colorful dress worn by Pearl Thusi. The black, green, and red decorations give the dress the perfect summer look. The brown belt embellished with shiny silver pearls completes this summer garb.
This flowery maxi dress elegantly showcased by Pearl is ideal for the summer season. The red, cream, and green floral decorations on the maxi dress exude a jovial mood that is prevalent during the holidays. Is this a yes or no for you? Let us know in the comment box below.
Conclusion
The Queen, as she is popularly called from her lead role as 'Queen Sono' is a high achiever. She has overcome many and is a great inspiration to all. Her greatest desire is to conquer all her fears, achieve all her dreams and inspire others while at it. She paints her trail with laughter, dreams, and acts of kindness meant to make the world a better place. What's your greatest desire?