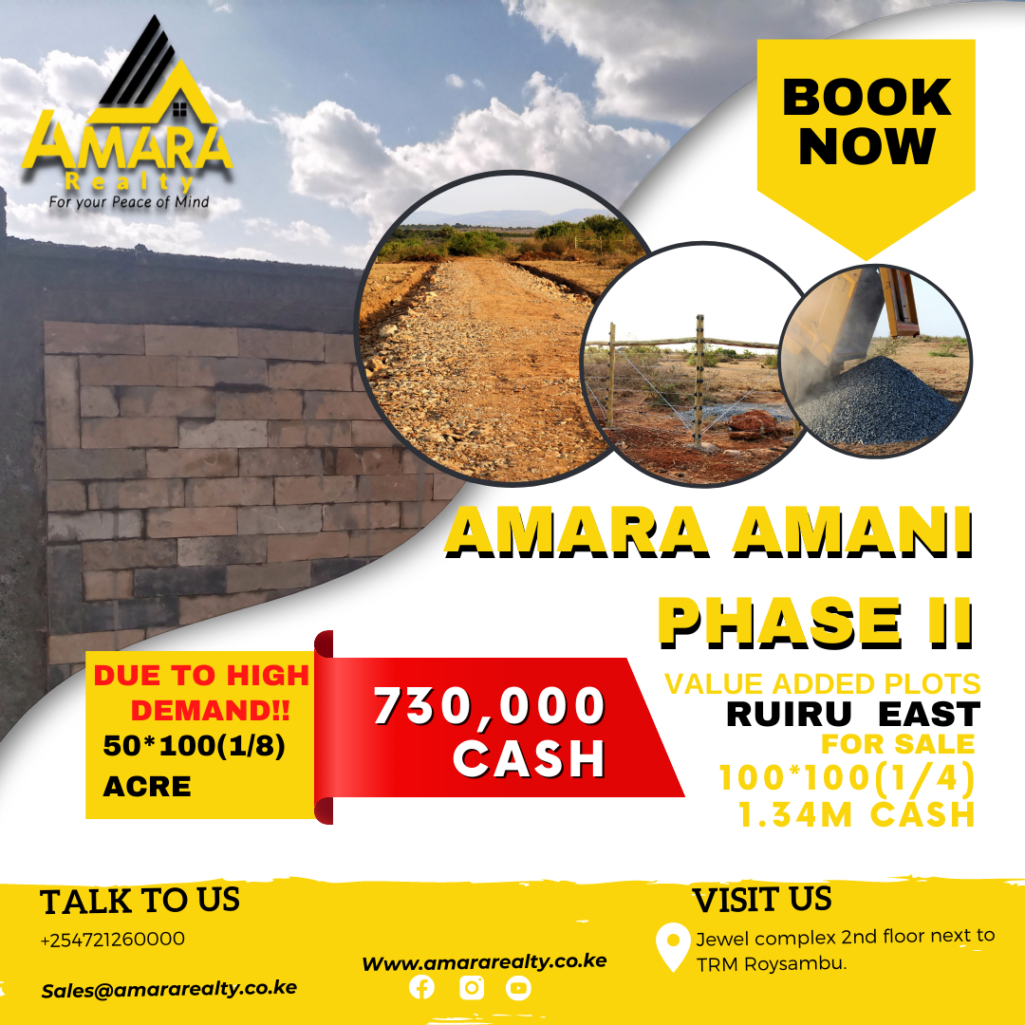 Ruiru East, Something for everyone – Properties Primed for Growth in 2022
𝐍𝐎𝐖 𝐈𝐒 𝐓𝐇𝐄 𝐑𝐈𝐆𝐇𝐓 𝐓𝐈𝐌𝐄!
🔥 Trust that voice inside your head and actualize your dreams of owning a home!
Investing in 𝐀𝐌𝐀𝐑𝐀 𝐀𝐌𝐀𝐍𝐈 𝐏𝐇𝐀𝐒𝐄 𝐈𝐈 is #investing in your future. which has two parts in one, one divided into 100*100(1/4acre) selling the same as the others 1.34M cash, 1.5M installments the other part is divided into 50/100(1/8acre) selling at 𝐊𝐬𝐡𝟕𝟑𝟎,𝟎𝟎𝟎 cash, 𝗸𝘀𝗵𝟴𝟭𝟬,𝟬𝟬𝟬 installments payable in 3 months, all located in RUIRU EAST.
𝑹𝒖𝒊𝒓𝒖 𝑬𝒂𝒔𝒕 𝒊𝒔 𝒍𝒐𝒄𝒂𝒕𝒆𝒅 𝒊𝒏 𝑲𝒊𝒂𝒎𝒃𝒖 𝑪𝒐𝒖𝒏𝒕𝒚 𝒃𝒐𝒓𝒅𝒆𝒓𝒊𝒏𝒈 𝑵𝒂𝒊𝒓𝒐𝒃𝒊 𝒂𝒏𝒅 𝑴𝒂𝒄𝒉𝒂𝒌𝒐𝒔 𝒄𝒐𝒖𝒏𝒕𝒚 , the projects are Prime Gated and fenced Community projects. These projects are approximately 3km from the proposed Greater Eastern Bypass
Information
Gated, Piped Water, Security, Car Parking Space
There are no reviews yet.