These 9 Houses In Nigeria Will Make You Say "Hmm, Why The Hell Don't I Live Here"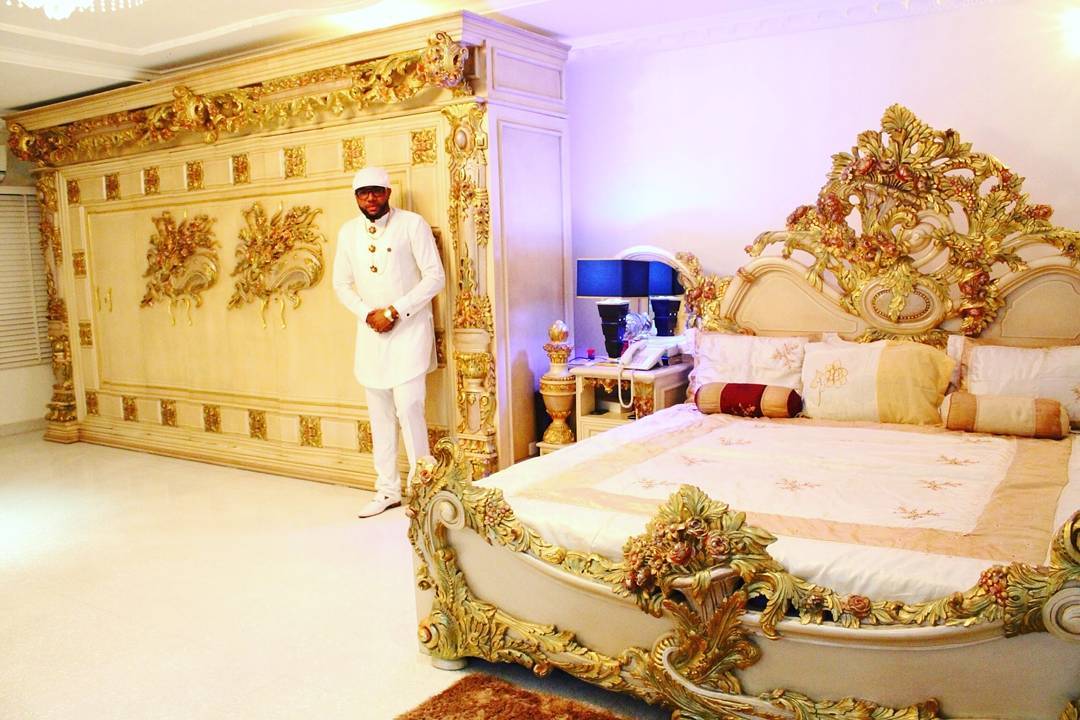 Nigeria is the most populous African country with an estimated population of over 200 million people. It also parades a rich cultural heritage from its  300 ethnic tribes. Despite its cultural diversity, Nigerians share a common trait which is their love for an extravagant lifestyle.
From assorted dishes to flamboyant weddings, Nigerians have earned a name for themselves as lovers of luxury. Therefore, it is not surprising that there are many luxurious houses in Nigeria. Most of these mansions are in Lagos the commercial capital of the country.
Lagos is home to people from all walks of life. Businessmen, politicians, and celebrities have settled here and carved a niche for themselves. Also, most houses mentioned in this article are on the islands of Lagos. Consequently, Lagos island has the most expensive neighborhoods in the entire country.
ALSO READ: 10 Must-Visit Luxury Homes In Tanzania
The top 3 islands in Lagos with the most luxurious houses are; Banana Island, Ikoyi, and Victoria Island. Before we take you on an exciting journey to see the top 9 houses in Nigeria, it is important to explain the basis of our selection.
Houses that made the cut are not only expensive but also have unique features that set them apart from other expensive and luxurious homes. With that in mind, here is a rundown of 9 houses in Nigeria that will make you to reconsider your travel bucketlist.
1. Folorunsho Alakija's House
Occupying the number one spot is no other than the house of the richest woman in Nigeria, Folorunsho Alakija. She is also without a doubt the owner of the most expensive residential house in Nigeria. The Alakija's house is in Ikoyi and worth over $700 million.
Also, It was constructed by the renowned German construction company, Julius Berger. According to several trustworthy reports, this house is completely bulletproof. The former billionaire now has a foundation through which she is empowering female entrepreneurs.
ALSO READ: Flourish Africa Rain Cash On Female Entrepreneurs At 5th Anniversary
2. Mike Adenuga's House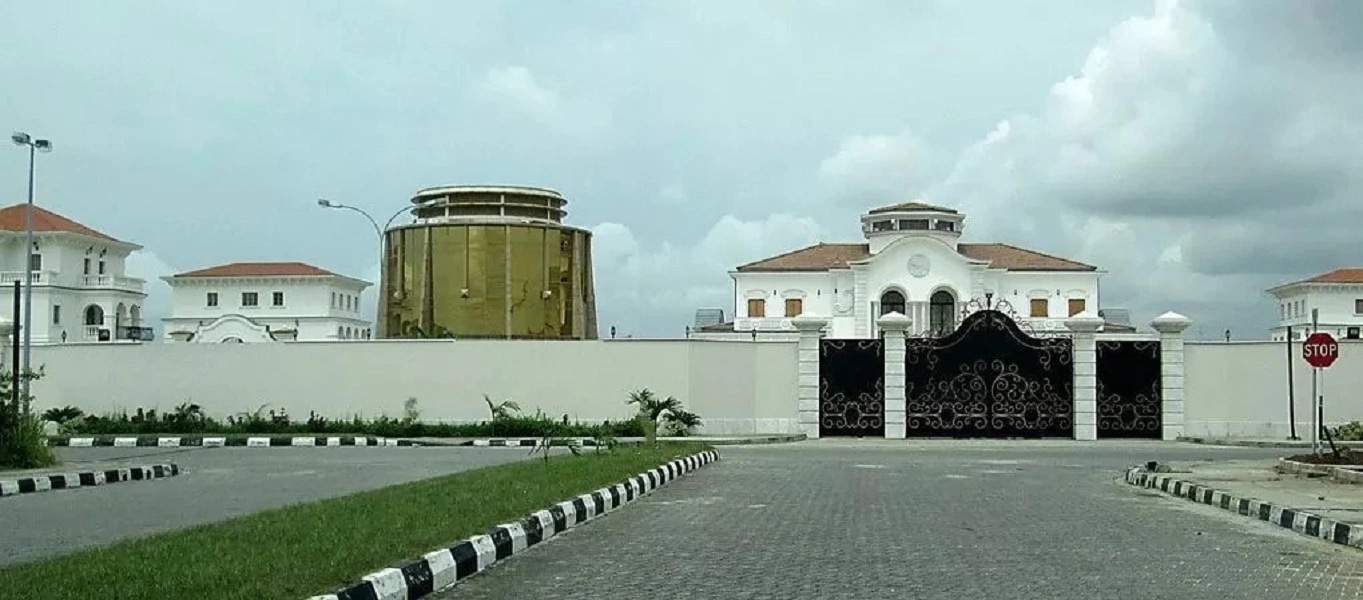 Mr. Adenuga is one of Nigeria's richest men. Therefore, it is not surprising that he owns one of the most luxurious houses in Nigeria. The telecom billionaire and oil magnate also owns a $5.7 billion dollar estate in Banana Island, Lagos.
Within the estate are a mosque, a church, and a multi-purpose hall with a sitting capacity of 200,000. That's not all, It also has a yacht berth and a helipad. Other peculiar features of this house are the two watchtowers mounted within the estate.
If there's anything we know for sure, it is that the billionaire takes his security seriously. Many admirers only make it to the front gate. No doubt, this massive estate is also one of the most secure houses in Nigeria.
3. Aliko Dangote's House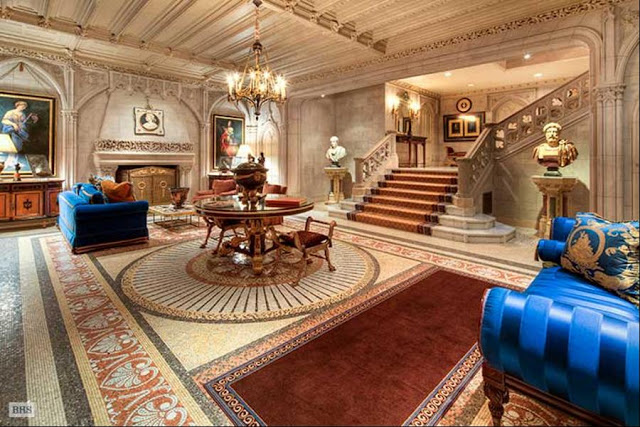 The name Aliko Dangote needs no introduction. Dangote is an unassuming billionaire who lives in his N5 billion ($30 million) home in Abuja. The billionaire in an interview said that he avoids luxury as he finds it distracting and time-consuming. Truly, he rarely displays any form of extravagance.
ALSO READ: African Vibes List Of African Billionaires Of 2022
However, when it comes to his house, the story is quite different. The mammoth-size building has a victorian style decor that immediately commands your attention. The air of opulence in this house is befitting. Prominent personalities like Bill Gates have lodged here.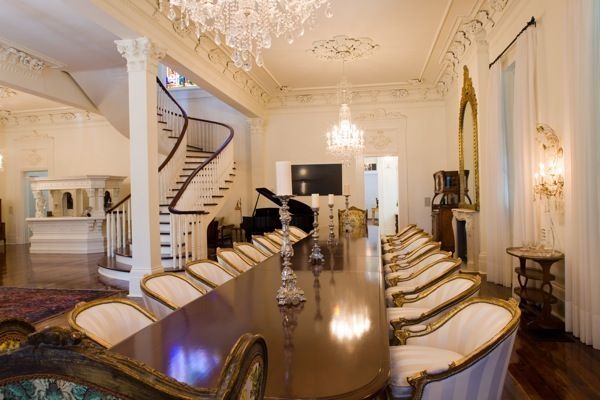 4. Palacio De Okeowo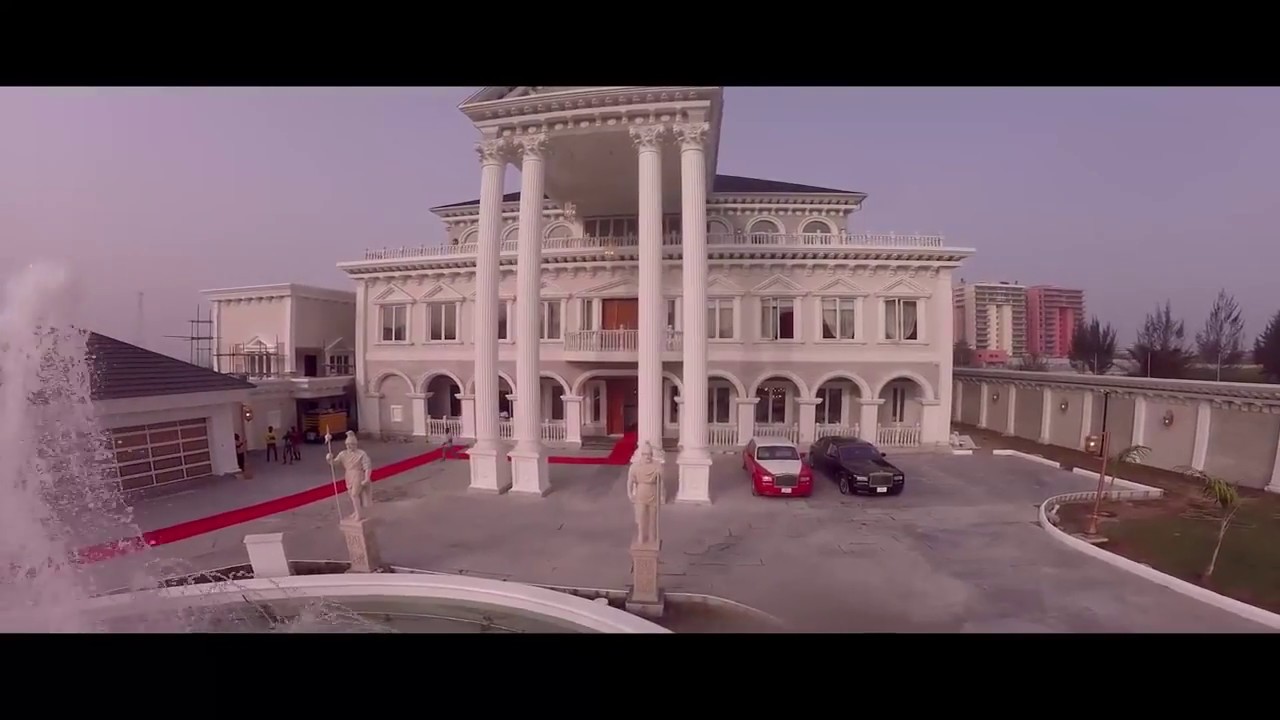 Palacio De Okeowo is a 3-floor victoria style mansion that belongs to Chief Olu Okeowo. The Nigerian real estate mogul is also a philanthropist. The building has 16 rooms and costs about $12 million dollars. The house sits on top 5 hectares of land overlooking the sea in Parkview Estate, Ikoyi.
Also, an extra 5000 hectares of land was reclaimed from the sea to build a massive swimming pool and other facilities like the helipad and jetty. The garage has an air conditioning unit and houses several exotic cars belonging to the chief. This is one of the stunning houses in Nigeria that will make you gape in awe.
5. Okwudili Umenyiora's House
When it comes to having a taste for extravagant luxury, no one does it better than Okwudili. Born in the UK, this Nigerian businessman has one of the most expensive houses in Nigeria. This Lekki mansion cost a whopping $10 million dollars (N3.8 billion) to build.
Most houses in Nigeria have an ordinary-looking exterior and a well-furnished interior, but not this one. This architectural edifice screams luxury and creativity on the outside as well as on the inside. Also, there are two separate garages, one is outside the house and the other one is inside.
ALSO READ: Diaspora Spotlight: 2X Super Bowl Champion Osi Umenyiora Want This In The NFL
The garage wall in the house is made of glass, so you can see the assorted collection of classic cars. Also, there is an elevator that looks like a glass tube and goes all the way to the 4th floor. There are two massive swimming pools.
One of the pools is outside and the other is an indoor pool. Coming into the house, the first thing you'd notice is the massive plasma television on the floor of the house. Although this adds to the aesthetics, viewing it does not seem practical. 
6. Square Ville Mansion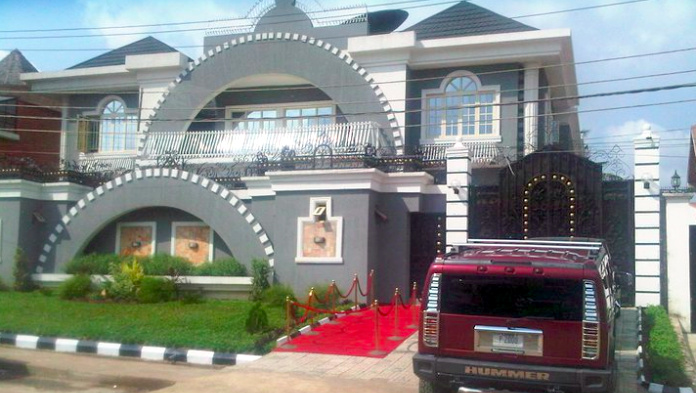 The Square Ville mansion belongs to the Nigerian music sensation, P-Square. The house is on Banana Island and is valued at N1.5 billion (approx. $3.5 million). The 3-floor building has 6 en-suite bedrooms, two massive living rooms, a cinema room, a swimming pool, a gym and a fully equipped music studio.
Paul and Peter Okoye who are professionally known as P-Square are one of two Nigerian music artist to own a house in this neighborhood. Like most other houses in Banana Island, this house has stylish architectural designs, expensive decorations, and art pieces. It is a true reflection of the lavish lifestyle of these brothers. 
7. Davido's 5 bedroom terrace apartment in the Guliano De Medici
Named after the famous Italian family, the Medici, this mansion contains 8 eye-catching, 5 bedroom luxury apartments. It also has 2 luxury penthouses that are among the best on the Island. According to a popular Nigerian real-estate reviewer, the apartment cost about $1,500,000.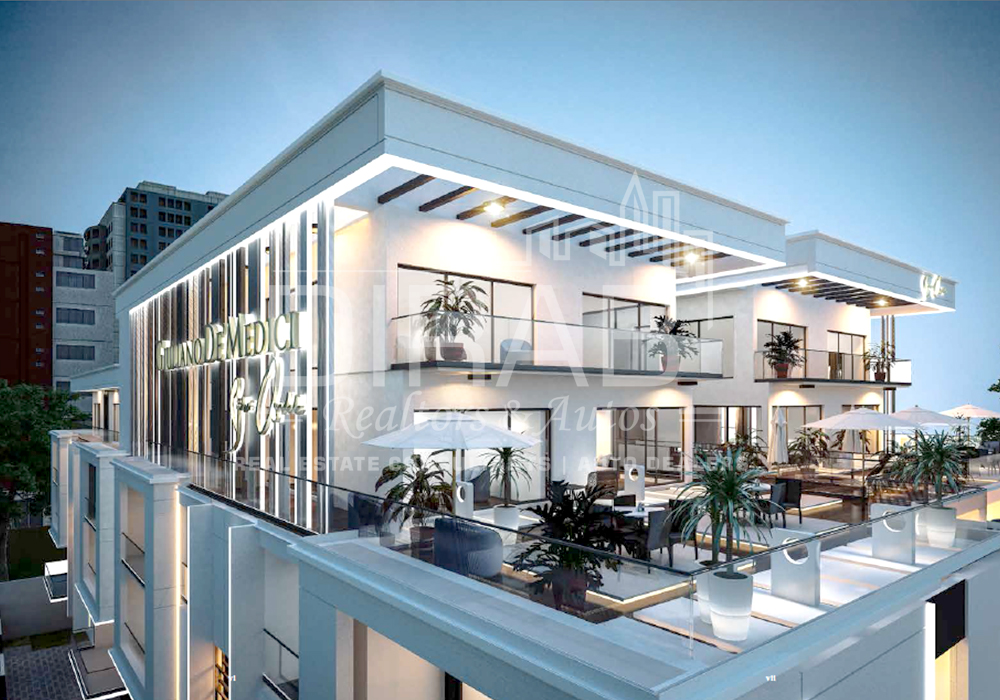 The Guliano De Medici is the genius child of Sujimoto Construction. This company is one of the best luxury real estate development companies in Africa. Each apartment in this mansion has an air of luxury and every piece of furniture has a designer covering.
From the Bentley covered seats to the Versace bedsheet, even the appliances installed in the house scream luxury. Topping all these is the private elevator that comes with each apartment. What we love about Davido is his calm around his fans.
8. Linda Ikeji's House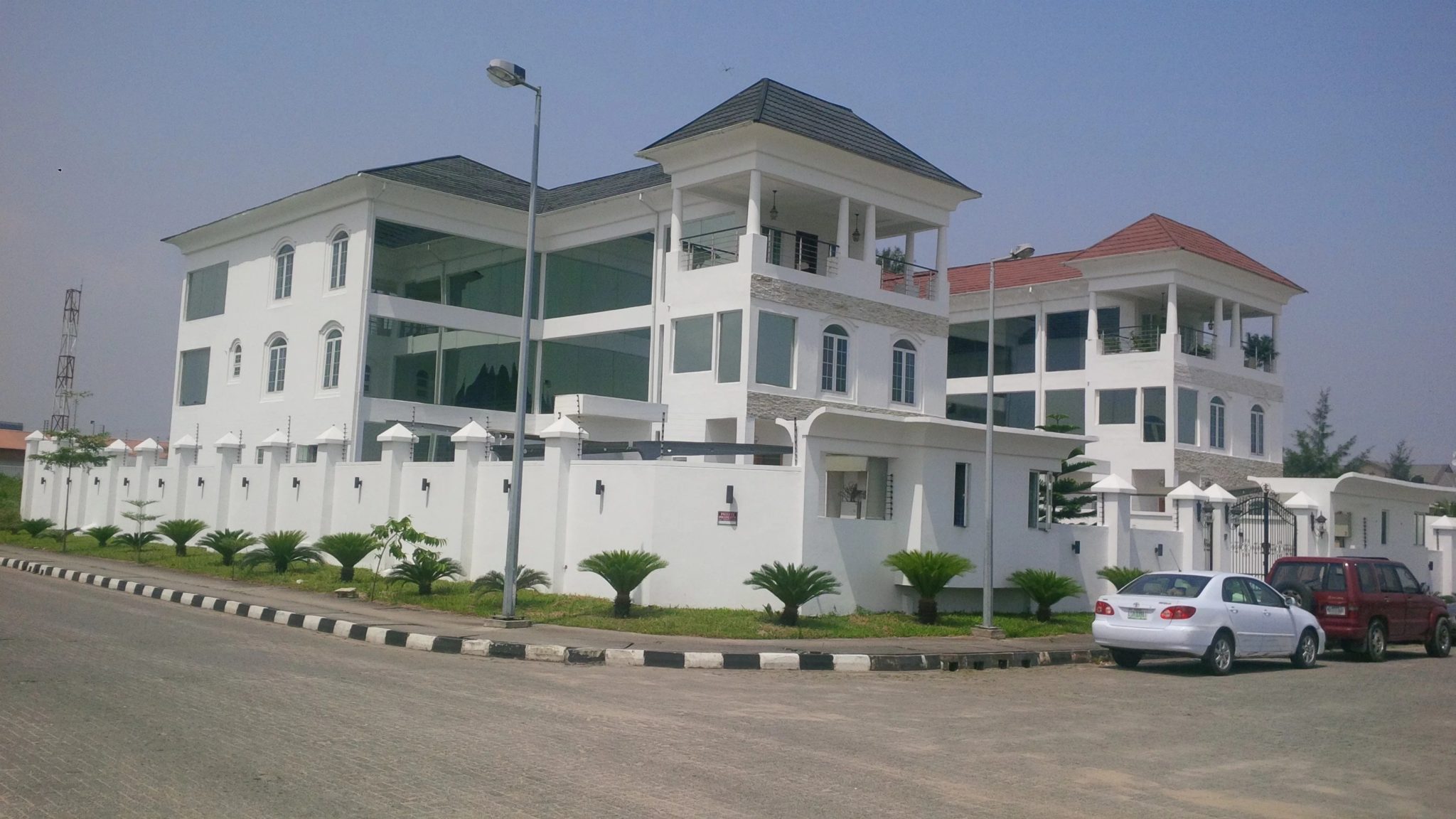 Linda Ikeji is a Nigerian blogger, writer, and former model. She is undoubtedly one of the most popular bloggers in Nigeria. Also, she is one of the most searched personalities in the last decade according to Forbes. In addition to these achievements, she is also among the few women to own a house on Banana Island.
The 3-floor mansion has a value of N850 million (approx. $1.8 million) as of 2018. It has all the characteristics of a typical luxury house in Nigeria including a media room. However, the most fascinating feature of this house is the closet. Just like you will expect from an ex-model, Linda Ikeji's house has a massive closet that houses assorted designer shoes, bags, and clothes.
ALSO READ: See These 10 Wealthiest Neighborhoods In Nigeria
To give you an idea of how big her closet is, she bought 85 pairs of shoes and 35 bags to mark her 40th birthday. Add this to what she already had and you'll get an idea of the closet space it will take to fit them all in. 
9. E-money's House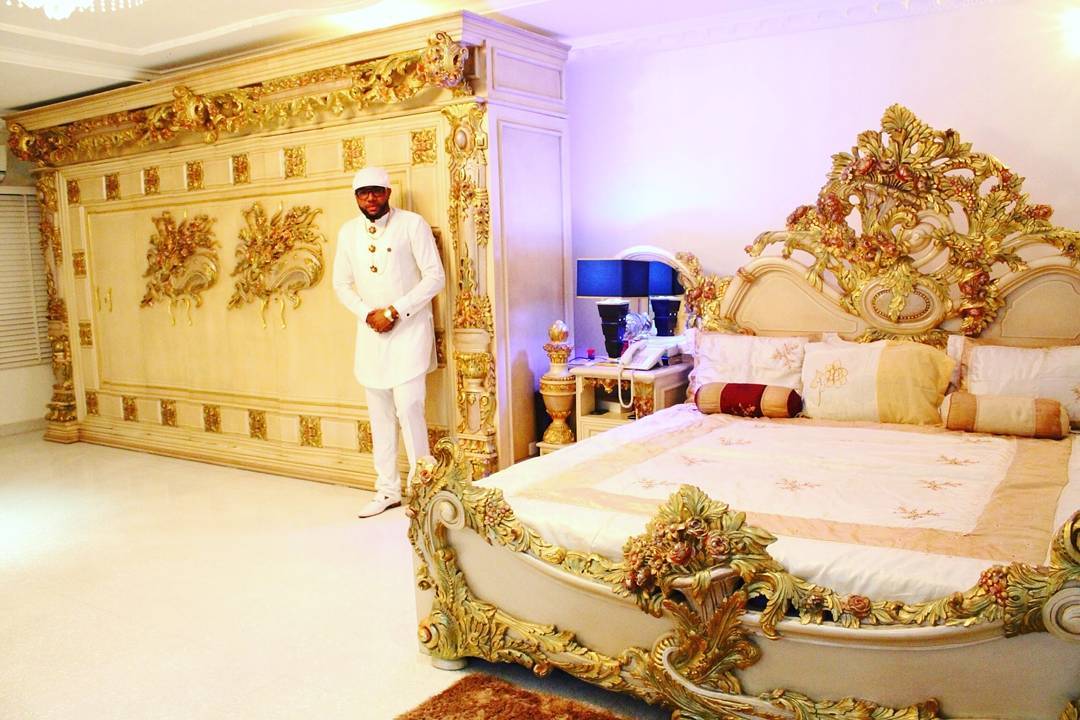 Emeka Okonkwo popularly known as E-money is a Nigerian businessman and oil magnate. His mansion in Omole Estate, Ikeja is one of the breathtaking houses in Nigeria. The house is a mammoth 3-floor building that's estimated to cost about N250 million ($650,000) as of 2014.
It comes with a swimming pool, gym, several rooms with marbles and Persian rugs decorations. However, what sets it apart is the internal decoration. The entire house is decorated with gold and glass furniture, making it aesthetically stunning. He built another mansion in his home town in Anambra State, southeastern Nigeria.
Conclusion
The 9 houses in Nigeria mentioned in this article are not the only ones you will find in the country. Young successful musicians are investing in real estate. In fact, owning a home is one of the dreams of every Nigerian.
The houses on this list would compete with exotic homes around the world. If you have the opportunity to visit one of the 9 houses on our list, which would it be? Share your thoughts in the comment box below. If you are planning a visit or relocate to Nigeria, African Vibes Real Estate directory will help you to find homes for rent or sale.